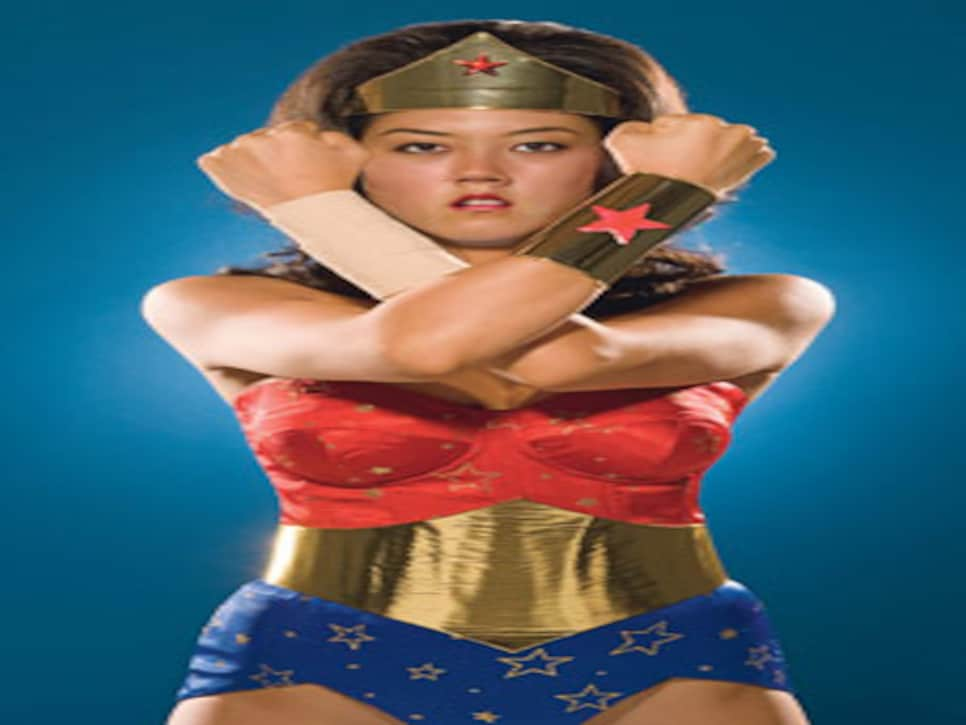 A moment of truth came at the end of Michelle Wie's pre-tournament press conference at the U.S. Women's Open in late June, an awkwardly frustrating dance in which pointed questions had been asked and evasive, defiant, cutesy, halting, rehearsed, clichéd or nonsensical answers had been given. Intervening for the final question, moderator Rhonda Glenn of the U.S. Golf Association wondered how the 17-year-old Wie has dealt with "an extraordinary amount of pressure this year." Relieved and momentarily relaxed, Wie let her words tumble out in a breathy rush of adolescent stream-of-consciousness.
"I like to call back home, talk to my friends, talk to my girlfriends and my guy friends and just listen to their troubles for once and just talk about silly stuff, be stupid and just be goofy and just not think about anything, just not have a care in the world," Wie said in her younger-than-her-age voice. "And just to lie on my bed and just lay sprawled out and just do nothing is what I like to do, just be lazy and just talk on the phone for hours."
For syntax and theme it wasn't exactly Stanford material. But the easy flow and the obvious conviction were telling. Finally, Wie had said something genuine and real. And enlightening and sad. Because it's clear that the greatest female prodigy in the history of golf, the first woman whose stated mission is to compete against the best men, the global brand who is paid $12.5 million a year in endorsement contracts, indeed craves an extraordinary amount of escape. Although not as obvious, it's evident when she's straining to make her predicament sound wonderful.
"The worst feeling in life is when no one has any expectations of you, no one expects you to do great things," she said. "I'm just so grateful that everyone has expectations of me...I'm just having a lot of fun."
All a close listener could think was, No she isn't, and no she's not. What she really is is trapped and unhappy and alienated. What she really wants -- at least for a while -- is out.
At the moment, such a thesis is interpretive. Camp Wie is sealed tight, determined that no human frailty be revealed. Wie's parents, B.J. and Bo, stopped speaking for publication a long time ago. Her representatives confirm or deny in as few words as possible and issue only the most squeeze-dried statements. It's a thesis supported by observation and key conversations and common sense. Most of all, by her golf.
Since July 2006, two months after being ranked the No. 2 woman golfer in the world, Wie has experienced one of the biggest meltdowns ever by a teenage sports prodigy. With her withdrawal at the Women's Open, where she was 17 over through 27 holes before walking off the Pine Needles Lodge & Golf Club with a physical therapist rubbing her left wrist, Wie hadn't broken par in a men's or women's event in 21 consecutive rounds. In her last five men's events, she has withdrawn (from the 2006 John Deere Classic, where she left the course in an ambulance because of heat exhaustion) and missed the cut by 14, 13, 17 and 14 strokes. Wie's wrists have become the default reason for her poor play, as well as a source of mystery. She suffers from tendinitis in the right one, and when it flared up late last year she went against a doctor's recommendation that she skip the Sony Open in Hawaii in January.
The left wrist has been the focus in 2007. In February, the Wie camp reported that she had fractured it three weeks earlier, when she fell jogging while visiting her cousins in California. The delay in supplying information and the lack of specificity added to the confusion and skepticism that often fuels reaction to events involving Wie.
"At first, I didn't think I broke it," Wie said at the Women's Open in her first public comments about the injury. "I didn't think I did anything to it. I was like, OK, just a little sore, it's a little swollen; oh, I can't move it anymore, what's going on? So I went to the doctor, took an MRI, took an X-­ray. They thought it was a bone bruise, but a couple of weeks later I found out, you know...it was very confusing...So I didn't really want to release anything."
After a four-month break during which she played two 18-hole rounds, Wie played in three LPGA events, withdrawing after 16 holes in the first, finishing last by 10 strokes in the second and withdrawing after 27 holes at Pine Needles. Her scores were so high, her control of the ball so erratic and her body language so cheerless that observers wondered why, if her wrist was causing her pain, she didn't stop playing and let it heal. Wie said she needed to play to regain strength in the joint. At Pine Needles, perhaps sensing that her premise was unconvincing, she jarringly added, "And come on, this is a U.S. freaking Open. I'm not going to miss it for anything."
But after she withdrew, Wie allowed, "I definitely have to re-evaluate, because I don't want this to happen again." It was as close as Wie -- or her camp -- ever comes to publicly admitting a mistake.
Some have speculated that Wie is playing to meet performance benchmarks in her contracts. But Cindy Davis of Nike said, "We never want any of our athletes to play injured, and we have placed no pressure or expectation on Michelle to play." Said Wie spokesman Jesse Derris: "She is not playing to satisfy contracts. She is playing to gain strength in her wrist."
Although they refrained from saying so publicly, many of Wie's peers believe her wrist has become an excuse for poor play. Skeptics note that she played at Pine Needles without a wrap on the wrist, and there was no visible swelling. More blunt was LPGA veteran Alena Sharp, Wie's fellow-competitor when she withdrew with two holes remaining in her first round at the Ginn Tribute -- only two bogeys away from shooting an 88 that would have made her ineligible to play LPGA events for the remainder of the year. "I think she withdrew because of the high score, definitely," said Sharp, who added that Wie never showed any signs during the round that her wrist hurt.
A person for whom Wie's wrist is a source of pain is her swing instructor, David Leadbetter, who disagreed with Wie's decision to play at Pine Needles. "The women's majors came two months too early for Michelle," he said at Pine Needles. "She wants to play, fair enough, but you have to think of the future. She's always gone after the ball explosively, but now she's not, and there are some funny shots showing up. That's not her, so I don't see the point. What concerns me is that it will affect the psyche."
At the same time, Leadbetter was taking criticism from Gary Gilchrist, who coached Wie in 2002 and 2003 at the Leadbetter Academy in Bradenton, Fla., until the Wie camp replaced him with Leadbetter.
"Michelle always had a big body turn with great tempo, with the body and arms swinging at pretty much the same speed -- you know, the Big Wiesy," says Gilchrist, who now coaches LPGA champion Suzann Pettersen. "But now there's a lack of body turn, and the arms are going faster, and the tempo is gone. She's dropping the club to the inside too much, and snap-hooking and blocking the driver. She hasn't improved."
Counters Leadbetter: "Whoever says that she hasn't improved doesn't know what they're talking about. Michelle's much better technically. You look at the repertoire of shots she was able to hit -- the three-quarter shots -- you can't do that with a long, loose swing.
"The whole point is, she can swing it like a guy. She doesn't swing it like a regular girl. The problem is, when she plays on the men's tour, the tendency is when she starts going at it really hard she loses synchronization and hits the ball worse. That's what happened toward the latter part of last year."
It's easy to understand why. The ability to play with the same power as PGA Tour pros, and compete at the same level, is the cornerstone of Wie's mystique. But to this point, based on her scores, distance and quality of her shots, it remains a false premise. If Wie is to make it true, she will have to become the first woman in any sport (other than horse racing and auto racing) to compete equally with men. That the Wie camp is beginning to think the endeavor is a reach was evident in its decision to decline a sponsor's exemption to the PGA Tour's John Deere Classic, where she played in 2005 and 2006.
Wie's tribulations drew schadenfreude more than sympathy from her peers. Her refusal to join the LPGA while pursuing PGA Tour sponsors exemptions -- which sent a message that she considered women's golf a place where she could dabble and dominate -- has generated resentment. She lost more support when, after her controversial withdrawal at the Ginn Tribute, Wie practiced two days later at the site of the next week's McDonald's LPGA Championship. It prompted a rebuke from tournament host Annika Sorenstam, and when Wie retorted that "I don't think I need to apologize for anything," she was roundly criticized.
"She hasn't backed up the hype, and everything she does now produces negative commentary and negative energy," says Gilchrist. "She has become an outsider, and that's bad. Look at Colin Montgomerie. He was always an outsider in the U.S., and he never had mojo. You need that.
"It's part of why Tiger and Phil play so well -- everybody getting behind them, the spirit pulling them along. Right now, it's pulling against Michelle. People are against her. They even think her skirts are too short."
Gilchrist also gives voice to the perception that Wie's parents are too involved in their only child's life.
"B.J. is the strategist and Bo is the perfectionist," says Gilchrist. "I always told them, 'The less people see you, the more they will like you,' but has Michelle ever hit one ball or played one hole on her own? They're arrogant, they stick to themselves, and they don't have many friends out there. A lot of people give them good advice, but they don't seem to listen."
Pearl Sinn-Bonnani, one of the first Korean-born players to play on the LPGA Tour, knows Wie's parents, both of whom grew up in Korea before moving to Hawaii. Although she believes their approach has been indispensable to Michelle's success, she also worries that it's becoming counterproductive.
"What American parents might consider pushing, Korean parents consider necessary support," says Sinn-Bonanni. "It can produce really high achievement -- just look at how many Koreans are on the LPGA Tour. For Michelle, it would be complicated to defy her parents because they are so closely involved in all her commitments. But you can tell in her voice that she's a little desperate. And the things that have been happening, it looks like she is looking for a way out that would be acceptable."
Stanford offers such an escape, although Wie's parents have been house-hunting nearby. Wie says she's looking forward to living in the dorms during her freshman year, but she might be underestimating the academic challenge, opining that she expects to have more time to play golf than she did in high school before adding, "I'm not much of a library person."
The energy Wie devotes to her studies could determine whether she joins the LPGA Tour in 2008. Through early July, Wie still needed about $100,000 in winnings in '07 to finish among the top 90 money-winners and be exempt from qualifying school for next year. However long Wie spends at Stanford -- she says she intends to graduate -- the respite from golf doesn't guarantee she'll emerge with zest for the game required to be a champion. She's often compared to Tiger Woods, who also attended Stanford, but Wie hasn't demonstrated the same sustained hunger for practice and improvement. As Wie told a Fortune magazine reporter in 2005, "If my mom weren't there, I probably wouldn't practice."
Says Pia Nilsson, who coaches several players including Sorenstam: "Michelle's physical and technical is really good, but she seems so young in the mental, emotional and social components. To become a great player, she needs to find joy and motivation. There's been so much going on with her from age 13, people pulling her, so you don't know if she loves it. There are signs that it's not in her. The people around her have to take that seriously and find a way to keep her growing in the game and in life. Or she will rebel."
LPGA Hall of Famer Carol Mann, who coaches young players, thinks Wie's behavior is following a regrettable pattern. "It just has all the signs of passive aggressive self-sabotage," said Mann. "I think she's telling her parents, 'OK, you put me in this position, I'll show you. I'll play bad.' "
Wie will turn 18 on Oct. 11, when, according to what B.J. Wie told Fortune, she'll be eligible to access the trust fund where the money from her endorsement contracts and prize money has been stored. For now, Wie insists -- perhaps to protect her parents, perhaps because she believes it -- that she's blazing her own path. "They all advise me, but in the end it's me that makes the decision, because everyone realizes it's my life and I'm the only person that's capable of making decisions...I like making my own decisions."
In the end, the decision to be -- or not to be -- a champion in golf is hers.
Michelle Wie brought attention to the LPGA Tour's previously obscure Rule 88 when -- at 14 over par through 16 holes -- she withdrew in the first round of the Ginn Tribute Hosted by Annika in late May. The rule, which says a non-LPGA member who shoots 88 or higher in an official round will be banned from playing in tour events for the remainder of the year, was installed in 1990 after regular tour members complained about two instances of nonmembers from the organization's Teaching & Club Pro division failing to break 100 in competition. Wie was a bogey-bogey finish away from shooting 88 when an LPGA Tour official arrived in a cart and spoke with Wie's manager, Greg Nared. Shortly thereafter, Nared met briefly with Wie, who then told her playing partners she'd be withdrawing.
Afterward, Wie said she quit because of her wrist, not because she might shoot a score that would end her LPGA season. "Shooting 88 is not what I think about," she said.
The frequency of the rule's application has diminished through the years, although it was enacted in April against nonmember Ana Laura Gomez after she shot 88 in the first round of the Corona Morelia Championship, as well as MacKinzie Kline, the 15-year-old who was allowed to use a cart and oxygen because of a congenital heart defect, who scored 89 in the second round of the Ginn Tribute.