News
Wie finishes first round with a flourish
SOUTHPORT, England -- Has there ever been any athlete in any sport who has had as many career swings before her 21st birthday as Michelle Wie? She's gone from can't-miss to can't-hit-a-fairway to comeback kid to can't-make-a-putt in such astonishing succession it's easy to lose track of whether she is on the upswing or another downturn.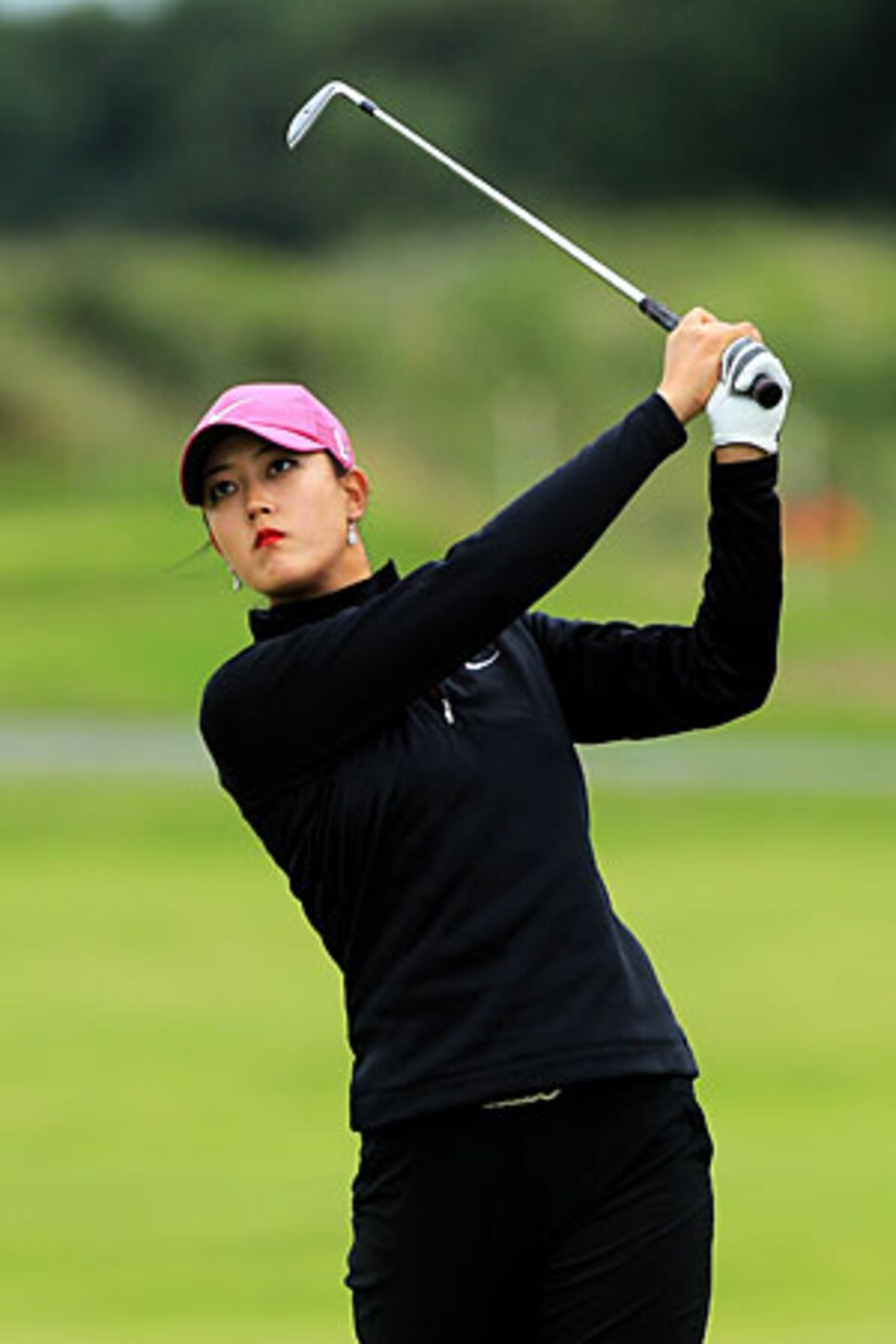 For those of you scoring at home, Wie, who turns 21 in October, put together a round on the opening day of the Ricoh Women's British Open in blustery conditions at Royal Birkdale that could make you think another upswing is on the way. After a bogey on No. 1, she made 15 consecutive pars and then finished birdie-eagle for a two-under-par 70, two strokes behind first-round leader Yani Tseng.
"It was quite difficult out there with the wind," said Wie, who hit 6-iron in the par-5 17th hole and 7-iron in the par-5 finishing hole. "But it was just go out there and try to hit solid shots. If you don't, the winds going to take it over. Today, I was just patient out there and I'm going to do the same tomorrow."
Wie hasn't had a better opening round in a major championship since shooting 66 in the first round of the 2006 Kraft Nabisco Championship, where she finished T-3, and hasn't finished in the top-10 in a major since the 2006 U.S. Women's Open at Newport, where she was also T-3.
After a star turn at the Solheim Cup last August and her first victory anywhere in six years in the Lorena Ochoa Invitational in November, it was expected that Wie had turned a corner and would start to approach the promise of her potential. But she has had only two top-10 finishes in 11 stroke-play starts this year -- none since April -- and missed the cut dismally in the last major -- the U.S. Women's Open at Oakmont where she shot 82-76.
In a way, it was appropriate that Tseng, who finished after Wie, also closed birdie-eagle to grab the lead. Tseng, a shy but subtly funny 22-year-old from Taiwan, has lived in Wie's shadow for nearly a decade despite having a much better resume.
Tseng defeated Wie in the finals of the 2004 Women's Public Links -- consistently bombing it past the long-hitting Wie -- and has already won two major championships -- the 2008 LPGA Championship and this year's Kraft Nabisco Championship -- while Wie has none.
How astonishing would it be if Tseng won this week and was, at her tender age, three-quarters of the way to the career Grand Slam? In case you think that is unlikely, Yani hit all 18 greens Thursday at Royal Birkdale - a difficult achievement even if the wind were not being frisky. She also played extremely well in 2008 when the Women's British Open was at Sunningdale.
Getting back to Wie, most impressive was the way she bounced back from her opening bogey and a few other squirrely shots early in the round. One of her flaws -- besides a decidedly erratic putter -- is to let mistake compound mistake, turning what could have been a bogey into something worse. She remained in complete control Thursday.
The test for Wie now is to back up the solid opening round with another good effort. That consistency has been a problem for her since she joined the LPGA fulltime last year. At the Evian Masters last week, for example, Wie opened with a 68 then effectively played her way out of the tournament the next day with a 77. Often of late, her best rounds have been when it mattered least -- early in a tournament or late when she was out of contention.
The cool thing about golf -- especially major championship golf -- is that it requires performance and concentration over four days on every shot -- and that is especially so in links golf. One errant shot can lead to disaster.
Wie met all of those tests on Thursday and has positioned herself perfectly at Royal Birkdale for a run at her first major championship. Now she has to build on it. After Friday's second round we will likely have a better indication of exactly where we are positioned on the Michelle Wie roller coaster ride -- going up or going down.
(Photo: David Cannon/Getty Images)