The Loop
The hottest player in the world
Who's the hottest player in the world RIGHT NOW? It's not Luke Donald. It's not Martin Kaymer. It's not Bubba Watson. It's not Mark Wilson. It's not Lee Westwood. It's not Phil Mickelson. It's not Matt Kuchar. It's not even Bernhard Langer.
You're looking at the wrong tours.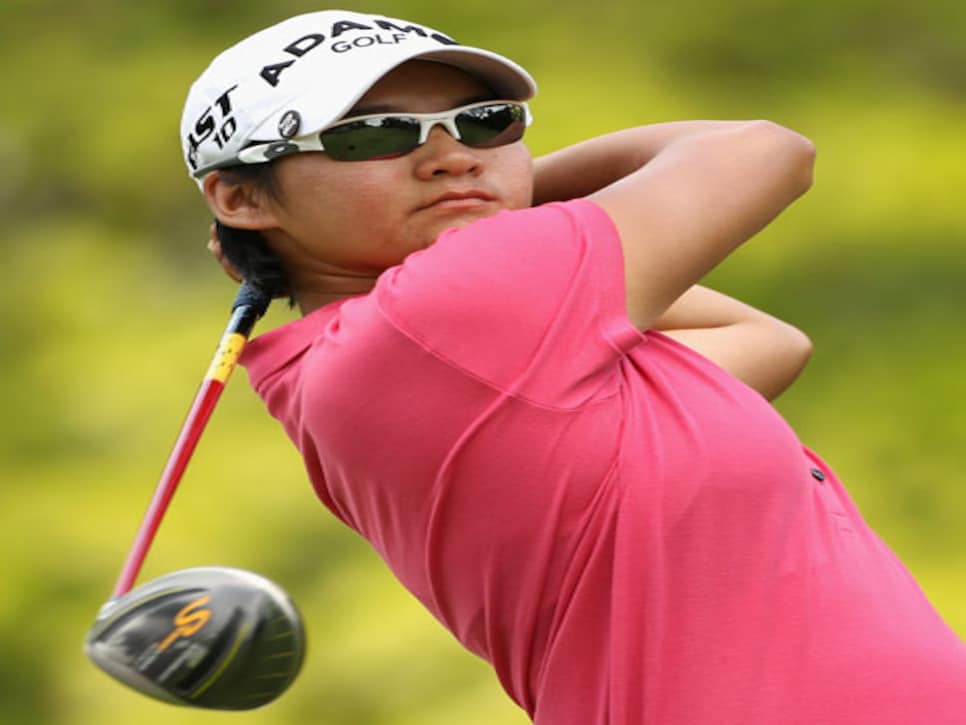 Yani Tseng has won four of the last five events she's played, on three different continents, and she finished third in the other one. And she quietly won two majors last year. She is suddenly filling the LPGA void left by the exodus of Annika Sorenstam and then Lorena Ochoa. Week-in and week-out, she has become the LPGA player to beat. So what has made the 5-foot-6 Taiwanese national who now lives in Sorenstam's old house in Orlando so good?
Golf World's Ron Sirak, who has been following her career for several years, says Tseng is perhaps the strongest player physically on the LPGA Tour. He remembers watching her playing with Michelle Wie two years ago and outdriving her all day. At the Women's British Open at Sunningdale in 2008, Tseng played with Sorenstam and afterward Annika told Sirak that Yani would be the best player in women's golf in four years. Well, let's make that 21/2.
Her first coach, Tony Kau, got her started on the right track in Taiwan, and Ernie Huang has been her U.S. host and mentor in the U.S. since 2001. Says Huang:
"I took her and some other girls to see the U.S. Women's Open at Prairie Dunes in 2002 [she was only 12 years old], and something clicked. She told me, 'I can beat some of these players.' I could tell she was different. She had an inner confidence, even then."
Yani has had a number of teachers and influences in her young career. After working with Kau in Taiwan when she was 8 or 9, she then went to Glen Daugherty in California when she was 13. Her current teacher, Gary Gilchrist, has been working with her since January of 2010, and as good as she was before, she has really blossomed since. Gilchrist, who grew up playing golf with Retief Goosen and Ernie Els in South Africa, has played against a lot of world-class players and has worked with juniors for 22 years. In other words, he knows a great swing when he sees one, and he understands talent, potential and heart. Based at Mission Inn Resort and Club in Howey-in-the-Hills, Fla., his academy is producing a number of top-rated players.
I would like to give you the swing keys Gilchrist checks with Tseng when they get together in central Florida, but Gary is hesitant to divulge mechanical thoughts and says it's much more about building confidence and character than dissecting the technical side. He told "Morning Drive" on Golf Channel that he spends a lot of time making sure she makes good decisions on the course.
Vision54's Pia Nilsson and Lynn Marriott, who famously coached Annika Sorenstam and have worked with Tseng, agree. "One thing that makes Yani great and it's useful for the average golfer," says Nilsson, "is she keeps things simple and uncomplicated. She knows she doesn't want to be in the Play Box more than five seconds. Annika always kept things simple and it helped her save energy to play well more often. Yani is the same way in that respect."
Says Marriott: "Another thing is that she knows how much down time there is in golf between shots, and she is aware and good at making sure she enjoys herself between shots. Two reasons--to relax and save the focus for hitting shots and not having destructive self-talk but to create happy/fun energy."
Tseng also works periodically with putting and short-game guru Dave Stockton. It's clear when you see her on the greens that Stockton's philosophy is prevalent. There is a no-nonsense style: her mechanics are solid. She takes one look at her target and makes a decisive stroke before doubt can set in, her left wrist staying square to her line.
Gilchrist chooses his words carefully. "There is a big difference between improving a swing and changing a swing," he said on "Morning Drive". "This year I want Yani to maintain what she has." He said he knew Yani was extraordinary when he first met her, then only 14, at the U.S. Public Links, when Yani beat Michelle Wie in the final. Gilchrist was working with Wie at the time (some say he is responsible for her most powerful and repeating swing, the one that appeared in the November 2005 issue of Golf Digest when the magazine favorably compared it to the swing of Ernie Els--The Big Easy versus the Big Wiesy.)
"I believe Yani is going to do something special in her life," he says. "She's mentally prepared."
Stay tuned for more on Yani from Gilchrist, and follow me on Twitter @RogerSchiffman.
(Photo: Andrew Redington/Getty Images)