The Loop
Why Tiger Woods' Sunday blues are overblown
It's safe to say we've seen the most disappointing back-to-back Sundays of Tiger Woods' career the past two weeks. His lackluster performances have generated discussion about him losing his ability to close, but is this truly a case of final-round pressure finally getting to arguably the game's all-time greatest player? Let's look at the numbers.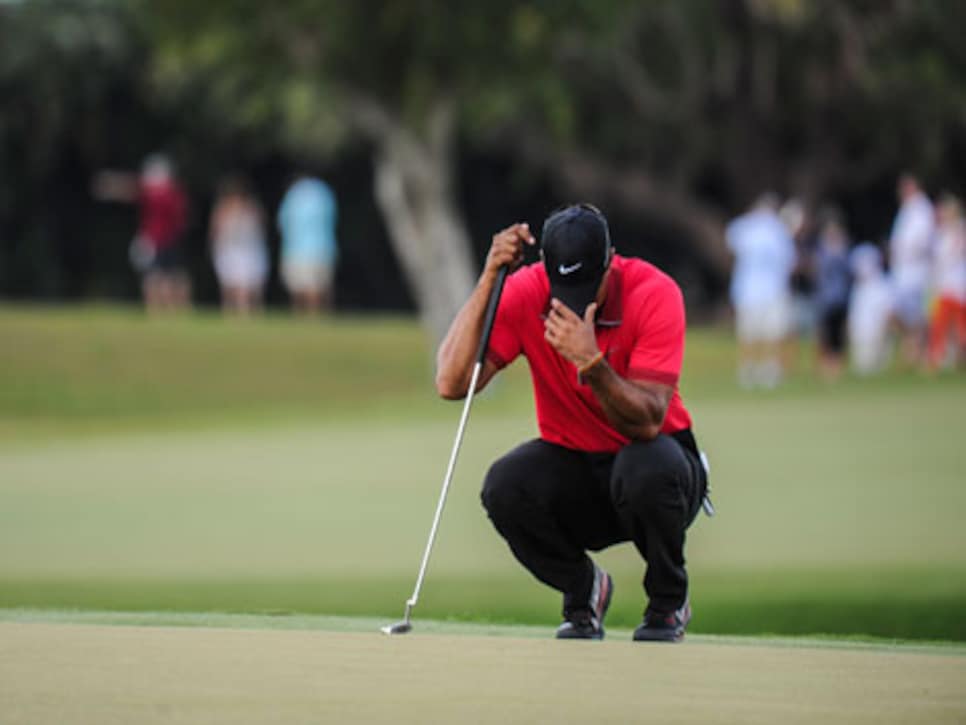 Actually, before we do that, it's only fair to address Woods' back. It caused him to withdraw from the Honda Classic the previous Sunday, and he was visibly in pain during the final round at Doral. Woods' defenders will point to that as the reason for his Sunday struggles, while Woods' critics will say he's looked pretty good the past two Saturdays. No one knows for sure how much the back has affected his play (he didn't mention it until last Sunday), but here's what we do know:
-- Overall, Woods has led the PGA Tour in final-round scoring five times. Then again, shouldn't that be expected from someone who has led the tour in overall scoring average nine times and finished second or third another five times? That's 14 times in the top three in 16 full seasons (this doesn't count 1999 and 2008 in which he won a combined six times in 14 events), with 2010 and 2011 being the lone two blips.
-- Sunday's 78 at Doral was Woods' first complete final round in 2014 on the PGA Tour. He withdrew after 13 holes at the Honda Classic -- he was five over at the time -- and he didn't make the Sunday cut at Torrey Pines after a third-round 79. See? He doesn't always play great on Saturday, either.
-- In 2013, Woods ranked 93rd in final-round scoring average at 71.13, by far the worst of his career. But he also wasn't particularly sharp on Saturdays, ranking 48th with a 70.47 average. He ranked second in scoring average for both the first and second rounds.
-- In 2012, Woods also ranked No. 2 on both Thursday and Friday, but slipped to 44th and 30th on Saturday and Sunday, respectively. Hmm. Now it seems like we're seeing a trend . . .
-- If we look deeper at his 2013 and 2012 seasons, Woods shot even or better all eight times he held or shared the 54-hole lead. He also won all eight of those times to make it 54 out of 58 times overall that he's won when taking at least a share of the lead into the final round. In other words, he can still close the deal.
-- But what about when he's trailing? Since the beginning of 2012, Woods' Sunday average with the lead (70.5) is half a shot better than when he enters the final round in pursuit. This could be an indication that Woods forces the issue in those instances and doesn't play as well. Of course, it could also mean he loses interest when he's not in contention.
-- And what about majors? Post-scandal, he has played considerably worse on Sundays in golf's four biggest tournaments. His Masters average of 70 is better than his career Sunday average, his PGA Championship performance has stayed about the same, but his final-round play at the two Opens are more than two shots worse than for his career. That being said, when you're dealing with three or four years, that's a pretty small sample size. More on that later . . .
-- In 2009, Woods led the tour in scoring average in all four rounds, including a 68.40 average on Saturday and Sunday, which was nearly a full shot better than his average before the cut. That, however, wasn't typical. Woods' remarkable consistency has been across the board. His success hasn't come from going extra low in final rounds, but rather shooting about the same scores Thursday through Sunday.
-- Sometimes, small sample sizes don't make sense. For instance, in 2002, Woods was first in scoring overall, pre-cut and final round, yet for some reason was No. 50 on Saturdays. It happens.
-- To that point, here are some other random final-round scoring averages for Woods: 39th (1999), 13th (2003), and 15th (2004).
So, what does it all mean? Woods hasn't been as good on Sundays in recent years, but he also hasn't been as bad as everyone makes it out to be. Oh yeah, and he has a bad back. So until Tiger starts routinely blowing 54-hole leads, it's probably best to refrain from pushing the panic button just yet.