News
Why Tiger Woods' return deserves to be called a success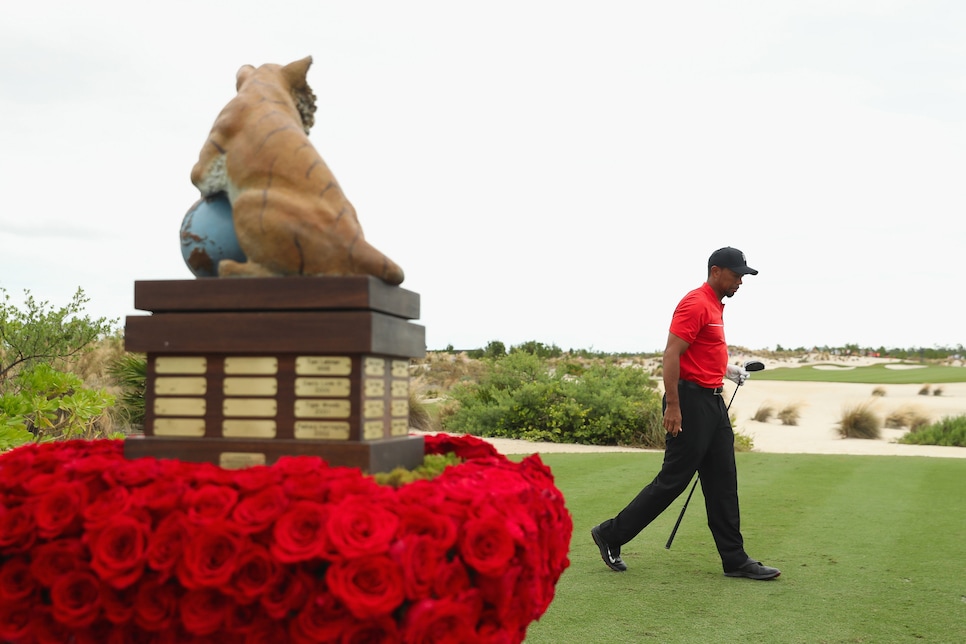 After 466 days, Tiger Woods returned to competition at the Hero World Challenge. What did we learn? Well, it's hard to say definitively. On one hand, Woods was under as much scrutiny as he has ever been in his over-scrutinized life. With a game recently described as "vulnerable," he handled the challenge without melting down.
On the other, the Hero was the very recipe of home cooking. Unofficial event, 18-man field, no cut, cake golf course, sparse galleries in a languid tropical setting, Woods as the tournament host surrounded by supplicants and staff. Albany Golf Club is far from the cold demands of a 72-hole PGA Tour event at let's say, Torrey Pines or Riviera, two places where Woods could open the 2017 as he embarks on what he hopes will be a full playing schedule. And much farther still from a merciless major.
Bottom line, Woods finished 15th. His scores of 73-65-70-76 represented a decidedly mixed bag. The good news was that he led the field in birdies with 24 (through 43 holes he had 17), looking good after reuniting with the Scotty Cameron putter with which he won 13 majors. The bad news: Woods had eight bogeys and six doubles. Many of them were mostly due to a short game that, though not the horror show of early 2015, is still iffy.
The unevenness could have been expected. His good was surprisingly good. But as Woods himself would say, what matters most is "how bad is your bad." If it stays that bad, it's improbable that Woods will be able to add to his career totals of 79 official PGA Tour victories let alone his 14 majors.
At the same time, after watching Woods play with aggression and verve, it's indisputable that he remains physically capable. Yes, he turns 41 in three weeks, and his three back surgeries since March 2015 to many seem a prelude to the end, but Woods looked like anything but a gimpy geezer in the Bahamas. He misses were not wild, while his many good drives were plenty long and many good irons very crisp.
Most of all, there was a palpable and overdue ease to his game. Woods looked leaner, which seemed to aid in more swinging of the club head and less straining of the body. Along with his speed, he had rhythm and flow and balance. Technically, his stance was narrower, posture taller, hip turn bigger and his once rigid left leg softer through impact. There seemed to be less thinking over the ball, and more of a subconscious freedom.
After so much grinding and grimacing in recent years, it was a welcome change. Woods said he has been trying to implement some old swing "feels" from his vaunted teenage years. Which if he was watching, had to hearten 95-year-old John Anselmo, Tiger's teacher between ages 10 and 16.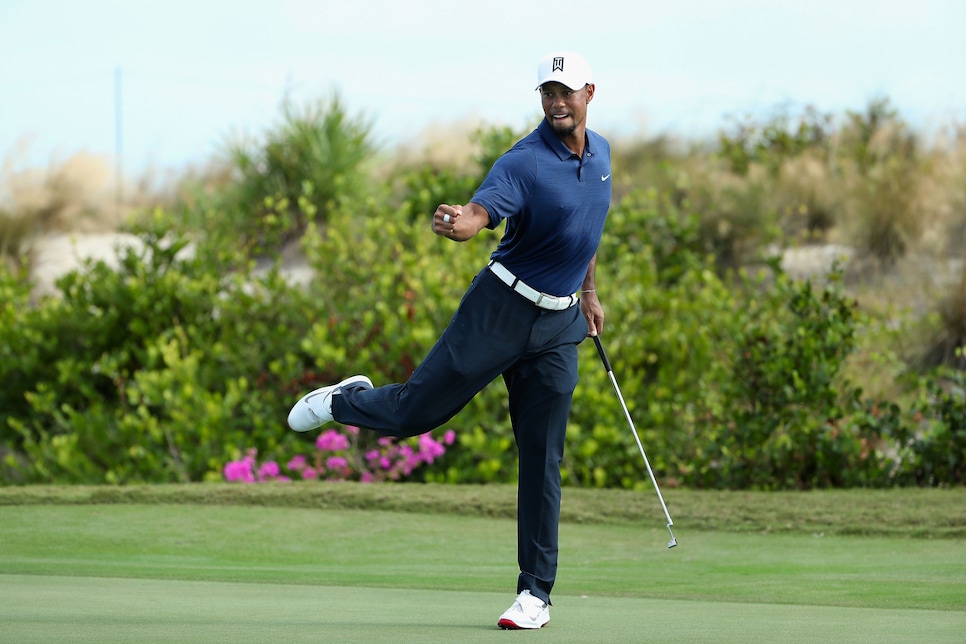 Along with the rejuvenation, Woods seemed unusually, even unjustifiably, confident, given the way he had abruptly withdrawn from the Safeway Open in October only three days after committing at the last minute to the event. At the time, most observers couldn't resist using the term "stage fright." But in his pre-tournament press conference in the Bahamas, Woods talked about having "all the shots." And yes, that he was in it to win it. It was an extension of the bravado Woods exhibited in his answer last month to Charlie Rose, who'd asked if he had accepted not reaching Jack Nicklaus' record of 18 majors. "I've accepted I'm going to get more," Woods said.
Such words raised expectations, but Woods—his old aura having diminished—doesn't seem as concerned with failure as he used to be. All week, he looked to be genuinely enjoying himself, smiling widely as he interacted with playing partners and caddies, gracious and light in post-round interviews. Of course there was intensity, but the tranquil kind comes from a favorite task. After all that's happened to him in the last six years, he seems to realize that he really has nothing to prove, and as such, nothing to lose. After picking a birdie putt out of the hole, he gathered himself with a deep breath, quietly intoxicated with the opportunity to still be doing what he has always loved.
It seems that this enforced break—at 15 months the longest of his career—was different than others. Woods didn't rush back to return and didn't pound his body with obsessive working out. He doesn't talk much about reflection, but it appears some healing, physically and mentally, took place. There was a hint of as much when, in announcing his withdrawal from Safeway, Woods admitted "my game is vulnerable." After so much denial and posing, it seemed liberating.
The encouragement Woods has received from his peers has undoubtedly helped. As an assistant captain at the Ryder Cup, Woods was presented by the team a t-shirt emblazoned "Make Tiger Great Again." For a once dominant and remote champion who's suffered a fall from grace, such a show of respect and acceptance is meaningful.
Woods' comebacks always get outsized reactions, but perhaps they contain some wisdom. He is one of those rare humans whose special talent is immediately apparent to average people. Especially after his 65 on Friday, it seemed that the 898th-ranked player had leaped back to the top of the game.
Even Hank Haney, always the coldest-eyed realist when it comes to Woods, was effusive. "I think Tiger wins more tournaments and at least one more major just based on this performance," he said on Sunday. And from the perspective of an eyewitness to true historical greatness, Haney added, "I just don't think these top guys are so good that Tiger can't play with them."
The X Factor in all this? Woods' short game. It used to be his great eraser of mistakes. Now it's the source of his biggest ones right now. The problem simply must be resolved—completely—if Woods is to have a chance at challenging Nicklaus. He chunked two chips at Albany, but both were from difficult lies. His pre-tournament statement that "I love chipping" was encouraging, recalling his days with Anselmo, who noted that his young prodigy liked spending time around the practice green at Meadowlark G.C. in Huntington Beach, Calif., learning little wedge shots more than pounding full shots on the range.
Fortunes in golf can flip very quickly. Sometimes, something seemingly long lost clicks in. And sometimes when it's gone, it's gone. At the Hero, Woods at the very least kept the first option in play.