The Loop
Why Tiger Woods could return to Riviera, the place where he's had the least success on tour
Of all the amazing Tiger Woods stats, one that isn't complimentary might be the most stunning. There's actually a PGA Tour event Woods has played in 11 times and not come away with a win.
That tournament would be the Northern Trust Open, which will be played this week for a 10th straight year without Woods. The 14-time major champ is still recovering from off-season back surgery, but there's a good chance he wouldn't have teed it up at Riviera based on his poor (by his standards) track record.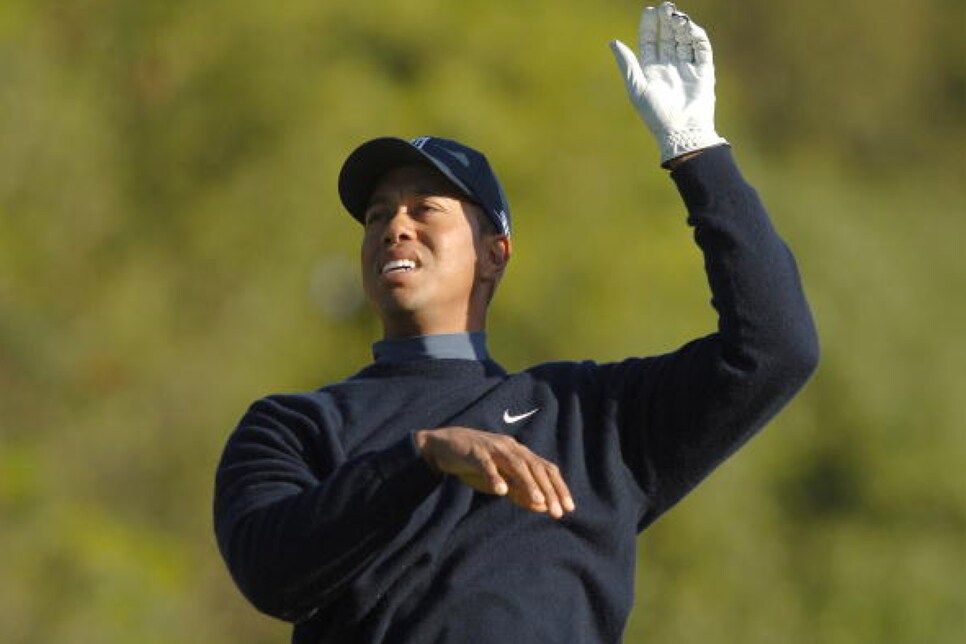 To be fair, two of the 11 times came while Woods was still an amateur. In fact, a 16-year-old Woods made his PGA Tour debut at Riviera in 1992 by missing the cut. But take those out of the equation and that's still 0 for 9 for a man with 79 career tour wins.
And he's 0 for 8 as a pro at Riviera, specifically. In 1998, the then Nissan Open moved to Valencia Country Club where Woods lost the only playoff of his PGA Tour career, falling to Billy Mayfair. Woods' 0-for-8 mark (seven as a pro) at the Barclays comes close, but that tournament has jumped around a lot more, though, making Riviera Woods' least successful course by far.
It's not that Woods has played terribly at Riviera. He owns a 69.39 scoring average at the historic venue every time except for when he withdrew after the second round in 2006. But he's never quite owned Hogan's Alley, coming the closest with a T-2 in 1999.
But now there's a better chance Woods could fill that void on his resume in the future. The AP reports the Tiger Woods Foundation has had discussions to take on a major role in the event, which will have Hyundai as a new sponsor, beginning in 2017. And as we've seen in the past with the Quicken Loans National, Deutsche Bank Championship, and the Hero World Challenge, Woods usually plays in tournaments connected to his foundation.
Considering the field that's in L.A. this week, potentially adding Woods to the mix at next year's Hyundai (Open? Invitational? Championship?) is fun to think about. Of course, before Woods returns to Riviera, he first has to return to golf.