The Loop
Why Tiger Woods could miss all four majors in 2014
On Tuesday, Tiger Woods' announcement that he had undergone successful back surgery and would miss the Masters for the first time as a pro led to two main questions: What is a microdiscectomy and how long will Woods be out of action?
We asked Dr. Andrew Hecht, the Chief of Spine Surgery at the Icahn School of Medicine at Mount Sinai in New York City, to answer both.
"A microdiscectomy is a treatment for someone with a disc herniation," Hecht said. "If you think of a disc like a jelly donut, the outer cover tears and the jelly comes out. That jelly starts to irritate a nerve."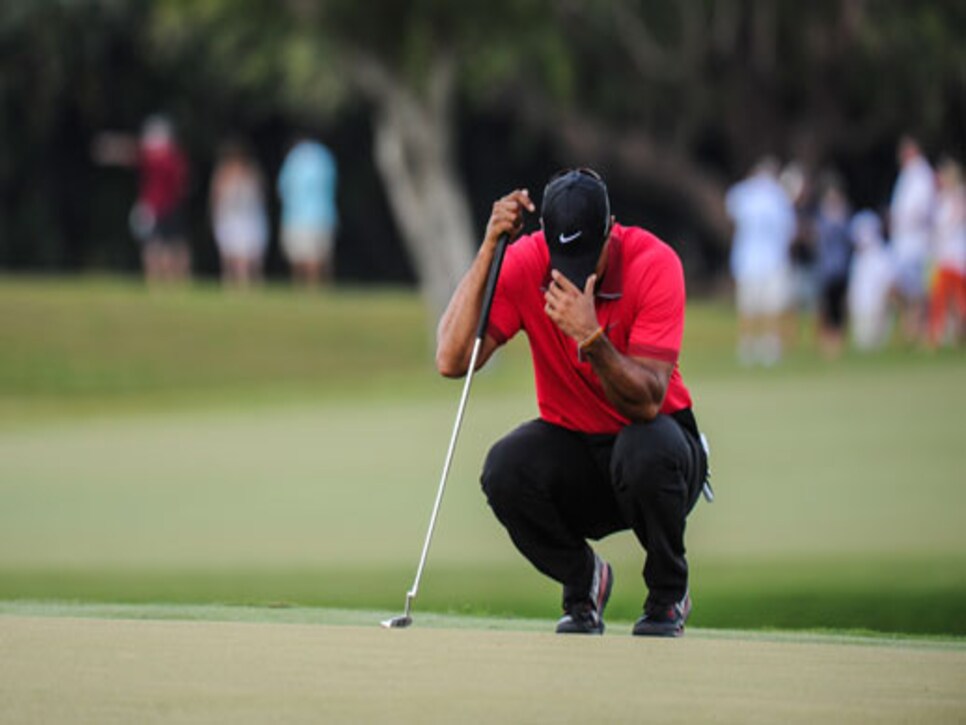 Woods said in a statement he had surgery in Utah on Monday for a pinched nerve that had been bothering him for several months. The No. 1 player in the world and four-time Masters winner had to withdraw during the final round of the Honda Classic early last month before skipping the Arnold Palmer Invitational.
Such an injury, according to Hecht, is often the cause of pain in the leg and buttock, as well as in the lower back. It can get better with rest, but many athletes opt to have this procedure because of its high success rate. Hecht said approximately 90 percent of elite athletes return to their former level of competition.
Of course, that will take time. Hecht said there is a gradual phase of rehabilitation followed by a more intense phase and finally the return of an athlete to activities for his/her specific sport.
"The golf swing is a very powerful, twisting motion," Hecht said. "Just because you're not getting tackled, doesn't mean you can't hurt your back."
Hecht said on average the rehab process takes three to four months. Woods could recover more quickly, but a three-month layoff wouldn't have Woods returning until the end of June, meaning he'd miss the U.S. Open in addition to the Masters. A four-month recovery would mean he'd miss the British Open as well, and anything more could result in him missing all four major championships.
In other words, Woods picked the worst time to miss a three-to-four month chunk of the season.
No two injuries are the same, of course, but Graham DeLaet is a recent example of a golfer to undergo the same surgery as Woods. He spoke about his microdiscectomy at the 2012 Sony Open:
"I had a herniated disk over to the right, so they go in and shave off a piece of that to alleviate the pinch on the nerve," DeLaet said. "I had terrible pain in my right leg. Yeah, it was not fun. I'm glad it's all over and I'm feeling great now."
DeLaet made a full recovery and was one of 2013's breakout stars when he was the best player for the International squad at the Presidents Cup. That's the good news for the 38-year-old Woods. The bad news? DeLaet had the surgery when he was 10 years younger than Woods and it essentially wiped out his entire 2011 season.
Odds are, Woods won't miss as much time as DeLaet. But due to the timing of the procedure, he could wipe out his entire major championship season. For a man so focused on golf's four biggest events, that might hurt just as much.