Instruction
Why Tiger replaces his wedges every week he plays
Have you ever grabbed a buddy's club, looked down at it and thought, 'Wow, this thing is ug-ly?' You might be intrigued enough to give it a try, but chances are, your first impression of that club is going to be hard to overcome. Point is, performance is important, but how a club looks to you is a potential deal-breaker. Is this an irrational approach? Not according to Tiger Woods.
Tiger talks about having 50 drivers sent to him when he's considering a change, and his process of eliminating most of them to find a few keepers. First impressions matter to Tiger; in fact, his eye test is the critical first step. "It has to look good, then after that it has to perform at my expectations," Tiger says. "If it's not doing those two things, then it's just not in."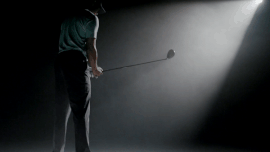 Updating your clubs is not only about what to change, but when. Top pros like Tiger always get a crack at the latest models. But for most golfers, it's more practical to keep your clubs longer. Drivers and putters are often the first to go, and some clubs stay for a long time, particularly a favorite wedge. Tiger's the opposite with his wedges.
"I like having fresh wedges pretty much every week I play because of spin," he says. "I spend so much time chipping that I wear out the grooves. If they lose a little bit of friction, that's a little bit of spin I've lost. I can gain that back by having new wedges."