golf trips
Why serious players are dosing psychedelics like mushrooms and ayahuasca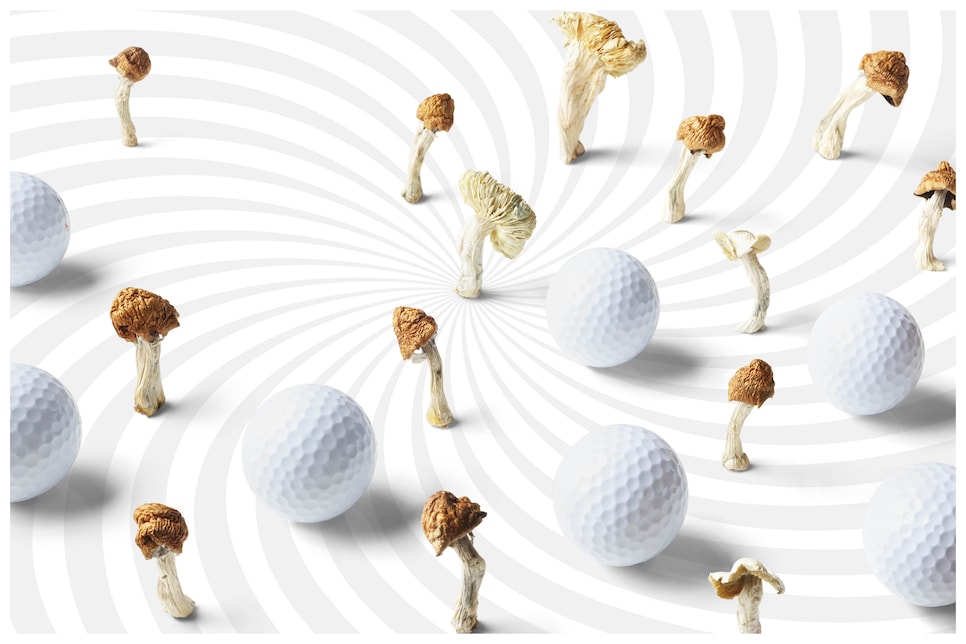 D.J. TRAHAN IS WEEPING THROUGH the phone, overcome with so much joy that the tears are pouring out, and he doesn't resist. The two-time PGA Tour winner, once known as a golfer who could run hot, has never been more at peace. Golf no longer defines who he is, a refrain among pros who have gone through every up and down and have decided to accept the fact that the party is winding down. Trahan, 42, credits plant medicine for his improved mental health, especially ayahuasca. This is normally the point when conventional people tune out and assume he's crazy.
"Plant medicine gets an unfortunate reputation because people look at it as drugs," Trahan says. "They're not honoring it for what it is."
Ayahuasca is a psychedelic made by boiling the caapi vine and the leaves of the chacruna shrub, both found in South America. The active chemical is DMT, or dimethyltryptamine. For centuries, ayahuasca has been used by people of the Amazon and Orinoco basins for spiritual and religious purposes. Now modern golfers are exploring the benefits. Christopher Smith, a Golf Digest top teacher from Oregon, has organized retreats in Mexico for students billed as "traditional medicines and therapies for your golf." One PGA Tour player, a former winner who had a streak of top finishes this year, credits microdosing psilocybin, the active ingredient in the Schedule 1 controlled substance "magic mushrooms," with his resurgence. "Psilocybin allows me to get a deep breath on the course that I haven't been able to get in years," he says. Juniper Preserve, a 36-hole resort in Oregon, is applying for permission to conduct research on the performance effects of psilocybin on golfers, which is all to say, the term golf trip could be on the verge of acquiring new meaning.
When the tears are over, Trahan speaks more about the long-term mental health benefits of plant medicine as opposed to on-course benefits. He tried ayahuasca in 2019 at the recommendation of a friend named Taylor Massey, a four-time club champion at both La Costa Country Club and The Country Club of Virginia who helped a company called Medterra CBD launch its golf division. "It was amazing how the conversation unfolded," Trahan says. "I was like, 'You know, Taylor, I've been struggling for a long time. My golf had been struggling, and I felt completely lost. I never understood that the answers were within me."
Massey says he serves as "pyschedelic advisor" to dozens of pro golfers at various levels of the game, as well as veterans on the Coming Home Project. In addition to cannabidiol (CBD), the compound found in marijuana, Massey makes microdoses of psilocybin mixed with several other legal ingredients. They include lion's mane, a fungus that according to WebMD might improve nerve development and function and help protect the lining in the stomach, though Massey's followers are more concerned with the mental and physical hurdles that come with playing professional golf.
"It's a way to manage stress and the grind of golf without taking Zoloft or Wellbutrin or any pharmaceutical drugs," Massey says. "This is just a natural remedy in tiny doses."
FIVE DAYS AFTER WINNING FOR the second time in as many weeks in 2023, Lucas Glover tweeted a photo of two supplements made by the natural herbal brand HANAH, whose products are legal and non-psychedelic. "Appreciate the care package," Glover wrote, tagging the brand and Jimmy Chin, a filmmaker best known for the documentaries "Free Solo" and "Meru." Chin is an investor in HANAH and credits the products for his vitality, focus and immunity throughout the three years of filming and production process of "Free Solo."
The man who runs HANAH is Joel Einhorn, who founded the company after experiencing the benefits of Ayurvedic medicine after a near-death cycling accident. Ayurvedic medicine, also known as Ayurveda, is an alternative that's heavily practiced in India and Nepal. Einhorn was introduced to it by an Indian doctor at a health-food Indian restaurant he frequented during his recovery, and he says it brought him back to life. He saw increased cognition, enhanced creativity, more access to memory, words and different languages, and, above all, improved athletic performance. The herbs were so beneficial that he had to ask the doctor where they were coming from, leading to an aha moment.
"The doctor was like 'Look, you can't just order these things online because you don't know where they are coming from," says Einhorn, who started spending a lot of time in India sourcing ingredients and creating supply chains and products. An avid cyclist, snowboarder and golfer, Einhorn also made connections in the sporting world. Chin, professional surfer Ian Walsh, professional snowboarder Travis Rice and skier Kit DesLauriers are among his biggest brand ambassadors. Glover, Kevin Chappell, Sean Foley and Mac Barnhardt (Glover's agent) are among those in golf who use the HANAH products. To be clear, these products are completely legal. As a side project, Einhorn is working on a microdose of psilocybin in pill form used by a group of golfers he prefers to keep anonymous.
'PLANT MEDICINE GETS AN UNFORTUNATE REPUTATION BECAUSE PEOPLE LOOK AT IT AS DRUGS,' D.J. TRAHAN SAYS. 'THEY'RE NOT HONORING IT FOR WHAT IT IS.'
RESEARCHERS AT UNIVERSITIES such as Johns Hopkins, UCLA, Stanford and Harvard are working on expanding the available scientific literature for psilocybin and psychedelics at large. Dr. Robin Carhart-Harris, a professor at UC San Francisco, studies psychedelic drugs and how they work in the brain and mind and how they might be useful for treating mental illness. Two key misconceptions about psychedelics, he believes, are that they are addictive and a "one-way ticket to insanity." Both theories have lingered since the war on drugs began in the 1970s, Carhart-Harris says. He argues that they have the potential to enhance mental clarity, which is why military veterans dealing with PTSD and depression have become some of the most effective lobbyists in a campaign to legalize the therapeutic use of psychedelics.
As Carhart-Harris warns, though, they still need to be taken in a structured way. "If it's not done the right way, it can agitate people and set them back," he says. Carhart-Harris recommends microdosing. Taking small doses, anywhere from five to 10 percent of what might make a person hallucinate, on a semi-frequent basis, he says, can potentially improve one's mood and focus, boost creativity and make the world seem, generally, brighter—all things that, theoretically, could be beneficial for a golfer. Although it was by no means a career year for the PGA Tour winner mentioned earlier, this player had his best strokes-gained/ approach output since the 2017-'18 season and his best strokes-gained/around-the-green output since the 2016-'17 season. "Being able to authentically assess each and every shot without judgment or fear has created a freedom like no other," he says.
PATRICK GRIMES, A FORMER Stanford University golfer whose team included several future PGA Tour pros, tried ayahuasca in 2012. Then a sophomore, he had heard about ayahuasca from a friend on the Cardinal baseball team who had watched a documentary. Grimes was nervous before his fi rst ayahuasca ceremony in Chicago. It was a quiet space with only a handful of people, each going through his or her own experience with a shaman facilitating. Some people were listening to music, others were chanting or "holding the space" in a specific way. There was no interaction with others. After the physical purging, what followed for Grimes was a connection between his mind and body like never before. He began thinking about the people in his life, about close relationships that had negatively impacted him. He saw faces of the different people who were looking at him and judging him. It felt critical. That feeling of being "watched," Grimes realized, was his trigger. "It felt like all that was coming up, and then all of it was like physically coming out, too," he says. "That's where this medicine has such a profound transformative eff ect. It has this way of bringing things to the surface, and then you physically purge it."
Grimes has since experienced a dozen ceremonies. "It has been a huge part of my life," he says. "All through my 20s, it was about self-discovery and feeling like it was a powerful tool when I would get stuck or confused or trying to find my way with my game and my career and myself."
Ayahuasca, Grimes thought, was going to unlock his golfing potential. It did for a while, until Grimes realized it was unlocking something else—clarity about what he really wanted to do in life, which was not to play golf full time. After stints on PGA Tour Latinoamerica, PGA Tour Canada, other mini tours and Monday qualifiers, last year Grimes attended an ayahuasca retreat with Q school looming. His game was not in a good place, and he knew he should have been practicing. Instead of discovering a swing fix or a new mental approach, he came to the realization he was done. "I'm not going to play," Grimes told himself.
"Golf was so much at the forefront of my identity. I'm not proud of being that wrapped up in my golf journey, but, as any pro can relate, it just takes over your whole life. You don't get a break from it."
ONE CURRENT PGA TOUR PLAYER ATTRIBUTES HIS RESURGENCE TO MICRODOSING PSILOCYBIN: '[IT] ALLOWS ME TO GET A DEEP BREATH ON THE COURSE THAT I HAVEN'T BEEN ABLE TO GET IN YEARS.'
Grimes decided he wanted to help other golfers integrate plant medicine into their lives, to figure out a way to blend it into their personal development. He pulled out of Q school and signed up for grad school at Stanford. Now 30, he's studying counseling psychology with the hope of getting his license to be a therapist, which he wants to combine with coaching golf. He's already doing full-swing instruction with golfers and hopes to one day work with high-level players on their golf swing and ways to integrate plant medicine into their lives as a way to unlock their potential. "It's been perceived as a drug to escape from life," Grimes says, "when really, it's the complete opposite."
OREGON HAS DECRIMINALIZED psychedelics cs such as psilocybin, but they are still classified as a Schedule 1 controlled olled substance. Per a PGA Tour spokesman, the tour's anti-doping program follows lows the WADAA (World Anti-Doping Agency) prohibited list, which indicates what substances and methods are prohibited in sport and when. Since psilocybin is not a specified substance on the WADA prohibited list, a player could not test positive because WADA accredited laboratories do not test for it. Even if they did, psilocybin gets out of one's system in a very short period of time, making it possible for a player to take it on a Tuesday and have it not show up in a drug test on a Thursday, according to Golf Digest Professional Adviser Dr. Ara Suppiah. Ayahuasca takes longer to get out of one's system,stem, "up to 300 hours," according to Suppiah. A tour pro could theoretically plan two weeks off after a ceremony to be safe.
In 2006, the Supreme Court ruled that consuming ayahuasca is legal when used for religious purposes. When quarterback Aaron Rodgers openly admitted he had taken the plant medicine on multiple occasions before the 2022 NFL season, it was still a surprise. Ultimately, Rodgers faced no discipline, with the NFL and the NFL Players Association saying that ayahuasca counts as neither a prohibited compound under the substance-abuse policy nor a PED. Rodgers, who first took ayahuasca in Peru during the 2019 offseason, won consecutive NFL MVP Awards in the 2020 and 2021 seasons.
In psychedelic circles, Rodgers is admired for speaking so openly about his experiences. Two-time Stanley Cup champion Daniel Carcillo, a longtime NHL "enforcer," believes psilocybin was the only thing that helped his brain trauma after retirement. He even started a psychedelics company called Wesana Health. Jake Plummer, an NFL Pro Bowl quarterback who played for the Arizona Cardinals and the Denver Broncos, co-founded a non-psychedelic mushroom farm in Colorado that has been selling locally grown medicinal and culinary mushrooms and mushroom extracts since 2021. PGA Tour golfer Morgan Hoff mann told Golf Digest in 2022 that he believed ayahuasca, among other plant medicines, is curing his muscular dystrophy.
However, most active athletes are less inclined to speak about ayahuasca or psilocybin for fear of drawing attention. "The Drug Enforcement Administration could still come down on you," Suppiah says. "Unless you are using it in a controlled situation, most mushrooms are illegal."
FORMERLY THE PRONGHORN RESORT, the Juniper Preserve has two golf courses designed by Jack Nicklaus and Tom Fazio, and it was originally an exclusively private club. The Nicklaus course is open to the public, and the Fazio course remains privately accessed by members. Melissa Sanchez, the wellness director at the Juniper Preserve, is leading the psilocybin initiative, working with Dr. Robin Carhart- Harris on conducting a study on the efficacy of psilocybin use for golf performance. Jeff Ritter, Golf Digest's No. 1-ranked teacher in the state of Oregon for 2022-'23, will be participating in the study and helping its roll out. Ritter and his wife, Cate, have experience with psychedelics and have seen many of the positive benefits.
For the study to begin, though, several things still need to happen. First, the resort needs to obtain a service-center license that allows guests and members access to microdose psilocybin on property. Under the Oregon model, individuals can ingest psilocybin only at designated licensed premises and must remain on the premises under statelicensed supervision for the duration of their experience.
"I believe that access to natural medicines and their wide range of mentalhealth benefits is worth all the eff ort," Sanchez says. "Our nation is in a mental- health crisis, and we as a society are not in a position to reject powerful treatment alternatives to pharmaceutical drugs based on outdated stigmas. The fact that we can be the first destination resort to legally have access to psilocybin would send a message that we should no longer be afraid of psilocybin- containing mushrooms. It would be huge for the movement."
Carhart-Harris was interested in contributing in any way he could, not only for the psychedelic aspect but for the golf aspect. His brother, Adrian Harris, is a golf coach, and the two grew up in England as big golf fans. Carhart-Harris believes there will be two key findings in the study—an improvement in wellbeing and performance.
"It's probably going to be relatively well functioning healthy people who are going to receive small doses, and those dosing sessions will be supervised," he says. "The hypothesis is that those dosing sessions will help people relax and open up a little bit and become more sensitive to the coaching that'll be done afterward. It's like increasing their ability to learn and perhaps unlearn some unhealthy habits that have formed, either in their swings or in their heads.
"The idea is to get them more into their body, less out of that kind of cerebral churn," he adds. "That rumination that we can all get in sometimes can be really fierce on a golf course if you're not playing well. It's not so much that people are gonna be high on the course.
It's more that they have a controlled experience that leaves the kind of afterglow they take onto the driving range or onto the course."
GRIMES THOUGHT AYAHUASCA WAS GOING TO UNLOCK HIS GOLF POTENTIAL. INSTEAD, IT DID SOMETHING ELSE.
Carhart-Harris says that if different jurisdictions are going to legalize psychedelics, it needs to be thought through and done properly. "You still have risks," Carhart-Harris says. "You'd want to have proper screening to make sure you have someone who can tolerate this, where the risk isn't excessive. You would exclude people with vulnerability to psychotic disorders, either through personal history or family history. You'd want to regulate dosage so that it's in the right range. You might have an age cut off of 21-plus, for example, and you'd want professionals delivering the treatment that are trained and prepared for the experience. Supervision of the experience is key so that people don't put themselves in harm's way. Then aftercare can help people come back down to Earth and reintegrate."
FOR THOSE THINKING THIS IS AN immediate path to better golf, Suppiah warns that you shouldn't dive in headfirst. "Amateur players interested should see a psychiatrist who is familiar with using psychedelics for treatment. Get evaluated and find out if you are the right person for it," Suppiah says. "If you just experiment with it, it can precipitate a severe mental illness.
"It can control everything from appetite to sex drive to how you perceive music, all sorts of stuff ," he adds. "When you use it, you are using it to alter your state. If you've had a traumatic brain injury, or a family history of schizophrenia or suicide, you want to be careful about using this drug. Unless you are using it as a therapeutic drug, it's still illegal. If you are using it in mushroom form, you are going to get in trouble with that."
Suppiah says he can't recommend any amateur golfer use it. "I do think a psychedelic like psilocybin can be used as a therapeutic drug to treat severe depression," he says. "There's very strong evidence from Stanford, Harvard and Johns Hopkins to support this. They all show that this is actually better than antidepressants, long-term."
Where the psychedelic movement goes from here regarding golf and sports at large isn't clear, but the movement has begun.
(Correction: A previous version of this story said Taylor Massey helped found MedTerra CBD. Massey helped them launched their golf division.)