The Loop
'Why Serena Williams is a better athletic role model than Tiger Woods'
Stories of interest you might have missed...
Serena Williams and Tiger Woods are juxtaposed in this story by Vice Sports' Greg Couch, who notes that the former is a happy, well-rounded superstar at the top of her game and the latter "sullen. Unhappy. His entire tabloid unraveling read like a classic case of rebellious acting out. At 39, he can't even play golf anymore, not with his overtaxed body constantly breaking down." The headline: Why Serena Williams is a better athletic role model than Tiger Woods."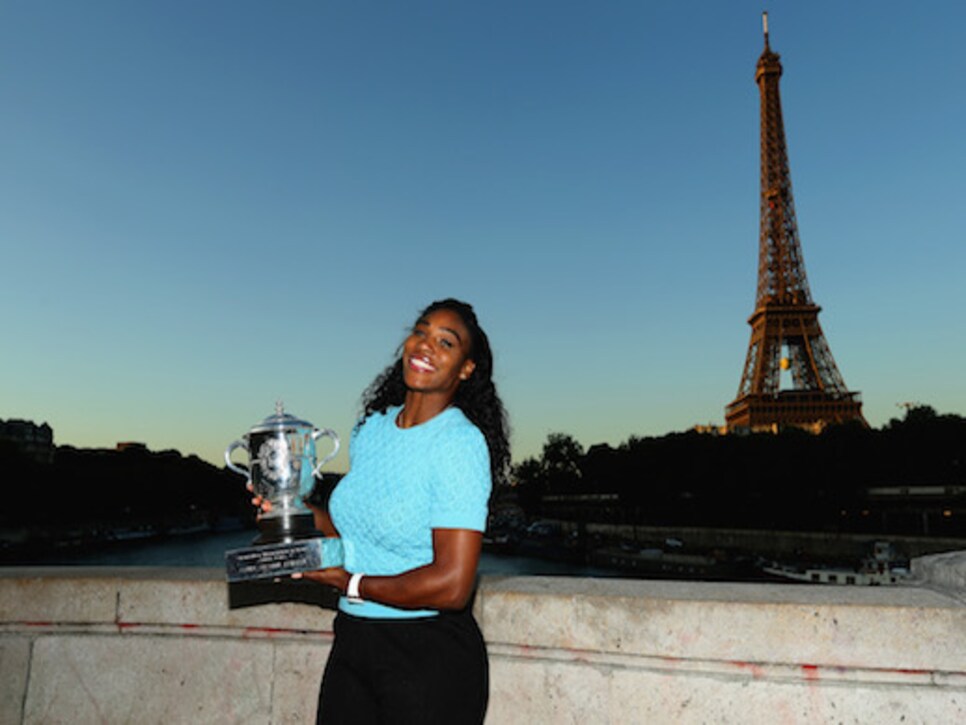 French Open champion Serena Williams (Getty Images)
"Remember the hype over [Rory] McIlroy going for the career Grand Slam at the Masters Tournament? That was three months ago, and it seems like a lot longer. The attention has shifted to Jordan Spieth and his bid for an unprecedented sweep of the four majors in the same year. The real Grand Slam," Doug Ferguson of the Associated Press writes in this story on the first half of the golf season.
Brenda Quick was a high school kid in the 60s, working at Tastee Freez in White Sulphur Springs, W.V., where the Greenbrier Classic will be played this week. She used to serve Sam Snead milkshakes. "I want a chocolate milkshake with double chocolate, extra thin, filled to the brim," Snead would say. "Quick would watch for Slammin' Sammy' to pull up in a black limo, park on the side of the road and walk up to her window to order. She'd have the shake waiting on him. The famous golfer would give her a little smile, tip his signature short-brimmed straw cap and tip Quick with a $10 or $20 dollar bill. The shake was $1," Wade Livingston of the West Virginia Gazette writes in this story on Quick and her long association with the Greenbrier.
"The town of Tacoma, just six miles from University Park where the U.S. Open was won by 21-year-old Jordan Spieth, is using the waste from the thousands of attendees to help solve its soil shortage," Liz Kilmas writes at the Blaze. Seriously.
"Each year, the winner of the Fred Haskins Award -- recognizing the most outstanding collegiate golfer in the country -- receives an exemption into The Greenbrier Classic. That's why you'll see Stanford's Maverick McNealy, the 2015 winner, in the field this week. In fact, he's one of 10 players at Greenbrier playing this week who have won the Fred Haskins Award," Helen Ross of PGATour.com writes in this story on the Haskins Award.