The Loop
Why Rory McIlroy is worth rooting for Sunday
AUGUSTA, Ga. -- History has many times shown us that a multi-shot lead with 18 holes to play at Augusta National is no guarantee of ultimate success. But surely only the most churlish will not be rooting wholeheartedly for the charismatic Rory McIlroy to complete the job and win the 75th Masters. The 21-year old Irishman is just the sort of refreshing presence professional golf desperately needs in Tiger's post-apocalyptic times.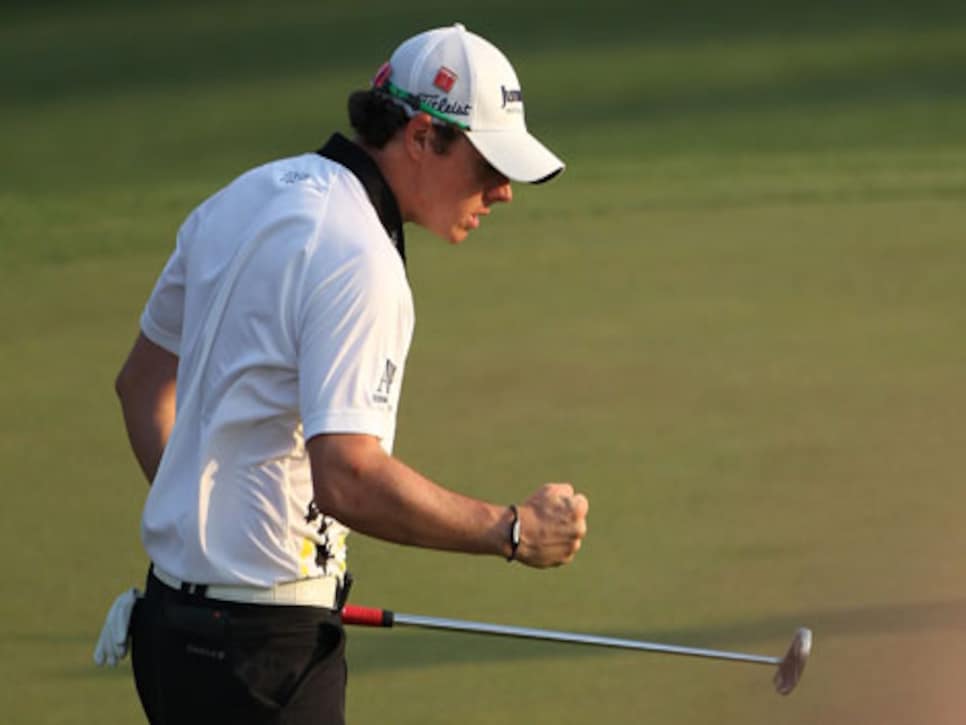 Rory McIlroy pumps his fist after sinking a birdie putt on the 17th green. (Photo by Andrew Redington/Getty Images)
I mean, what's not to like? McIlroy, the product of staunchly working-class parents who worked a multitude of jobs to give their only son every chance of making it in golf, is immensely amiable and approachable and, despite the riches that have come his way so early in life, refreshingly modest. He knows that, despite his precocious physical talents, his all-round game remains a work in progress.
"Par 5s, as everyone knows, are holes where we look to pick up shots, but I wasn't doing that," he said recently. "I was outside the top-150 for par 5s on the PGA Tour last year. In 2009 I was fourth. That's a huge difference. The problem was partly my fairway wood play; I've worked a bit on that recently. And the rest was strategy. I hit it good enough and long enough to go for par 5s in two and sometimes, after a great drive, I was too aggressive. I was going straight at flags where, if I'd been on a long par-4, I'd be playing for the middle of the green. Rather than playing sensibly, I was trying too hard to make eagles. This year you'll see me aiming 20 feet away from the pin a bit more."
That sort of thoughtful approach certainly seemed to pay off on Day 3 of what is only McIlroy's third Masters. Not once did he get ahead of himself; not once was he tempted into over-aggression. His was a performance of great maturity.
Of course, he was always meant to be a golfer. When his father Gerry -- himself a low-handicap player -- first took his son to the Holywood club on the outskirts of Belfast, his innate ability was immediately obvious. As was his dedication. When the Holywood professional Michael Bannon --still McIlroy's coach -- decided that, at age 11, his young charge should weaken what was a dangerously strong left-hand grip, the young Rory went at it with a vengeance.
His mother Rosie tells the story of looking into Rory's bedroom when he was in the midst of applying Bannon's latest advice. There he was, fast asleep, his arms outside the bedcovers and his hands resolutely placed on the grip in a perfectly neutral position.
Now, ten years on, those same limbs have the chance to be slipping into golf's most famous garment, something McIlroy has spent his young life dreaming about.
"I do think about the majors a lot," he admits. "While I want to win tournaments and World Golf Championships, it is the majors that define your career. Even though I've only won twice as a pro, I feel like I have the game to win a major title."