The Loop
Why Rickie Fowler and Smylie Kaufman don't like playing with rules sticklers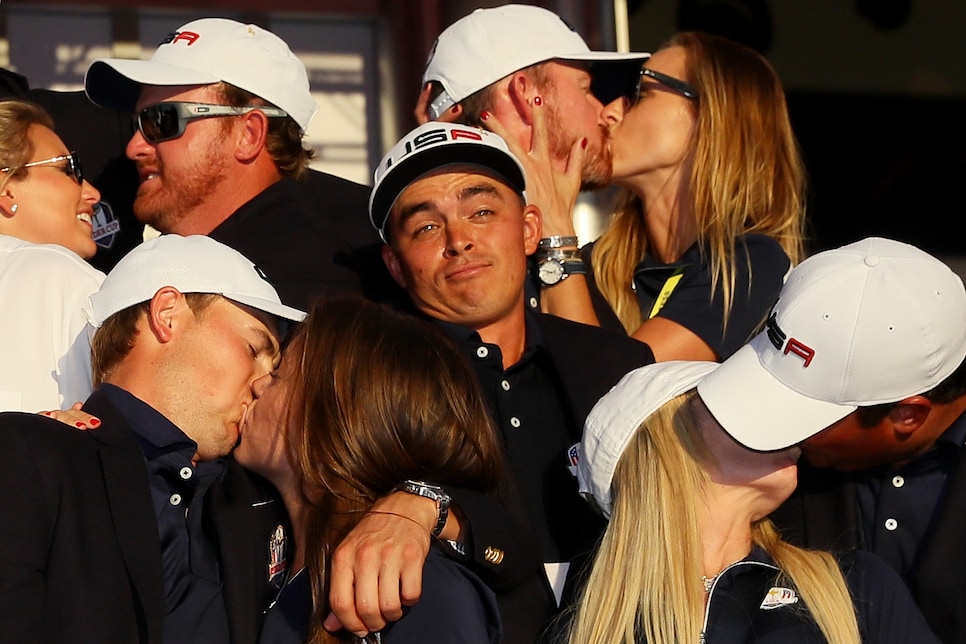 Two members of the beloved Spring Break Crew, Smylie Kaufman and Rickie Fowler, appeared together on a podcast with Barstool Sports Wednesday, and though the hosts couldn't get too many unpredictable comments out of Smylie and Rickie, there were some interesting insights.
They wouldn't bite on who the biggest jerk on tour is (though Rickie jokingly said Bubba), and they didn't want to rip on fellow #SB2K16 buddy Jordan Spieth and his receding hairline, they did touch on an interesting topic related to playing by the rules.
Rickie and Smylie were asked about playing with hardcore golfers obsessed with rules. You know, the type who calls you out for playing out of order in a casual round.
Some guys are simply sticklers to the rules, and treat every round like it's a tournament. Actually, very, very few rounds are tournaments. And it was refreshing to hear two elite tour players say they're not into that when they're out playing for fun.
"We're not gonna be teeing it up with those [types of] guys. We played a 6-some today. We're not big rules guys. There are some generous drops [when we play]," they said.
Obviously they play by the rules when they're in competition, but it's refreshing to know some of the better players in the world can chill out and just have some fun on the course.
Some other highlights: Rickie doesn't currently have a mustache. But if you're trying to grow a mustache and it comes in thin, he suggests using color enhancement or Just For Men to help beef it up.
After shooting 69 in the third round at the Masters last year, Smylie was in the final group on Sunday. He shot 81. When asked about that round on the podcast, Smylie said that it would've been nice to have a couple of beers on the back nine. We hear ya, Smylie.
Rickie was asked everyone's favorite question about Tiger: "Is he back?" Rickie talked about playing with him at the Hero World Challenge in the Bahamas, and seeing him practice at home in Florida. We liked Rickie's response: "It's the best I've seen him in a long time."
The two players were asked how they felt about fans yelling, "Get in the hole!" at just about every golf tournament. Rickie and Smylie, like most tour players, are understandably tired of it –- but they say they don't mind it if the ball is actually going toward the hole. Instead, Smylie says a group of his fans have started yelling "Boom Tower!", which might mean you have to chug your beer.
Rickie was asked about the famous Ryder Cup photo with all of his teammates kissing their wives or girlfriends, and he's staring flippantly at the camera. He says it wasn't staged, and that, "I've received plenty of wonderful comments off of that…" Interpret that as you will.
Rickie and Smylie both had positive things to say about playing with John Daly. "He's so down to earth," says Rickie. "Just likes to go out, play golf, and maybe sip a couple beers, have a little fun."
As part of the podcast's routine, the hosts end an appearance by asking their guests to call the most famous person in their phone. Smylie and Rickie dialed Beef's -- though it was 3 a.m. in England. Everyone was hoping he'd pick up and be in some pub. Sadly, he didn't answer, and we were all robbed of what could've been a phenomenal conversation.