News
Why bringing back golf in the last state where courses were still closed was like '12 rounds in a heavyweight fight'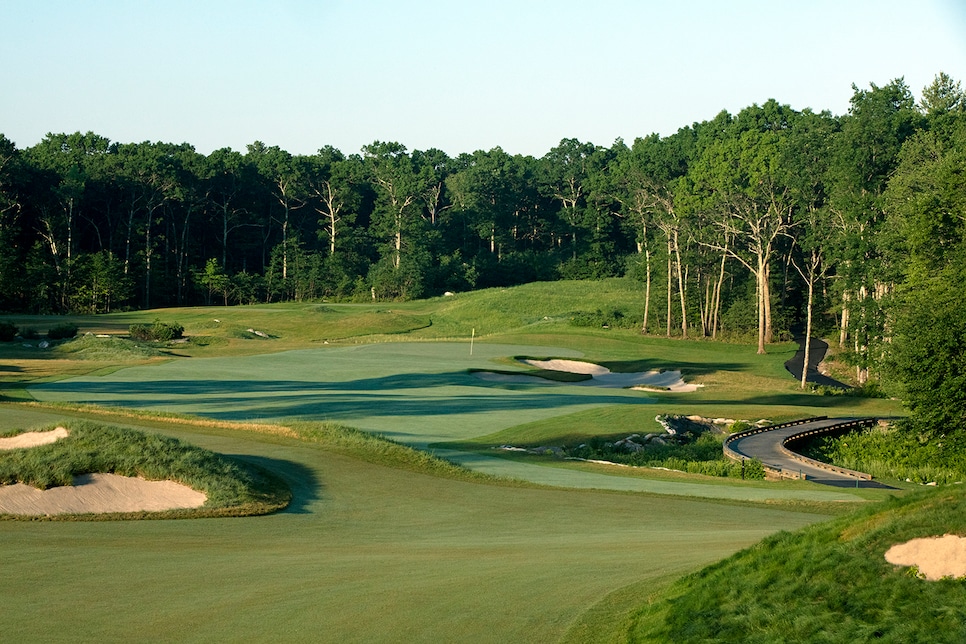 12th hole, TPC Boston, Norton, Mass., just outside the headquarters of MassGolf.
If you want to know why Massachusetts was the last state to reopen its golf courses in the wake of the coronavirus pandemic, the answer is as easy as it is tragic: The commonwealth went from daily COVID-19 cases in the 20s in mid-March to nearly 5,000 in a single day in late April.
As Jesse Menachem, executive director for MassGolf, plainly puts it, "You don't want to look tone deaf in the midst of a global pandemic." Gov. Charlie Baker declared a state of emergency on March 10, making Massachusetts one of the first 12 states to do so. And golf courses were closed to play two weeks later, not to reopen until May 7.
"There is an appropriate time to get in front of the governor and his team, and they were dealing with thousands of deaths, thousands of hospitalizations that they couldn't keep up with," Menachem said. "His No. 1 focus had to be on the rising number of cases."
Still, Menachem watched as neighboring states in Rhode Island, Connecticut and hardest-hit New York reopened their courses weeks earlier than he and his team were even getting in front of Gov. Baker's advisory board to plead golf's case as a viable recreational option. While there were steady inroads made throughout late March and April—contacts made, letters sent, conversations with people who knew the right people—he knew this was a time for golf to be patient. They had made the efforts quickly to keep golf courses maintained; reopening courses was the long play, a six-week waiting game that made him feel like he'd gone "10 or 12 rounds in a heavyweight fight."
And often the folks hitting the hardest weren't always those putting up road blocks in the halls of government, but those he was trying to serve.
"I think you had to try to take a realistic approach, just be sensible to the whole situation," he said Tuesday after the state's first weekend of golf since mid-March. "But emotions were flying all over the place.
"It was contentious at times and it took a lot longer maybe than we had hoped. But given the rising number of cases, it was just going to take more time than other states because of that."
Massachusetts' situation was severe—and complicated. Of the states' nearly 80,000 cases, three-fourths were surrounding Boston and the eastern part of the state. Death totals due to COVID-19 in Boston's Suffolk County on some days were 30 times higher than in western Massachusetts. It led to some difficult accusations, Menachem said. Golfers seeing neighboring states' golf courses full while theirs were gated was one problem; disgruntled course operators watching as Massachusetts' golfers drove to Connecticut, Rhode Island and even Maine to play was a thornier issue.
"It's not only frustrating," one course owner told the Worcester Telegram, "but can someone tell me, 'Is the air different in Connecticut than it is here?' Because that's what we're treating it like." Another owner of two courses had even threatened to open in defiance of state guidelines.
Menachem knew he and the rest of the state's golf industry leaders in the Alliance of Massachusetts Golf Organizations had to stick to the process. "Any type of decision like that, any club or course going rogue, was going to hurt our ability to open in the short term," he said. "If we had had 200 courses doing that, there's no chance we'd be playing golf today."
It was a month that saw MassGolf having to cancel the 111th Massachusetts Open for the first time since World War II, while the once famed International Golf Club filed for bankruptcy before the season could even start. Meanwhile, tensions built after courses in the region saw rounds played in March up over 30 percent compared to a year ago, but nothing but zeros and negative numbers in April. "I get phone calls daily, emails by the hundreds from our loyal golfers, asking us why we're not reopening," one course owner told WCVB.
MassGolf's team was meeting weekly to strategize, at one point planning for all of New England's courses to open at the same time. When that didn't happen, things only got personal with the organization's COVID-19 Updates on its Twitter account leading to questioning the payment of dues, calls for the organization to be disbanded and personal attacks.
"I'll be honest with you we've taken a beating on this," Menachem said. "That month's time where it looks like not much is happening, the golfer or the facility operator is wondering what's going on. Golfers in western Massachusetts were raising their hands and saying we could have been playing a month ago. But we weren't able to share everything that was going on. There were people out there that thought we were taking a back seat, and we weren't supporting the industry. And that's entirely false.
"But I feel confident that we would not be where we are without having put in the effort that we put in over the last six weeks."
While Massachusetts may have been the last state to formally give golfers the green light, its situation now is very much the same being faced all over the country. Courses may be open but the financial challenges are only beginning. The restrictions on carts, the extended tee time intervals and the closed clubhouses and restaurants present a whole new set of problems for those in the golf course business, to say nothing of making sure courses and golfers don't abuse a privilege few other recreational pursuits have.
Moreover, a lost early part of the year will have far-reaching effects. Without the enthusiasm of an early spring, without really any golf, with economic uncertainty and not insignificantly, without the excitement annually generated by the Masters, Menachem wonders will there be the consumer interest to purchase season passes, invest in club memberships, sign up for golf association events?
"It's not as if there's going to be a switch flipped that gets us right back to the peak of golf," he said.
As much as the waiting game has weighed on his mind this spring, Menachem is hopeful. In the midst of tragedy and frustration, golf is an option that softball leagues and swimming pools and a lot of other recreational activities don't have—and in that way, it's a chance for golf to make its case not just to a governor's advisory board. In a state where two-thirds of the courses are public access, he sees a platform.
"This wasn't for the private club golfer only, this was for everybody," he said, pointing to how MassGolf's First Tee director already has set up a six-week online virtual class room for kids. "If we listen, if we do it well, we hope we'll see more softening and more opportunities.
"We've achieved Step One, we just don't know how many more levels there are to go. We should be prepared to show golf in a new light, though, to introduce the game to some new folks. This is a real opportunity."