News
Why Renee Powell Hall at the University of St. Andrews matters
Somebody named a building after somebody. Local news, right? Not if it's in St. Andrews. The cobblestones of those ancient Scottish streets echo the footsteps of every golfer who ever mattered, and have been worn by multitudes who mattered less but loved the game as much. When stone goes up or down in the Auld Gray Toon, eternity shakes.
The opening ceremony for Renee Powell Hall, which will have beds for the dreamy, restless, weary, intoxicated, idealistic and ambitious heads of 205 University of St. Andrews students, is set for Sept. 19. It's over by the athletic fields, or a brisk 15-minute walk from the 17th green of the Old Course.
What legacy will become of a building named for an African-American female golfer? The toniest dorm at the university is the gothic St. Salvators, named for the savior, Jesus Christ. The fact Prince William and Kate Middleton resided there as students is merely one footnote in "Sallies" history. And the turreted red sandstone dorm you've seen in a million photographs and paintings, next to the gray Royal & Ancient clubhouse behind the 18th green, is Hamilton. Named for a Duke, it recently was purchased away from the university and has returned to its roots as luxury accommodation.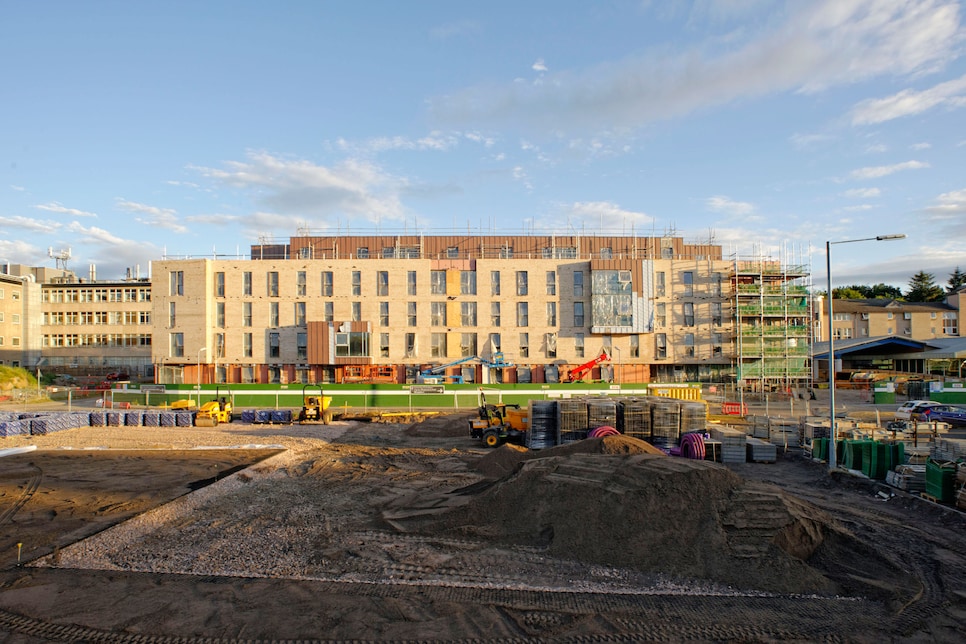 In a PGA of America Hall of Fame career, Powell competed in more than 250 professional events worldwide. She was the second black female to play on the LPGA Tour in 1967 (Althea Gibson being the first three years earlier). Now 72, Powell is the head professional at Clearview Golf Club in her hometown of East Canton, Ohio, and the founder of Clearview HOPE, a year-round rehabilitation program for female veterans.
The dormitory isn't Powell's first honor in the birthplace of golf. She was given an honorary degree by the University of St. Andrews in 2008 and was among the first wave of seven female members inducted into the R&A in 2015. But a name on a piece of paper weighs nothing compared to one set in stone.
"To receive such an unbelievable honor and to forever be a part of one of the most prestigious universities in the United Kingdom is too difficult to express in words," Powell said. "I have always considered myself a citizen of the world, and I guess now I will forever be remembered as such."
Also scheduled to open this fall, next to Powell Hall, is a dorm named for Katharine Whitehorn, the British journalist. "Powell and Whitehorn are being recognized for their inspiration in diversity in golf and the advancement of women social causes, respectively," the news release said.
When I was a student at the University of St. Andrews (concurrent with Prince Willy although we ran in different social circles—you can read my backstory on that here if you wish) I had a blind friend, Derek. He'd lost his sight when he was cross-country skiing on the shoulder of the road in his native Iceland, and was struck by a car. "It's all black, completely black," Derek told me, "Press your fists over your eyes and that's what I see."
Derek counted steps everywhere he went. He knew exactly how many it took to go up the stairs and turn the corner to the computer lab, how many to walk down The Scores to get a pint at Ma Bells, from there through the walled enclosure to buy a meat pie at The Vic, how many to doubleback to the cathedral graveyard where Old and Young Tom Morris are buried, and the tricky steps on the staircases behind South Street. He knew the way between every pub, store, administrative office, roundabout and party flat in town. "That'll be 983 steps," he'd say about point A to point B, and break down each leg of the journey in detail you'd never noticed.
I mention Derek only for two reasons. To reinforce that there is no distinct campus at the University of St. Andrews. The destinations for locals, students and visitors mix together, so the names of buildings really matter. More so, I think, than a traditional college campus where a single swath of property is the institution and the individual structures blend subserviently to the greater whole. And although it's hard to fathom, most students who go here are not golfers. When they wonder who Renee Powell is, they'll learn she's neither a saint nor royalty.
It is a powerful statement to make in 2018 from a university founded in 1413, and it will echo far beyond the underworld of golf.