News
There's a funny story why Jack Nicklaus had to send Justin Thomas an apology text last Sunday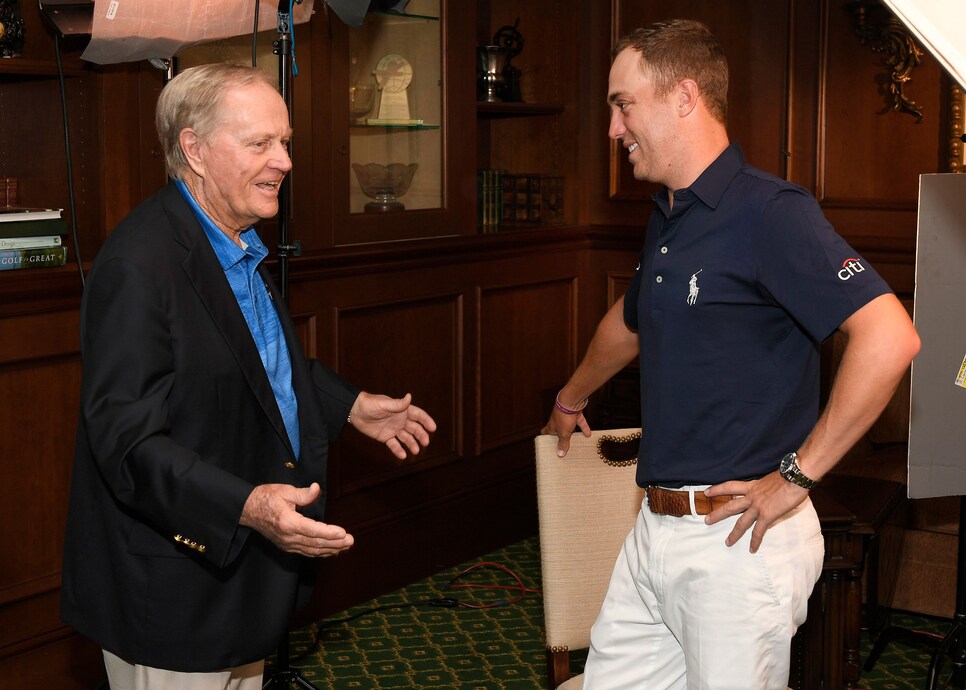 Jack Nicklaus and Justin Thomas chat during the 2017 Player of the Year ceremony at The Bear's Club.
Stan Badz
Jack Nicklaus didn't watch much of last week's Workday Charity Open even though it was being played at his Muirfield Village Golf Club in Dublin, Ohio. The Golden Bear was at his home in Florida, returning to Ohio on Sunday afternoon just before the conclusion of the final round so he could congratulate the winner in person. That, however, didn't happen when tee times were moved up on Sunday because of a bad weather forecast.
One thing Nicklaus did catch on Sunday was part of the first playoff hole between Justin Thomas and Collin Morikawa. Specifically, Thomas sinking a 50-foot birdie putt—and his emotional reaction.
At that point, however, Nicklaus and his wife, Barbara, had to board the plane so they didn't see what happened next—Morikawa burying a 24-footer for birdie to tie Thomas and extend the playoff, which he won on the third extra hole. However, the Nicklauses were excited for Thomas, who is among the young players to seek their advice in recent years and they had grown close to.
When they got situated on the plane, they committed what Jack called an "oops moment."
"Barbara and I both texted Justin and said to him, 'Wow, what a fantastic putt, unbelievable fantastic super putt, can't believe that you made that putt. Now you've got the chance to win two in a row.' And then we got up in the air, and we picked up Wi-Fi after 10,000 feet, and we found out Morikawa won the tournament, and so I had to send him another text and say, 'Oops, a little premature.'
"He was good about it. He texted back and he said, 'All's good, it's OK.'"
Nicklaus expects Thomas to bounce back this week in the 45th Memorial Tournament, the event the Golden Bear founded and hosts.
"He won't have any problem getting over it. He's got his head screwed on properly and his feet on the ground," Nicklaus said. "He knows that you get beat sometimes even when you play well and do the right things or even when you make a mistake. Sometimes you give your best effort and you just get beat, and that's about what looked like happened. I think J.T. will be right there again this week."
This time, Jack will watch the whole thing.