The Loop
Why I had to bet on Ken Duke at the Open
I'm not a big believer in omens -- unless gambling is involved. So when a PGA Tour player just happens to be sitting behind you in a Scottish betting parlor and he strikes up a conversation, you immediately place a wager on him.
Even if that PGA Tour player happens to be Ken Duke.
The presence of the 44-year-old, who recently won his first PGA Tour event in his 187th career start, added a fun wrinkle to my first-ever trip to a UK sportsbook. For the record, he's a 300-to-1 longshot this week at the Open Championship. And for the record, he's not betting on himself or anyone else, Commissioner Finchem.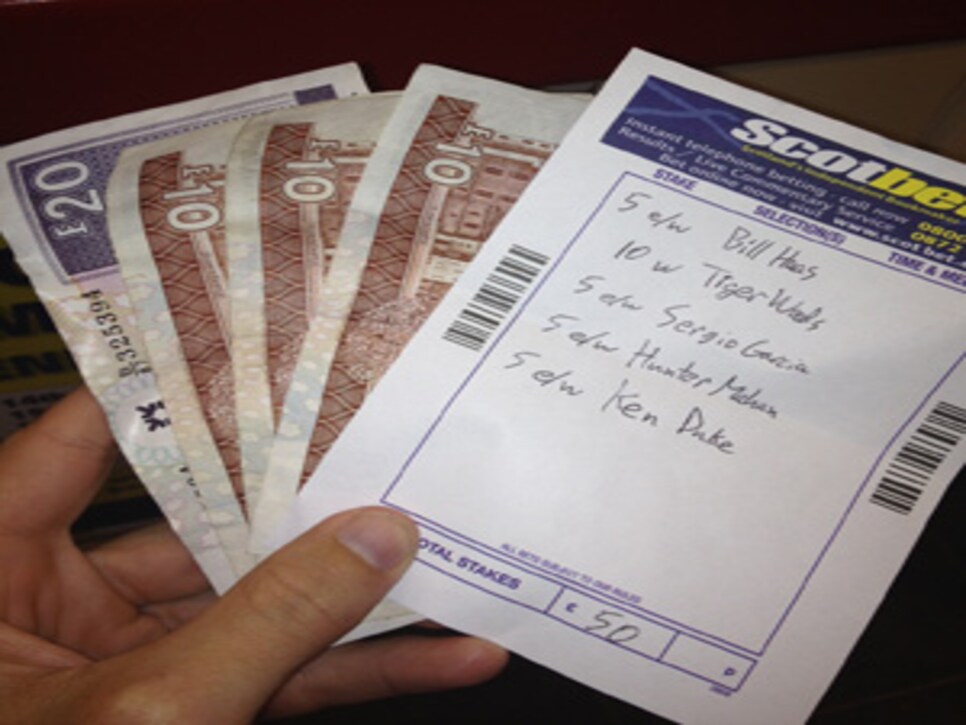 Duke, who was a late addition to the field this week thanks to that win last month at the Travelers Championship, was also a late addition to my betting slip shown to the left. Like me, Duke was trying to figure out how the parlor worked and he was amazed at how a player who hasn't played in more than a month could be such an overwhelming favorite (I'll assume he wouldn't endorse my Tiger Woods to win bet). Also shown in the picture is the 50 pounds I withdrew moments before.
In case you can't read my chicken scratch, here's the breakdown: 10 on Tiger (9-to-1) to win, and 5 "either way" or "e/w" on Mr. Duke (300-to-1 . . . Value!), Bill Haas (80-to-1), Hunter Mahan (66-to-1) and Sergio Garcia (28-to-1), who I also picked to win in my weekly column and in GolfDigest.com's fantasy draft. Hey, at least I'm consistent.
So what does "either way" mean? In this North Berwick betting parlor's case, it's a separate bet on a player finishing in places two through six. If a player does that, you get a quarter of the odds of that player winning. So in other words, I have 5 pounds on Ken Duke winning at 300-to-1 odds and another 5 pounds on him (I bet 10 pounds on Ken Duke at the British Open?!) finishing in second-through-sixth places at 75-to-1. In other words, it's just a way to sucker you out of more money.
There's no cheering from the press box or the media center, but if a couple of these guys happen to roll in a few putts at Muirfield this week, I won't be complaining. And if one of those guys happens to be Ken Duke . . . well, I guess it was meant to be.