The Loop
Why I can't root for Adam Scott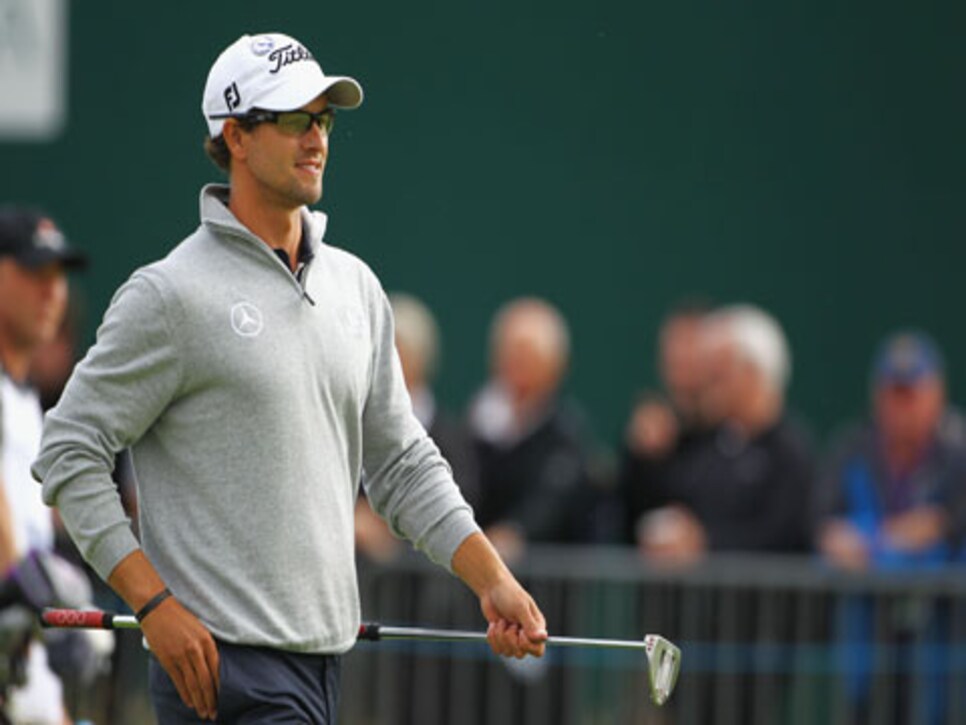 LYTHAM & ST. ANNES -- He's a lovely lad, one of the most genuinely-likeable souls in all of professional golf, but still, many are those who will find it all but impossible to root for Adam Scott in this 141st Open Championship at sodden Royal Lytham. It's the combination of broom-handle putter and boorish caddie that will have those dissenters cheering for anyone and everyone else in the race to be hailed the "champion golfer of the year" come Sunday evening. The putter is too long and is, according to three-time major champion, Ernie Els, tantamount to "cheating." And the caddie; well, let's just say his name is routinely prefixed in these parts with the word "despicable."
I for one just can't do it. Not even a little bit. I cannot in all good conscience get behind the efforts of this otherwise admirable young man to catch halfway leader, Brandt Snedeker. That putter -- that thing -- should never have been allowed into golf at either amateur or professional level. Wielding it as he does, his left hand and wrist and forearm anchored against his chest, Scott is not making a proper golf stroke as the vast majority of observers would recognize it. Yes, the current rules of golf say what he is doing is within the limits of the law. But that law needs to be changed if the game as we have known it is to remain the greatest one of all.
Time is short to put things right, although claims that action might be taken before the 2016 Olympics in Rio de Janeiro are heartening. Already, two major championship titles have been spirited away by men wielding a so-called "belly putter." For another of golf's four most important events to fall, this time to a putter even lengthier than that belonging to PGA champion Keegan Bradley or U.S. Open champion Webb Simpson, is unthinkable. It is an abomination; an insult to all of those who have steadfastly refused technological help in the perennial battle between nerve and technique on the greens; and an indelible black mark on the report cards of those charged with golf's administration.
Still, it is all but impossible to blame Scott for going down the long-putter alley, no matter how dark it might be. Before making the switch from short to long, the 31-year old Australian was approaching basket-case status on the greens. Now, he is a man transformed, someone who scoffs at even the slickest downhill left-to-right four-footer.
"My putting has improved out of sight," he admitted after his opening round of 64 here at Royal Lytham. "Two years ago I was 180th on the tour and now I'm pretty good. Better than average, I would say. So that's a big difference. A shot or two on average makes a big difference to my scorecard."
While Scott's work on the greens remains unwatchable for purists young and old, it almost goes without saying that his ball-striking -- long amongst the best in the game -- has been a bit special so far this week. You don't get to nine under par for 36-holes in any Open Championship without golfing your ball just a little bit. So far, in fact, Scott has found 75 percent of the fairways from the tee and 26 greens in regulation or better. Impressive stuff, even if the wind has yet to blow with anything like the ferocity that is the hallmark of golf's oldest major.
"I'm very pleased with the round today," he said after tacking a three-under par 67 to his opening 64. "I made a bit of a slow start, but built my momentum from seven onwards and played fairly well from there. I didn't take on any unnecessary risks and kept the ball in play pretty well. So it was all kind of stress-free and certainly felt good out there."
Inevitably, of course, attention then switched to that implement sticking furthest out of the Scott bag. Significantly, he wasn't going to touch even the implication that it is at least immoral to use one, but he was happy enough to further extol the virtues it has brought to his previously bereft work on the greens.
"My putting with the short putter was so hot and cold and before I switched it was more often cold than hot," he admitted. "It was always frustrating to play well and get nothing out of a round. Certainly, making the adjustment took a little bit of time, but it was effective once I brought it out on tour. I'm much more consistent and that has a really positive effect on the rest of my game."
His game for sure, the game definitely not.