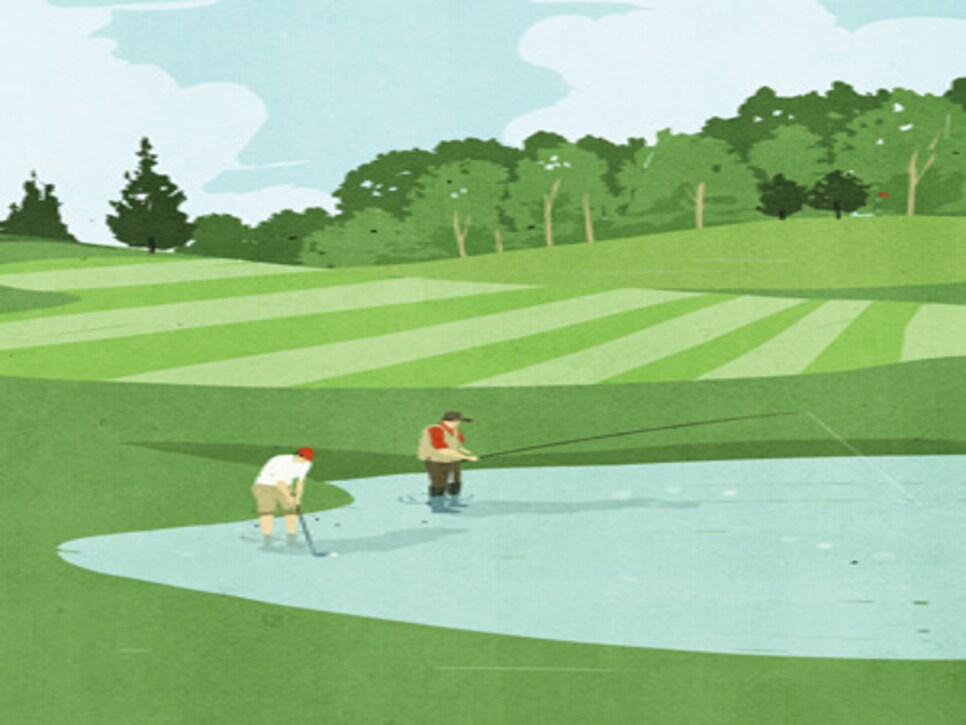 Early last November, outside of St. Louis, on the day before our nephew's wedding, my brother-in-law and I decided to skip out and play a few. It was breezy and brisk, about 45 degrees, but we'd had our fill of family catch-up, and with no snow on the ground, we found a daily-fee course and called for a time.
"Yep," we're open, said the woman on the phone, "but we're all booked up this morning. Sorry."
All booked up? Nov. 4? St. Louis? We decided we had to check out the strait-laced-sounding Golf Club of Wentzville. What we found was a newer version of something we'd discovered as kids. It was a playable, reasonably kept ex-farm with a rating just more than 69 from the back (6,344 yards), with a handful of bunkers, one water hazard and a picturesque silo adorning most of the promotional photos. The clubhouse was pretty, but tiny, with the tee-sheet counter melding into the snack bar. Hot dogs were $2.75, and everyone wore jeans. The club's mantra, from its website, matches that feel: Our course is defined as much by what we don't have as by what we do. It's not 8,000 yards; it doesn't have bunkers 10-feet deep and lined with railroad ties. And while our greens are fast and true, you won't be four-putting them anytime soon... Special amenities such as twilight rates, senior discounts and nine-hole rates offer something for golfers of every age and skill level.
You'll get a ton of argument about the state of our golf these days, addressing everything from long-putter rules to ridiculous green speeds—but the subtext is, your favorite sport's in trouble. It's in trouble, most stakeholders argue, precisely because it forgot what Wentzville seems to have remembered, and what more and more courses are trying to capture these days: fun and appeal for all members of the family.
Golfers are 15 percent fewer than six years ago, down more than four million players, and industry efforts to make the game more attractive to newcomers seem to be treading water, at best. Millions try the game each year, but their retention barely makes up for the loss of players elsewhere. We number fewer avid players (25 rounds or more) than we did in 1985, almost a third fewer than a decade ago—important because those players account for 70 percent of industry spending. Last year's recovery—rounds were up about 6 percent—was largely because of kinder weather, most agree, with the total number of golfers staying about the same.
The bones of the industry continue to ossify. The old aren't taking up the sport as in the old days—baby boomers don't play at the same rate as their parents—and the young have younger things to do. Women still don't seem that interested, despite years of trying to recruit them.
"We have about the same number of golfers we had 20 years ago," says Steve Skinner, CEO of KemperSports, which manages nearly 100 properties across 27 states. "Is that good? No. But it's not dire."
Which is where the argument begins.
To the likes of TaylorMade CEO Mark King, who recently suggested that purists were driving the sport into dreary oblivion, things are dire indeed. Now comes Barney Adams, the founder and ex-CEO of Adams Golf, arguing that based on a new study he has commissioned, participation could indeed drop "40 to 60 percent" in the next 30 years. Adams and the mathematician at Clarkson University who conducted the study, Sumona Mondal, acknowledge that birthrate fluctuation could soften the drop, which they say would still be significant. "But do you really want to bet on that?" he asks.
Adams also points to juniors, down nearly 40 percent from 2005. And he doesn't buy that golf's slide is the result of tight family budgets in a tough economy. "Too expensive is a cop-out," Adams says. "Value is the issue. In 2000 we had 30 million golfers; now we have 25.7 million. So they tried it—and they rejected the game. It's a product-rejection issue, not an economic issue. How much would you pay for a bad movie? Golf's become a bad movie."
Adams has been roasted for the bad-movie analogy. The idea that golf could lose half its base is "nonsense," says National Golf Foundation president and CEO Joe Beditz. "We're slowly recovering. We've just experienced the worst recession in history. Of course we've been negatively affected ... like every other industry has been. But we're not going off a cliff. There are not a bunch of golfer-lemmings ready to jump." Beditz sighs: "We're very hard on ourselves."
But even those who agree that an improving economy will cure many of the sport's ills offer a tepid diagnosis.
Weak junior and female numbers are why. "I am worried about the women," says Cathy Harbin, vice president of golf revenue for ClubCorp and former executive director of the game's Golf 20/20 initiative. "In a six-year span we in the industry talked about nothing but bringing women and juniors into the game. And in both departments we went backward."
"We can't get to where we want if we don't increase women's participation," says Mike Hughes, CEO of the National Golf Course Owners Association. "You can't get there. It's just mathematics." As for increasing participation among other minorities, Hughes says: "Targeting other ethnic groups is really not so much about ethnicity as it is socioeconomic status. We just have to make sure we're not sending a subliminal message that you don't belong here."
The First Tee, Golf in Schools and Get Golf Ready (for adults) are growing but still relatively small in their impact. The Executive Women's Golf Association is another positive.
Beditz and the NGF predict "flat" to 1-percent increases in overall play the next few years, a gradual recovery paralleling that of the economy. And his figures show that the percentage of the population that plays—about 9 percent—hasn't changed in 25 years.
No surprise then that "growing" the game infuses nearly every golf-industry conversation these days, online and off, with the Chicken Littles and Cooler Heads each weighing in. When the USGA announced it planned to ban anchoring of long and belly putters, the PGA of America's Ted Bishop and the PGA Tour's Tim Finchem publicly stood to object, an almost unprecedented response from normally cordial association partners. Game growth has also come up in discussions of course closings, green speeds, pace of play and the length golf balls travel. More than anything, the two sides agree, the game could use an image makeover.
"These days people want things easy, they want them now, and they want them free," says Leigh Bader, a PGA professional, course owner and one of the game's leading retailers. "They also want the ability to give feedback about how you did or did not give it to them. And golf? Golf's not easy, not free, sometimes not even cheap, and in general we don't give people the right to offer feedback." Golf's penchant for gloating about how hard it can be also doesn't help, Beditz says. "I saw a billboard that advertised a new golf development. This huge sign said, 'Exceptional homes. Nasty golf course.' That's like a ski resort saying, 'Wonderful snow. Life-threatening experiences.' " Ryan Walls, senior vice president operations at Troon Golf, agrees. "We need to change the culture," he says. "The key is fun."
Which is where Barney Adams and most industry leaders finally agree. It was Adams who helped devise the popular Tee It Forward initiative a couple years back, a way to give weekend hackers a break—and an excuse to play shorter courses. Now he's proposing an "update" that's a bit more scientific. He calls it The Tour Test. It's a course-setup formula that he says allows weekend players to "compete" with tour players on equal footing, hitting roughly the same clubs into greens, adjusted for amateur distances. His Tour Test fairway markers indicate roughly where tee shots should stop, within 20 yards or so depending on conditions. "The best players in the world on average hit 8-irons into the green on par-4 holes," Adams says. "The idea is to set up the course relative to our game so we have approach opportunities similar to the pros," instead of what we mostly do now, Adams says, which is to play courses longer than the pros, relatively speaking. A Tour Test course might measure 6,000 to 6,400 yards, more in some cases, Adams says. "You have people wanting to change the equipment, change the rules. Why? Why not just make it more playable?" Harbin says ClubCorp is rolling out the method at about 25 percent of its properties, calling it The Right Tees.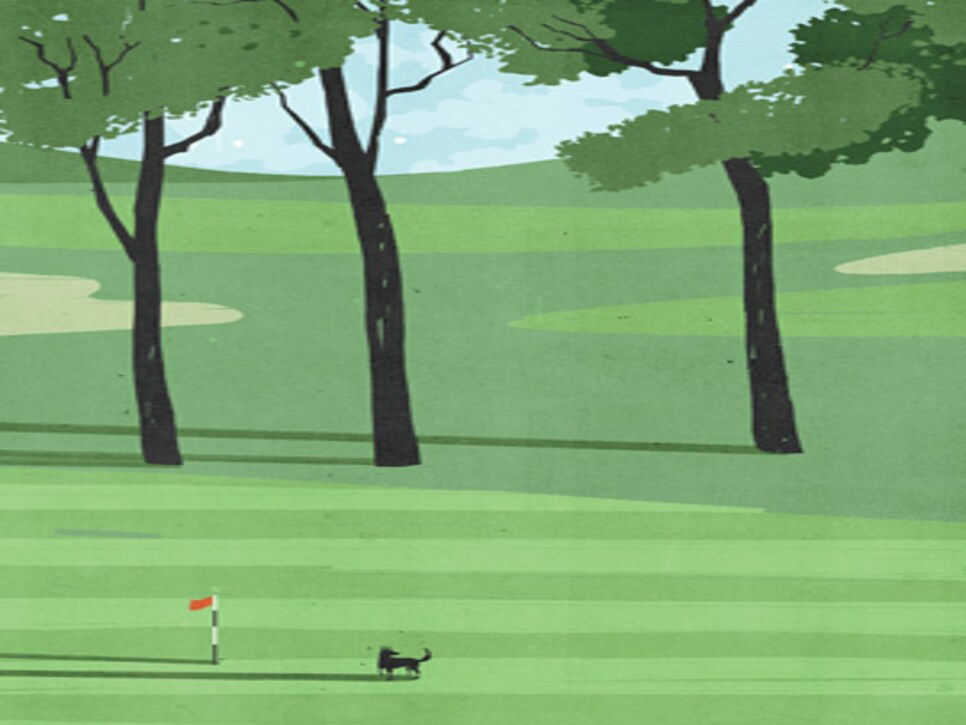 It reminded me of Wentzville, and our experience last November. Six months after that trip my son and I played nine at a public course on the Eastern Shore of Maryland. We were warned that conditions were wet, but we didn't care. We did need clubs, though, and asked for a rental set to share. "Sure," said the fellow behind the counter. "Let me go down and put together the best we've got." We paid, walked to the cart and found a nice, big bag ... with about 12 clubs. Ages ranged from five to 20 years. Half were left-handed. Two clubs matched (both left). The driver was from another generation, and the second wood wasn't a top-selling brand. Most were caked with dirt.
So there you have it. As an industry, most agree, we have a way to go.
There are dissenters to all this "game growth" talk, of course, and golf's reform movement must still convince an old guard that likes golf the old-fashioned way: hard, stuffy and exclusive—and without the "right-sizing" that has closed so many courses these days. This poster on the geoffshackelford.com site made no bones about it:
*Is anyone else tired of this "growing the game" issue? It seems like some drag this out too often. I prefer a better game played by fewer to a dumbed-down game played by more. *
To those who see golf expansion as a key to investment in better equipment, more playable courses and, without getting too precious, the ability to pass on to the next generation a sport that has provided great enjoyment and significant charitable benefit, that view is misguided. Looking forward 20 years, the passing of the baby boomers will pose a serious challenge to the sport's vitality. To keep it healthy, says the PGA of America's Bishop, golf needs more people like Adams who think outside the box. "We've been slow to react to the changing way society views our game," says Bishop, who has championed the PGA's "Golf 2.0" aimed at making the game more accessible. "The state of the game is slightly improved." But it's still "shaky."