The Loop
Why Dustin Johnson won't have to worry about bunkers at the PGA
Unfortunately for Martin Kaymer, the 2010 PGA Championship will be remembered more for how Dustin Johnson lost than how the German won. It was Johnson who unwittingly grounded his club in one of Whistling Straits' 967 bunkers on the final hole of regulation to receive a two-stroke penalty and miss out on a playoff.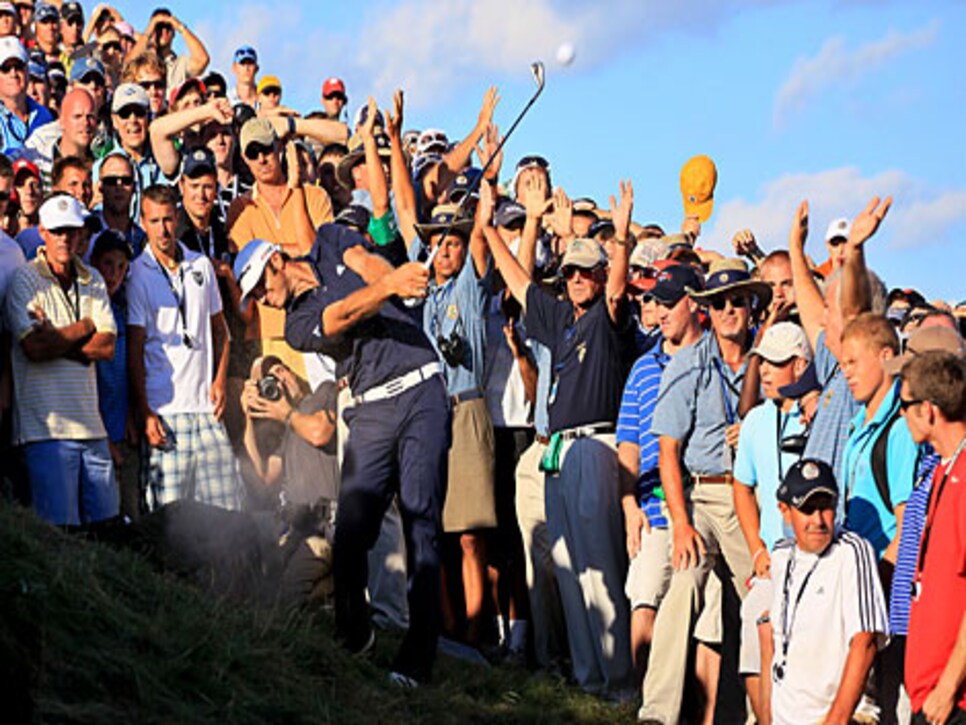 When the year's fourth major returns to another Pete Dye course this year, we won't have to worry about the same thing happening.
](http://www.golfdigest.com/golf-tours-news/2010-08/photos-rules-blunders#intro)
While Kiawah Island's Ocean Course, site of the 1991 Ryder Cup, has its share of hazards one comes to expect from a Dye design, its sandy areas don't play as bunkers in the traditional sense. From the course's website:
"The course's second line of defense lie within the uniqueness of our sand areas. At The Ocean Course, we have absolutely no 'bunkers.' . . . The Ocean Course features what few other golf courses anywhere in the U.S. feature, the "transition area'. The rule book defines these areas to be played 'through the green,' simply meaning that typical sand trap rules do not apply."
As a result, when players find the sand, they will be allowed to ground their club, take practice swings and even move lose impediments. The local rule is in place due to different debris that inhabits these areas on the windswept course. With the tide also playing a role, transition areas -- more commonly referred to as waste bunkers -- vary from hole to hole, making it only fair players can test the surface before playing a shot from one.
Which leads us back to 2010. Unfortunately for Johnson(watch a video here), the rule in place was the opposite at Whistling Straits that week, with every inch of sand, even those areas outside the ropes where the fans had walked, playing as a traditional bunker. This year, that won't be the case and Kiawah's local rule will undoubtedly be a big talking point. We can think of one golfer who will probably get sick of hearing about it pretty fast.