The Loop
Why does Bubba Watson rub people the wrong way? The list keeps getting longer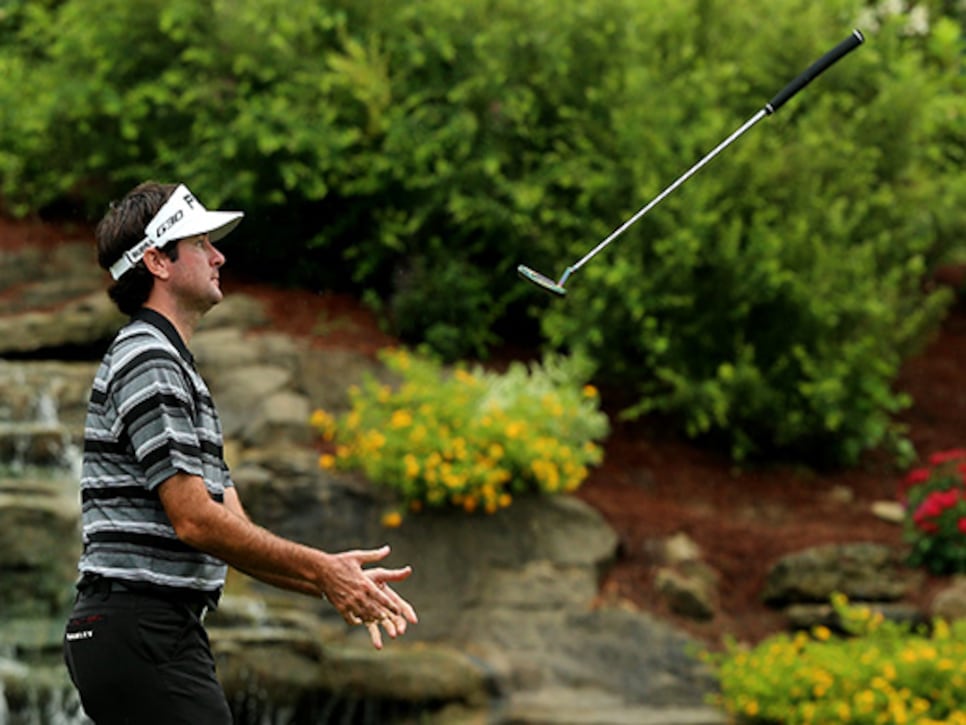 "No, look, I've complained after a lot of shots before and everyone out here moans about something," McIlroy said. "It's just part of it . . . I've been guilty of it before, and a lot of players on tour have done the same thing. But it didn't affect me today, no."
We have heard Tiger f-bombing, and that's one thing, and now we have heard Bubba f-bombing, and that's another thing.
The first item on Bubba's personal website appears under the words, "Who is Bubba Watson." It reports: "Christian. Loves Jesus and loves sharing his faith."
So after the f-bomb episode in Friday's second round of the PGA Championship, I got to wondering which biblical character Bubba may have had in mind.
You think Noah? All that rain.
Or Job? All that suffering.
Wait. Noah and Job existed even before Old Tom Morris. So they never went through Bubba's version of a living hell.
He had to play with raindrops on his driver's face. We all know that is Satan's work, for surely the prince of darkness diverted the raindrops from all other players and caused them to settle only on Bubba's sticks. Raindrops everywhere, all morning, beginning at 6 o'clock and falling even through Bubba's tee time at 8:35. For hours, raindrops kept falling on Bubba's haircut, causing, methinks, reverberations in the vast empty spaces beneath.
Small wonder he felt so damned put-upon.
The poor soul has to hit golf balls for a living. A 35-year-old grown man from the panhandle of Florida could be making a decent living at long-haul trucking. Instead, this torture. Country clubs, chartered jets, chauffeured Mercedes, million-dollar paychecks. And, sometimes, if you can believe it, he has to do it in the rain. To protect himself from the rain, he once held an umbrella and asked his caddie, Ted Scott, to set his ball on a tee.
After a bad drive early in the round, Bubba said to Scott, and television's boom mikes sent it across America, "It don't matter what I do, man. It don't matter. It's fcking horsesht."
Maybe Noah said something like that in about the 37th day of that storm, and maybe Job expressed himself colorfully after lightning killed his livestock. But some readers of the Bible took to Twitter immediately to say they could not find those words in either the New or the Old Testament. Those twitterers were moved to append hashtags such as: "#quityerbitchin," and "#helpbubbajebus."
It's only fair to point out, by the way, that Bubba had birdied his first two holes of the round and was at three under par for the tournament going to his ninth hole, the par-5 18th at Valhalla Golf Club. He was then three shots behind McIlroy, the leader. But after McIlroy rolled in a 31-foot putt for an eagle, Bubba missed a three-footer for par. He bogeyed three of the next six holes, wound up with a 72 and now, at even par, is nine shots down. So maybe he had a competitor's good reason to be upset. After his round, Bubba walked past waiting media members, disappeared into the off-limits caddie hospitality room, and left there by a subterranean route that threw most of us off the trail. Only Jason Sobel, who writes for Golfchannel.com, tracked him down. Not frustrated, Bubba told Sobel. "I feel great," he said.
At worst, this is prima donna horsesh*t. At best, it's Bubba being Bubba. At least afterward Watson acknowledged his poor form with a mea culpa via Twitter.
Sorry for my actions today! Trying to get better as person. Thanks to all who support me. #YallDontGiveUpOnMe
You may remember his trip to the French Open three years ago. There he complained about the thousands of fans wanting to take his picture as he played. The gall of those Gaulists. He also didn't get Paris.
"I don't know the names of all the things," he said, "the big tower, Eiffel Tower, an arch, whatever I rode around in a circle [the Arc de Triumphe]. And then what's that -- it starts with an 'L' -- Louvre, something like that, one of those."
Last season on tour, when he dumped a shot into water and cost himself a victory, he threw the caddie Scott under the bus, right there in front of the TV cameras, the boom mikes again catching him in a Bubbableat.
"Water," he said. "It's in the water. That club. So you're telling me that's the right yardage?"
A Google search identifies Bubba as "embarrassing and disrespectful," "petulant" and given to "whining," "pouting" and "baby-boohooing." The kindest of observers calls him "amusingly foolish."
Even before Friday's travails, Bubba had found reason to complain here.
During Tuesday's practice round, the PGA of America asked players to compete in its revived long-drive contest.
Padraig Harrington did a Happy Gilmore run-and-hit-it thing. Great fun.
The big blond John Daly showed up in Loudmouth pants seemingly spray-painted with every pastel ever conceived, both the man and the pants happily hallucinatory.
But Bubba, one of the game's longest hitters, wanted nothing to do with it.
"I'm here to play golf, not to hit it far," he said. "Just kind of weird to me. I'm here to win a championship, I'm not here to goof around."
So he hit an iron off the tee.
And so some of us were well pleased two days later when all that rain fell only on Bubba's head.