The Loop
"But why did it take so long?!" This year's World Golf Hall of Fame class shares a common theme
We're happy for the World Golf Hall of Fame newest foursome: Laura Davies, Mark O'Meara, David Graham and A.W. Tillinghast. But while this accomplished group was announced on Wednesday, you can make the case that it should have happened earlier for each of them. Our breakdown of the Class of 2015.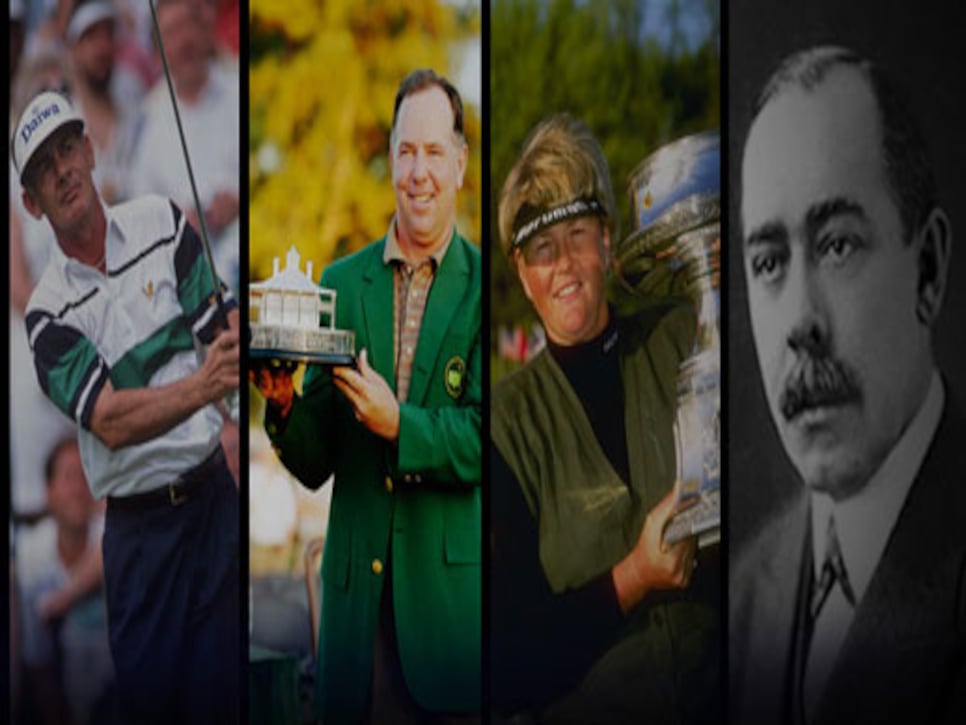 Photo: World Golf Hall of Fame
Best known as: "That guy who used to be Tiger's best friend"
Reason he's in: Aside from being Woods' former best bud, O'Meara is also known as that guy who had one of the all-time random/great seasons in golf history. Always known as a good golfer, O'Meara won the Masters and British Open in 1998 for his only two career major victories and the last two titles of his PGA Tour career.
Reason it took so long: Even with those two majors, O'Meara finished with 16 PGA Tour titles, which doesn't exactly make a player a lock.
Little-known fact: At the 1999 Ryder Cup, O'Meara was the only U.S. player not to earn a point during the week, which ended in the Americans' dramatic comeback win at Brookline. Sorry, today is supposed to be a day of celebrating O'Meara, so forget about that. . . congrats, Mark!
Best known as: "That guy who designed a million great golf courses"
Reason he's in: OK, so he didn't design a million great golf courses, but he certainly did more than his fair share -- approximately 265. Winged Foot, Baltusrol, Quaker Ridge, Bethpage Black, just to name a few. There's a reason why so many golfers ask "is this a Tillinghast?" when playing a terrific track.
Reason it took so long: Good question. No one has waited longer than "Tillie" to get this nod. The man will be inducted 73 years after he died. He must be stoked.
Little-known fact: Tillinghast was a decent golfer as well, finishing a career-best 25th in the 1910 U.S. Open.
Best known as: "That woman who won a million worldwide events"
Reason she's in: Again, not 100 percent correct, but close. Davies has 84 professional wins (and counting), including 20 on the LPGA Tour. Those victories include four major championships: 1987 U.S. Open, 1994 and 1996 LPGA Championship, and the 1996 du Maurier Classic. The Brit also won the 1986 Women's British before it became a major, one of her record 45 wins on the Ladies European Tour.
Reason it took so long: A strict points-based system for LPGA golfers to qualify. Under that system, Davies didn't get credit for her worldwide wins and has needed either two more regular LPGA titles or one more major to automatically get into the Hall of Fame with her last LPGA win coming in 2001. She could have been voted on through the international ballot, but chose to try to qualify via the LPGA's merit system. After the WGHOF restructured its process earlier this year, she was voted in by the new 16-person selection committee.
Little-known fact: A huge soccer fan, Davies was once fined by the LET for watching a match on a portable TV during the final round of the 1996 Evian Masters. She won the tournament by four shots.
Best known as: "That Australian who won the U.S. Open"
Reason he's in: A two-time major champion (1979 PGA, 1981 U.S. Open), Graham won 38 times worldwide and participated on Australia's winning teams at the World Cup (1970) and Alfred Dunhill Cup (1985 and 1986). Ben Hogan was so impressed with Graham's performance at Merion in 1981 -- when he became the first Australian to win the U.S. Open -- that the golf legend called him personally. Graham was inducted into the Sport Australia Hall of Fame in 1990.
Reason it took so long: Despite winning two majors, his eight PGA Tour wins apparently didn't do much for WGHOF voters. After not receiving five percent of the vote for consecutive years, Graham was taken off the ballot in 2000. He fell off the ballot on the veteran's committee as well due to a lack of voting support..
Little-known fact: Graham, Gary Player, Bernhard Langer, and Hale Irwin are the only four golfers to win professional tournaments on six continents.