The Loop
Why Briny Baird is the PGA Tour's biggest (lovable) loser
Before you start feeling too bad for Briny Baird, keep in mind he's made more than $13 million in his career. Yep, $13 million. Playing golf. And not winning.
It's not always about money, though, which is why those following this past weekend's McGladrey Classic were likely pulling for the guy with the funny name wearing the funny hat. But Baird came up short again, losing to Chris Kirk by a shot when Baird topped his ball out of a fairway bunker and into water on the 72nd hole at Sea Island. Ouch.
"It's not all about winning," Baird said Sunday. "I've said that, but this hurts. This really does. This is very disappointing."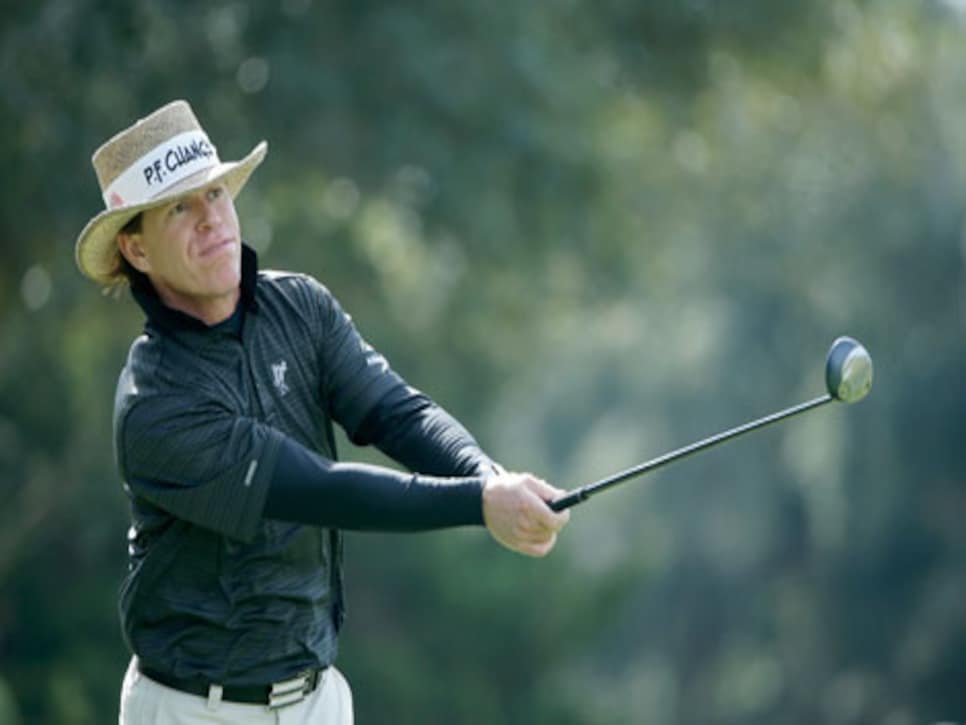 Golf fans see disappointment on a weekly basis, but Baird stands out not just for his straw hat, but for the number of times he's been in this position. At 41, Baird has been a runner-up on the PGA Tour six times and he's now played in 365 events -- enough to become, in a way, the PGA Tour's biggest loser. No pro golfer has ever made as much money without finding the winner's circle at least once. But at least there are players out there with similar careers with whom Baird can commiserate.
Brian Davis, 39, has amassed nearly $12 million in career earnings and has been a runner-up five times in 282 events. He famously lost in a playoff to Jim Furyk at the 2010 Verizon Heritage when he called a penalty on himself.
Baird and Davis probably don't feel as bad for No. 3 on the list, Jeff Overton, since he only turned 30 this year. But Overton had his four runner-ups by the time he was 27 and has played in 209 events to earn more than $11 million. After three runner-ups in 2010 alone, his game has fallen off to where he only had two top-25 finishes in 2013.
Showing promise and having long careers doesn't guarantee collecting trophies. Players like Ken Duke and Jimmy Walker have recently taken their names off this winless list thanks to late breakthrough victories, but there are plenty of others who seem destined to never experience the feeling of winning a PGA Tour event.
Brett Quigley, 44, has made more than $11 million and has five runner-ups in 403 events, but has zero victories. Skip Kendall, 49, has never won on the PGA Tour even though he's teed it up 420 times and has collected more than $8 million. Others who have made more than $7 million without ever winning are Charlie Wi, Steve Marino, Brandt Jobe, Alex Cejka, and Nick O'Hern.
Of course, those are all recent golfers. They never won, but at least they competed in an era of bigger purses. Bobby Wadkins, whose last full season on the PGA Tour was 1998, made $2.8 million in his career, but he played in 714 events to do that. Can you imagine competing at something 714 times and never winning? Jay Delsing teed it up 565 times to make $3.6 million, notching his two runner-ups by 1995. Then there's Michael Allen, who hasn't won in 369 starts on the PGA Tour, but who has already nearly equaled his $6 million in earnings on the Champions Tour, where he's won five times, including a major.
Much more famous than any of these guys, Colin Montgomerie is not only known as being one of the best players to have never won a major championship -- despite five runner-ups in golf's biggest events -- he also never won a PGA Tour event of any kind. Of course, he played predominantly on the European Tour, where he won 31 times, credentials good enough to earn him a spot in the World Golf Hall of Fame.
Briny probably won't be following Monty to St. Augustine, but he's had a nice career no matter what happens. Baird can take solace in the money he's earned and in the knowledge that whether or not he ever collects that elusive PGA Tour title, those watching him try will be pulling for him.