The Loop
Why Bill Haas will win the U.S. Open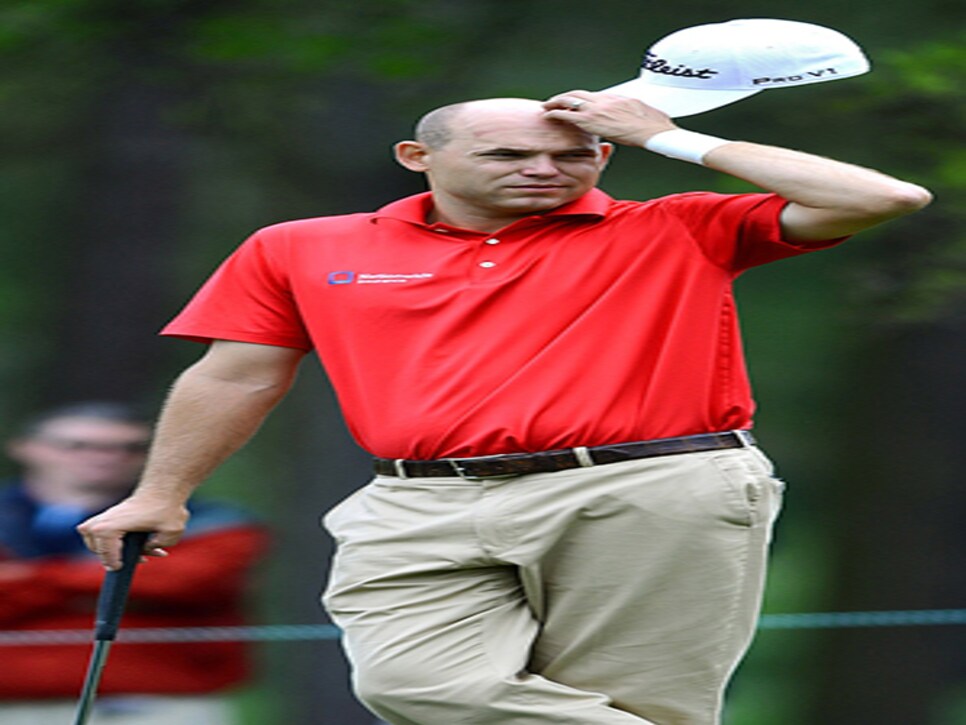 I do a lot of things that don't make much sense.
I drive a 12-year-old car whose check engine light has been on for at least the last 25,000 miles. Last time it went out was right before the last oil change. My car is basically my own motorized "Kick Me" sign.
I bring water to my dog. Now, when I say I bring my dog water, I don't mean I provide a bowl full of liquid that my epically average mutt can drink. No, rather, when my hound is relaxing on our couch during an otherwise uneventful afternoon, I bring the water to the very tip of her snout so that she need stretch only slightly to drink her fill. Why? Because when it comes to staying hydrated, I am almost as smart and prudent as my dog is lazy.
I practice my short game. Not necessarily a senseless activity until you realize that I have been practicing my short game for years with no discernible improvement in my scoring. In fact, I am the rare individual who not only has yelled "Fore!" in the short-game area, but also has lost several balls in the practice bunker.
The next thing I'm going to do that doesn't make much sense is pick a U.S. Open winner based on statistics, especially when that pick is Bill Haas.
Those familiar with my prognostications in the past might recall that I use a sort of regression analysis of PGA Tour statistics to come up with a pre-tournament favorite. (Well, it's a sort of regression analysis in that it's taking the high art of analysis and having it regress toward the low science of Wheel of Fortune.) At last year's U.S. Open, my hard math led me to Boo Weekley. That didn't go so well, mainly because I've discovered it's difficult and perhaps impossible to win the U.S. Open if you don't make the cut.
This year, at the Masters, I did a slightly better job when I, or at least my reliance on selectively relevant statistics, led me to tab Jordan Spieth as my pick. Through complete blind luck on my part and deft skill on Jordan's, Spieth actually led in the final round before fading late to finish behind Bubba Watson.
Now we come to the U.S. Open and how Haas hits all the right numerological notes. My formula takes into account the four statistics that will determine a successful U.S. Open champion: Driving distance, driving accuracy, greens in regulation and strokes gained/putting. First, I looked at how the U.S. Open winners over the last decade ranked in each of those criteria following the Memorial. I took the average of those ranks and came up with a group average, or Super Rank for each year in those four criteria. For example, Retief Goosen, 2004 U.S. Open champion, headed into the national championship ranked 28th in distance, 69th in accuracy, sixth in greens in regulation and 98th in putting for a Super Rank of 50. The Super Ranks over the last decade have been a low of 47 (Lucas Glover, 2009) and a high of 87 (Angel Cabrera, 2007).
Then, I took the average of each U.S. Open champ's Super Rank for the last decade. The result of the average of the Super Ranks (that was the name of my band in high school, Average of the Super Ranks) is the number that keys my search for this year's U.S. Open winner. By looking at the statistical rankings for the current year, I settle on the player whose average ranking across those criteria comes closest to the average Super Rank score. This year, the Super Rank average is 63, and the player whose numbers in the four key statistical areas add up to 63 is Bill Haas. He's 75th in distance, 92nd in accuracy, 22nd in greens in regulation and 42nd in strokes gained/putting.
Those are the kind of numbers that pay for your kids college tuition and earn a comfortable retirement at the same time. But in addition to his statistics, Haas exudes the plodding steadiness we've come to know as a hallmark of many recent U.S. Open champions. Goosen, Geoff Ogilvy, Lucas Glover, Webb Simpson and Justin Rose are all fine players, but if your pulse quickened at the mention of any of their names, you're either their wife, their agent or a stalker. (By the way, in this context, "plodding steadiness" is a compliment in much the way "nice personality" is when used to describe blind dates. "Plodding steadiness" is also why Phil Mickelson most likely doesn't have a U.S. Open in him.)
A year ago, when I picked Boo and he didn't pan out, I revised my formula and decided to expand the data set to include U.S. Open winners from the last decade, not merely the preceding five years. As a result, I got a Super Rank average that was exactly one point lower than this year's Super Rank Average. So I'm extra confident in my methodology. I'm less confident in my choice, however.
You see, Haas is a fine young man with decent skills across the field of responsibilities demanded of a national champion: Drives it far enough, ranked in the top 30 in greens in regulation, showed up in a few big events, previous winner of the FedEx Cup (OK, he didn't really know it, he was just trying to win the tournament, but even still, we like that). He's coming off a fine T-8 at Memorial a couple of weeks ago, and he's very much in the mold of Simpson, another Wake Forest alumnus who won the U.S. Open at Olympic Club two years ago. On top of that, I read where he was a religion major at Wake Forest, and I figure some general belief in divine mysteries has got to help you in something as spiritually inscrutable as golf.
But he's never finished in the top 20 in the U.S. Open, never had a top-10 in a major of any kind, and his most recent major moment saw him take the first-round lead at the Masters this year with a 68, only to back that up with a second-round 78.
Of course after all my number-crunching, I was a little distraught to hear this afternoon that former back-to-back U.S. Open winner Curtis Strange was stealing my thunder. "I think Bill is one of those players that could certainly very well pop up on the leader board," he said on Monday. "He did at the Masters. He's come into the prime of his career, which is early 30s on, got all the experience in the world, got a tremendous golf game. Been a little bit of an underachiever in majors so far. But with his talent, you certainly expect him to break out of that at any major."
Well, you might expect that from him. That almost even makes sense. If he hadn't been picked by me to win this week. Sorry, Bill. Play well. Now I've got to go water my dog.