The Loop
Who would be on golf's Mount Rushmore?
In an interview with NBA TV earlier this week, LeBron James said he believes he will be one of the four greatest basketball players ever by the time he retires. When asked to name his "Mount Rushmore" of NBA players, the 29-year-old Miami Heat superstar said Michael Jordan, Magic Johnson, Larry Bird and Oscar Robertson, but "somebody's gotta get bumped." That's quite a proclamation, although not surprising from a guy who goes by the nickname "King James."
LeBron's comments have drawn plenty of attention, but it also got us thinking: Who would be on golf's Mount Rushmore?
Using a recent poll of several Golf Digest editors as a starting point, it seems you can chisel three heads on right away: Jack Nicklaus (18 majors, 73 PGA Tour wins), Tiger Woods (14 majors, 79 wins and counting), and Ben Hogan (9 majors -- 10 if you ask Dan Jenkins -- 64 wins). But we still need someone to round out this theoretical all-time foursome. Some nominees: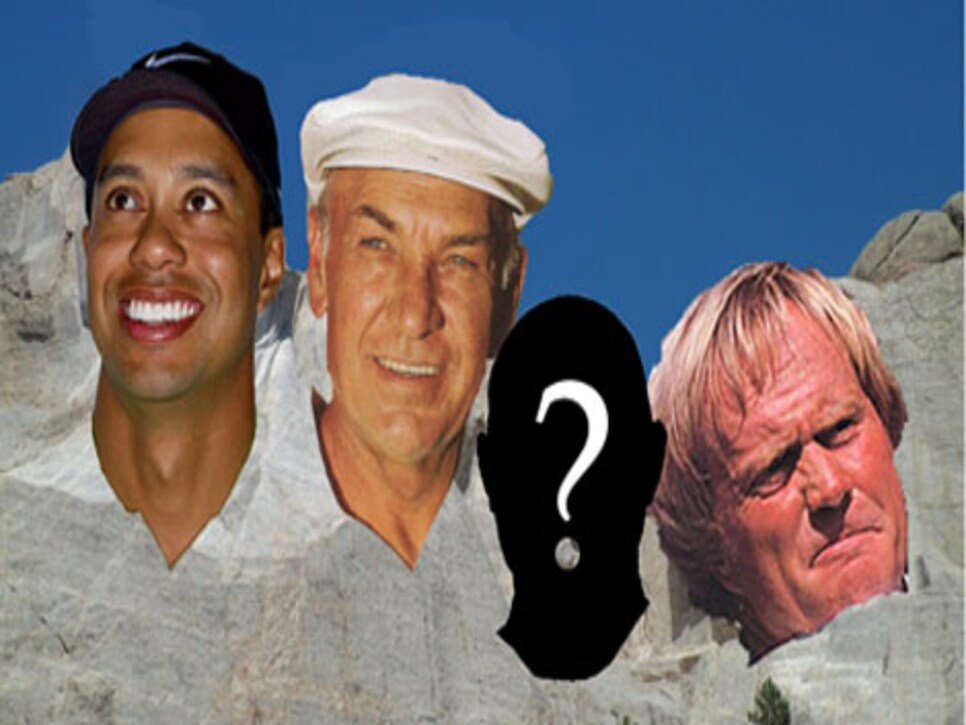 Bobby Jones: The storied amateur was the clear superstar of his day, winning four U.S. Opens and three British Opens. He also won five U.S. Amateurs and a British Amateur and captured the Grand Slam (at the time) before retiring in 1930 at 28.
Sam Snead: The PGA Tour's career leader in wins with 82 also won seven majors, though he famously couldn't quite capture a U.S. Open. As far as longevity goes, Snead was in a class of his own. At 62, he finished T-3 at the 1974 PGA Championship, and in 1979 became the youngest (67) player to shoot his age on the PGA Tour.
Byron Nelson: At first glance, his 52 wins and five majors don't seem worthy of this conversation, but Nelson, like Jones, retired early. He racked up all of those trophies by the time he was 34. How good was he at his peak? In 1945, Nelson had an 11-tournament winning streak and had 18 total victories -- two tour records that will probably never be broken.
Arnold Palmer: Maybe it's not all about collecting trophies, although Palmer has plenty of those too with 62 wins and seven majors. Maybe golf's Mount Rushmore isn't just about who was the best, but who was the best for the game. In that case, Arnie, the man who boasted an "army" of fans, probably deserves a spot.
Who would be your pick(s)? Perhaps, Babe Zaharias or Annika Sorenstam deserve consideration for their contribution to women's golf? Again, it depends on your criteria, but regardless, it's a fun debate to have. We'll lean in favor of long-lasting impact and go with Palmer. After all, he is golf's "King".