The Loop
Who will be this year's breakthrough amateur?
ARDMORE, PA. -- They say they're holding the 113th U.S. Open here this week, but some suggest what's really going on at Merion GC is one last practice session for the University of California men's golf team before splitting up for the summer. OK, that's an exaggeration, but with three members of the Golden Bears squad -- Max Homa, Michael Kim and Michael Weaver -- among the 10 amateurs in the field for the year's second major championship, you'll hardly fault Cal fans from crowing. USGA officials haven't been able to find another year in which three current players at the same school have participated in the championship.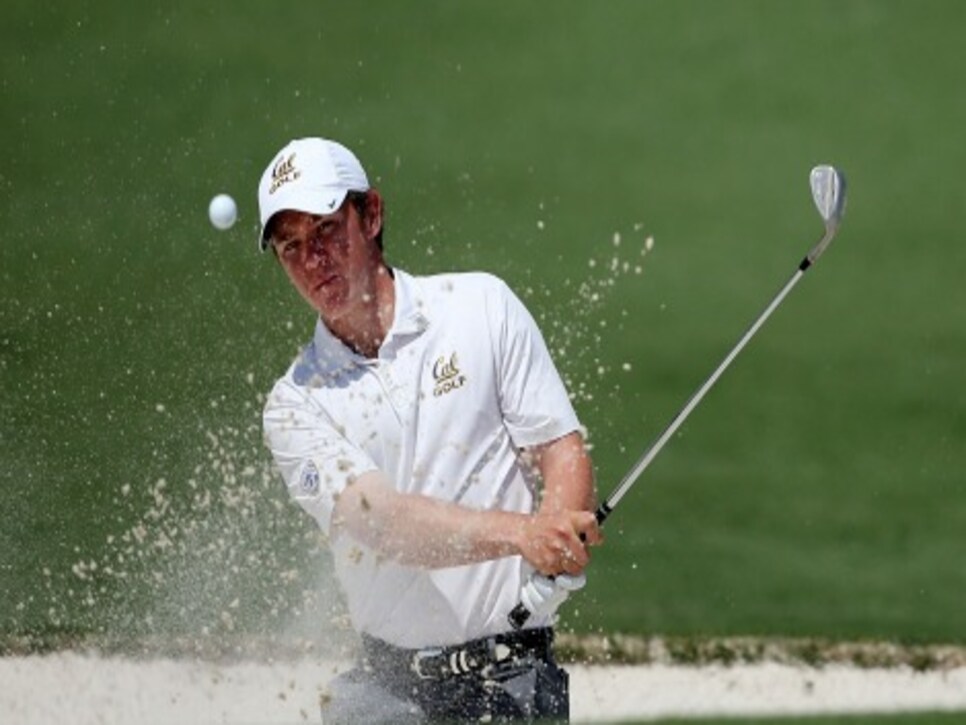 "It's quite an honor," said Cal coach Steve Desimone. "It speaks to the players themselves and just how much hard work they've put in the last few years." Having the trio compete in the U.S. Open soothes some of the pain the boys from Berkeley are feeling after the disappointment of trying unsuccessfully to cap a historic 11-win college season with a NCAA Championship victory two weeks ago, losing in the semifinals to Illinois.
Related: Cal's dream season ends with NCAA semifinal loss Interestingly, another Pac-12 program the University of Washington boasts two representatives -- Chris Williams and Cheng-Tsung Pan -- and has a claim at a third with University of San Francisco's Cory McElyea in the field (he started his college career with the Huskies). It's been 80 years since Johnny Goodman became the last amateur to win the U.S. Open, a feat that no one believes will be duplicated this week. Still, an amateur contending in a U.S. Open at Merion is not unheard of. Jim Simons led after three rounds in 1971 before finishing T-5, the best performance by an amateur in the championship in the last four decades. Recent history also suggests there will be some amateurs playing 72 holes at Merion. Since 1998 at least one amateur has made the cut at the U.S. Open in all but two years (2006 and 2007), with three making it in four of the last five years.  So who are the most likely candidates to succeed at Merion GC? Here's our educated guess.
Steven Fox, 22, Henderson, Tenn.How he qualified: U.S. Amateur champion__Odds of making the cut: 8-1__Skinny: Having wrapped up his college career at Chattanooga last month, Fox will hold off any plans of turning pro until after the Walker Cup. In the meantime, he continues to enjoy the spoils of his U.S. Amateur victory at Cherry Hills CC last August, which include a spot in this week's championship and next month's British Open. In the last three weeks he has played in each of the PGA Tour's stops on sponsor's exemptions, upping the number of tour starts overall in 2013 to six including his appearance at the Masters. Unfortunately for him, he has yet to make the cut in any, posting a 75.75 stroke average.  __Gavin Hall, 18, Pittsford, N.Y.How he qualified: Shot four-under 137 to earn one of four spots at Purchase, N.Y., sectional qualifier Odds of making the cut: 8-1__Skinny: The youngest player in the field at Merion shares some similarities to last year's U.S. Open amateur darling, Beau Hossler. Both will be playing their first season of college golf at Texas in the fall (Hall having recently transferred from UCLA, where he was redshirting) and both are the types you would describe admirably as being mature beyond their years. Hall's slight stature (5-10, 155 pounds) also reminds some of another teenage amateur who made headlines this year, China's Tianlang Guan. These qualities are indicators that the lefty might just be able to handle what lies ahead this week. Still, this is a challenging venue to be making your first start in a PGA Tour event.
Related: Teen Gavin Hall is ready for the U.S. Open Max Homa, 22, Valencia, Calif.How he qualified: Shot five-under 138 to earn one of five spots at Newport Beach sectional qualifier__Odds of making the cut: 3-1__Skinny: There was arguably no hotter player in college golf at the end of the 2012-13 season than the California senior, who's opening 61 at L.A. North in the Pac-12 Championship wrapped up the conference crown for him early. He then topped himself by claiming the NCAA individual title with a bogey-free 66 in the final round at Capital City Club's Crabapple Course. Both Homa and Cal coach Steve Desimone point to Homa's decision in early April to stick around as an amateur this summer in hopes of making the U.S. Walker Cup team as a turning point that helped ease any pressure on the former U.S. Amateur quarterfinalist and allow him to play more freely. What should impress folks is Homa's ability to shrug off adversity. It's hard to shake the crushed expression Homa had after he lost on the 20th hole in his NCAA semifinal match against Illinois' Thomas Pieters, it ended the Golden Bears' dream season. Two days later he secured his spot at Merion with rounds of 66-72 in his qualifier. His game is in great shape and mentally he's pretty strong. Michael Kim, 19, Del Mar, Calif.How he qualified: Shot 11-under 133 to earn one of three spots at Ball Ground sectional qualifier__Odds of making the cut: 3-1__Skinny: Just qualifying for his first major championship was a bit of an adventure for the Cal sophomore. The morning after his squad's disappointing loss in the NCAA semifinals outside of Atlanta, he flew to Columbus, Ohio, to pick up the Jack Nicklaus Award as Division I's college player of the year during the final round of the Memorial Tournament. He then flew back to Atlanta that night for his U.S. Open qualifier the next day, where he shot rounds of 67-66. This week he claimed another POY honor, earning the Fred Haskins Award, after winning three college titles and having 10 top-10 finishes in 14 starts while posting a 70.1 stroke average. The only knock against him was his so-so showing at NCAAs (T-49 was his only finish all year worse that T-11). Cory McElyea, 21, Santa Cruz, Calif.How he qualified: Shot five-under 138 to earn one of five spots at Newport Beach sectional qualifier__Odds of making the cut: 8-1__Skinny: After starting his college career at Washington, the California native has settled in at the University of San Francisco, where he wrapped up his junior season this spring with a team-best 72.86 stroke average. As a high schooler he won a U.S. Open local qualifier and he also won the 2005 First Tee Open at Pebble Beach, suggesting perhaps that USGA venues might be to his liking. That said, this will be a very different atmosphere than what he has faced previously in his career. Grayson Murray, 19, Raleigh, N.C.How he qualified: Shot nine-under 133 to earn one of three spots at Ball Ground sectional qualifier__Odds of making the cut: 10-1__Skinny: A birdie on the final hole at sectional qualifying secured his spot in the field at Merion. Murray will play college golf this fall at UNC Greensboro after previously playing at Wake Forest and East Carolina. Like McElyea, Murray has had success in USGA events: three times he made match play at the U.S. Junior and he qualified for 2009 U.S. Amateur at age 15. Past experience in a pro event includes the 2010 REX Hospital Open, where he became the second youngest player to ever make a cut in Web.com Tour event.  Cheng-Tsung Pan, 21, Chinese Taipei____How he qualified: Shot one-under 139 to earn one of two spots at Cle Elum sectional qualifier__Odds of making the cut:__ 3-1__Skinny:__ Pan just might have the most impressive resume of an amateur in the field. He just wrapped up his sophomore season at Washington, where he earned first-team All-American honors. He was a quarterfinalist at last year's U.S. Amateur after reaching the quarters in 2007 at age 15, becoming the youngest to do so since Bobby Jones. He has twice been medalist at the Western Amateur and was second at last year's Asian-Pacific Amateur. Oh, and he has played in a U.S. Open before, missing the cut in 2011 at Congressional. His experience and maturity suggest good things could be in store this week at Merion.   Kevin Phelan, 22, St. Augustine, Fla.How he qualified: Shot nine-under 135 to earn one of three spots at Bradenton sectional qualifier__Odds of making the cut: 5-1__Skinny: He had six top-10 finishes to close his career at North Florida this past season, giving him 22 in 48 career starts. Qualifying for his second U.S. Open (he missed the cut at Pebble Beach in 2010) forced him to pull out of next week's British Amateur Championship, a disappointment but one that selectors for the Great Britain & Ireland Walker Cup side (he holds dual citizenship in the U.S. and Ireland, where he lived from age 3 to 12) are likely acknowledge with an excused absence.  Michael Weaver, 22, Fresno, Calif.How he qualified: U.S. Amateur runner-up__Odds of making the cut: 5-1__Skinny: The former competitive go-kart racer has had his game in high gear recently, closing out his redshirt junior year at California with a share of the individual title at the NCAA Regional, his first college win. A 78 in the first round at Augusta National doomed Weaver's chances at making the cut at the Masters, but with a major start under his belt Weaver should have the jittered flying in formation.
Chris Williams, 21, Moscow, Idaho____How he qualified: No. 1 in the final 2012 World Amateur Golf Ranking__Odds of making the cut:__ 4-1__Skinny:__ This will be final start as an amateur for the two-time first-team All-American at Washington, with an exemption into next week's Travelers Championship awaiting him as he gets set for his pro debut. Should the 2012 Western Amateur champion and recent Ben Hogan Award winner be looking ahead, his time at Merion will likely be brief. Should he stay in the present, however, Williams has the experience (he played in 2011 at Congressional) and skill to claim low amateur honors.