The Loop
'Who is this human being, and what has he done with the real Tiger Woods?'
Stories of interest you might have missed…
"A man walks into a press conference two days before the Masters, wearing Tiger Woods' hat and clothes and looking quite a bit like the tournament's legendary four-time winner," USA Today columnist Christine Brennan writes. "But it's not Tiger. It can't be. The man is smiling — wide, genuine, warm, Phil smiles, the kind that the real Tiger would never be caught dead sharing with the news media. This man also is introspective and forthcoming, telling stories about practicing while his young children picked flowers and played tag nearby…He's funny. He's kind. He's even a little bit humble. Who is this human being, and what has he done with the real Tiger Woods?"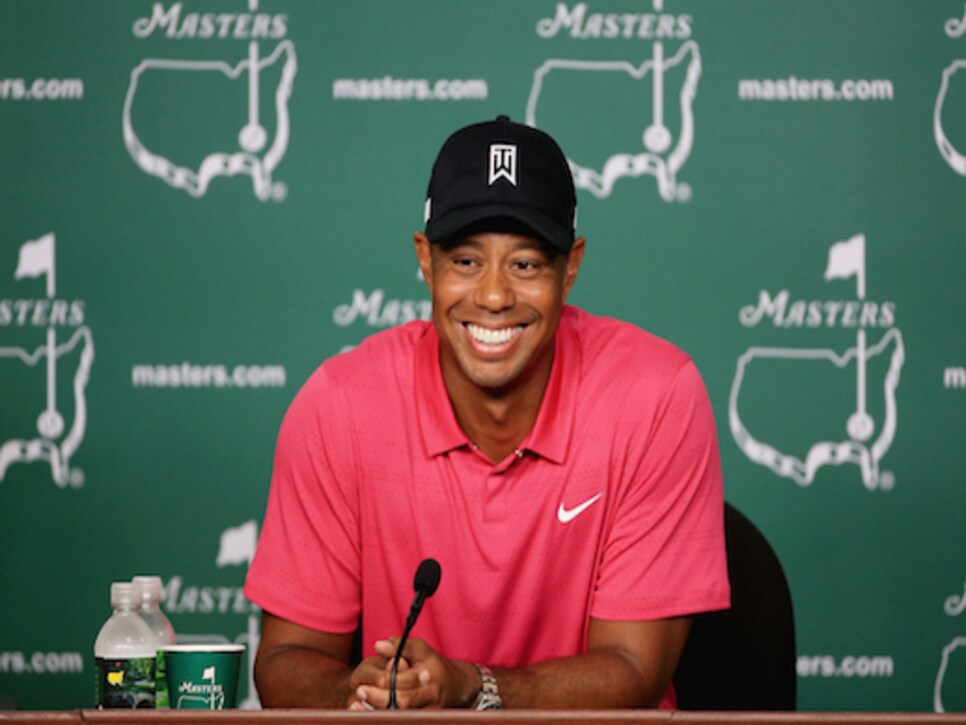 All eyes seem to be on Tiger Woods this week, but that isn't necessarily a good thing, argues Orlando Sentinel columnist Mike Bianchi. He writes: "For a new superstar to emerge and save pro golf from turning into pro tennis, two things need to happen: (1) The new superstar needs to start winning enough to get our attention; and (2) Tiger has to become so irrelevant that we quit talking and writing about him. At this point, I don't know the likelihood of either of those two things actually happening. Which brings us to a question that once seemed unfathomable: Would golf be better off if Tiger Woods simply faded away?"
Left-handers did not win the Masters from its inception to 2002. In the last 12 years, lefties have won six of them. Golf Channel's Brandel Chamblee offers this explanation: "A draw is harder to hit because it demands more patience with the lower body, while a fade can be achieved by clearing one's hips as fast as possible. Since 2003, when solid-core balls began to take over the pro tours, it has been much harder to hit a draw than a fade. This peculiarity plays right into the game of left-handed golfers when they get to Augusta National, where key tee shots at Nos. 2, 5, 9, 10 and 13 scream for a right-to-left shot, which is much easier accomplished by a left-handed golfer."
What has Jordan Spieth learned from his Masters experience last year, when he threatened to win at 20? "To compensate for his inexperience at Augusta last year, Spieth and [Michael] Greller got a detailed scouting report in two sessions with two-time winner Ben Crenshaw and his longtime Masters caddie, Carl Jackson," Bill Nichols of the Dallas Morning News writes. "I just got a little ahead of myself," Spieth said. "You are going to make birdies if you're giving yourself enough chances; putts will fall. I think I got a little caught up in wanting them a little too bad in taking that lead."
The headline to this Neil Lyndon column in the Telegraph asks: Why is the golf establishment so determined to drive people away? "With the PGA Masters at Augusta National starting tomorrow," Lyndon writes, "golf side-splittingly reveals itself yet again as one of the last bunkers of the old gender order on the fairway of modern life. The BBC golf commentator Peter Alliss declared this week that enforcing equality between men and women in British clubs had caused mayhem' and [bleeped] up the game'. Meanwhile, Augusta National, that legendarily male-only club, is inviting public approval and congratulations on having admitted its third woman. In three years. That's out of a total membership of 300. At this rate, it will take Augusta National 150 years to achieve equal numbers of men and women members."