The Loop
Who is Danny Willett? A primer on a surprise British Open leader
ST. ANDREWS -- When 27-year-old Englishman Danny Willett converted his putt on the 18th hole to reach nine-under for the tournament, it ended a shaky stretch on the back nine and set him up as the potential 36-hole leader of the British Open. He currently stands two shots clear of four different players, and with conditions expected to worsen this afternoon, that gap might be very hard to bridge.
And it all leads to another question: Who is this guy? Let's pierce the Danny Willett veil of mystery with a Q&A.
Willett comes from Sheffield, in the north of England. His county, Yorkshire -- the largest in the UK -- has never produced a British Open winner.
What's his best rags-to-riches story?
What are the basics of his golf bio?
He was an excellent amateur who became the world no. 1 in 2008, amassed an 0-2-2 record in the 2007 Walker Cup, turned pro in 2008, and had his European Tour card by 2009. His breakthrough came with a fifth-place finish at the BMW PGA Championship in 2010, and he's won two tournaments since. This year, he made it to the semifinals of the WGC-Match Play Championship before falling to Rory McIlroy. He's currently ranked 39th in the world.
Who is his closest American equivalent?
I think Jay Busbee nailed it: Rickie Fowler. Two wins, young, great amateur careers, big things probably coming.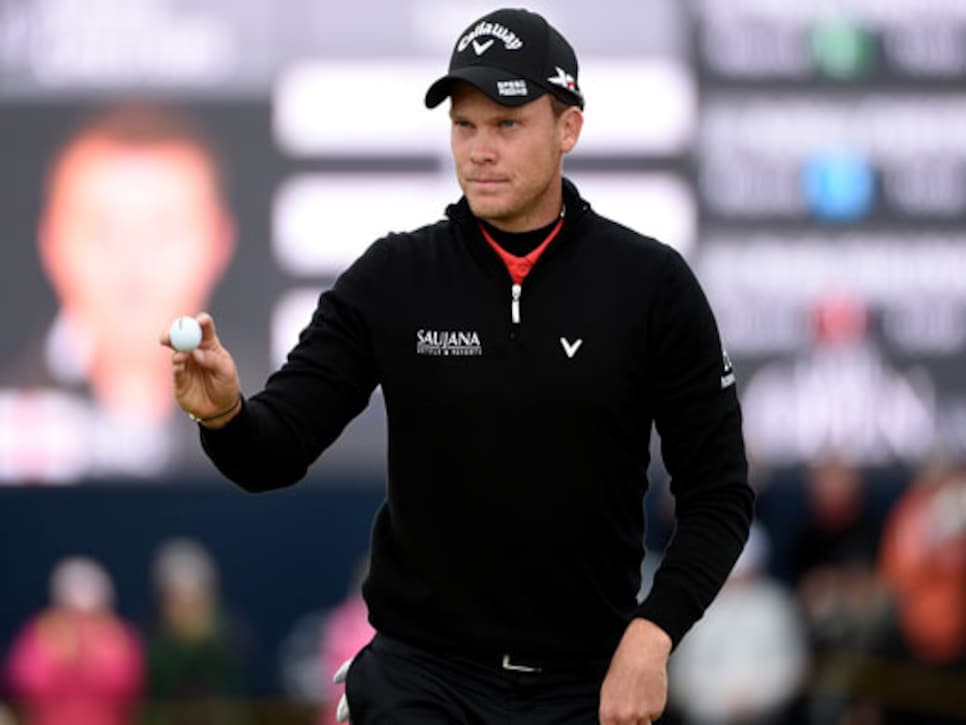 Any experience in America?
Glad you asked -- after finishing school in England, he tried to attend college and hated it, quitting after a month. He knew he wanted to be a professional golfer, so his next move was to come to Jacksonville State in Alabama at age 17. He spent two years there, and claims to have enjoyed himself, even though he acknowledged that many Europeans hate being away from their families. "But, I've been brought up a little bit different to that."
Does he speak Lee Westwood English or Ian Poulter English?
On the posh scale, Willett is slightly closer to Poulter than Westwood.
It finally hit me as he walked into his presser Friday: He looks just like Theon Greyjoy from Game of Thrones. I leaned over to tell a fellow journalist, and to my immense frustration, she pointed out a tweet where Luke Kerr-Dineen had already pointed that out and even put together a side-by-side photo:
Is he sick of people pointing this out?
Probably. But he was diplomatic in an interview with the Daily Mail on the subject: "No, I'm not fed up of it. He's retiring in a couple of years anyway so you'll all have to stop it then."
Elisabeth Willett is a "maths" teacher.
Yes. When he finished his round on Friday, she sent him the following text: "Well done, you've made the cut."
Yes, he married his wife Nicole three years ago, and they have a pug named Spike.
Does he have a youth golf charity called the 'Wee Willetts'?
In his post-round presser, I asked him to fill in any other biographical details, up to and including his favorite color. Here's what he had to say:
"Color? I'd have to think of that one for a while. I've dedicated my life to golf for a long time now. I got married a couple of years ago, so I'll have a couple cold ones back in the room. Back home we're just a normal couple, go for a walk, go out to the parents' for dinner, do normal things apart from practicing and training a lot. So yeah, it's just a relatively normal-ish life I'd say back home."
Did I use all my skills as a dogged journalist to press him for an answer on the all-important favorite color issue?