News
PITTSFORD, N.Y. -- There's no pretending this tournament isn't over; barring a natural disaster or injury, Cristie Kerr is our champion. But that doesn't mean there aren't some interesting side stories emerging at the LPGA Championship. Rookie Spaniard Azahara Munoz, who sits in a tie for second place at -5 going into the final round, is quickly emerging as a fan and media favorite, and she'd have to play really poorly today to not steal the top spot in the Rolex Rookie of the Year ranking from Amanda Blumenherst.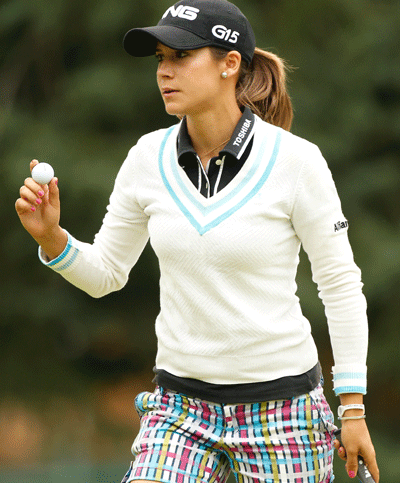 *The 22-year-old Munoz hails from Malaga, Spain. She grew up in a family of non-golfers, but when she was seven years old, a public driving range was built in her hometown and she started going there just for fun. "I liked it, so I kept on playing," she said in her post-round interview Saturday. Her amateur record is impressive: she won the 2004 Girls' British Open Championship and the 2009 Ladies' British Amateur, and finished runner-up in the 2008 U.S. Women's Amateur. Last summer, she graduated from Arizona State where she'd racked up a slew of college awards, including 2008 NCAA Individual Champion. She earned her full LPGA Tour card by finishing fifth at the 2009 Q School.
When asked yesterday what her goals are for her rookie season as a pro, she shrugged her shoulders and said "I don't really set goals for myself. I'm playing really well and hopefully I keep it going and that's all I'm thinking about." We pushed for more, and she admitted that she'd love to be Rookie of the Year, but that it's not all that important to her. "It's not something that obsesses me, you know? As I said before, every day I go out there, I just want to play my best and if she plays better than me then congratulations to her." This brought puzzled looks on the faces of the assembled media, so Azahara offered an explanation: "Maybe because I'm from Spain, and we are pretty laid back, just have a good time and that's good enough. I was brought up that way. When I talk to my parents they only care if I'm upset. As long as I am happy, they are happy. That's the way I was brought up."
So far, the laid-back approach seems to be working.