The Loop
Who has the most to gain -- and to lose -- at this year's Ryder Cup
GLENEAGLES, Scotland -- The Ryder Cup is famously played for no prize money, just the pride of representing your country and continent. But don't be fooled. There is a different kind of currency that's earned or spent during the matches as reputations are made, for better or worse, based on what happens in the event. Here's a look at those who have the most on the line this week at Gleneagles.
__5 WITH THE MOST TO GAIN
__The oldest U.S. captain in Ryder Cup history has never been part of a losing team as an official participant in the competition (3-0-1 as a player, 1-0 as a captain). The 65-year-old risked that legacy to come back and help the American side try and win on the road for the first time since Watson last was at the helm in 1993. He says he feels reinvigorated by the experience with "the kids," and the feeling seems mutual. "We're very lucky as players to have the time with him," said Phil Mickelson. If Watson's magic in Scotland, where he won four of his five British Open titles, continues, his iconic status in the game will take on a new dimension.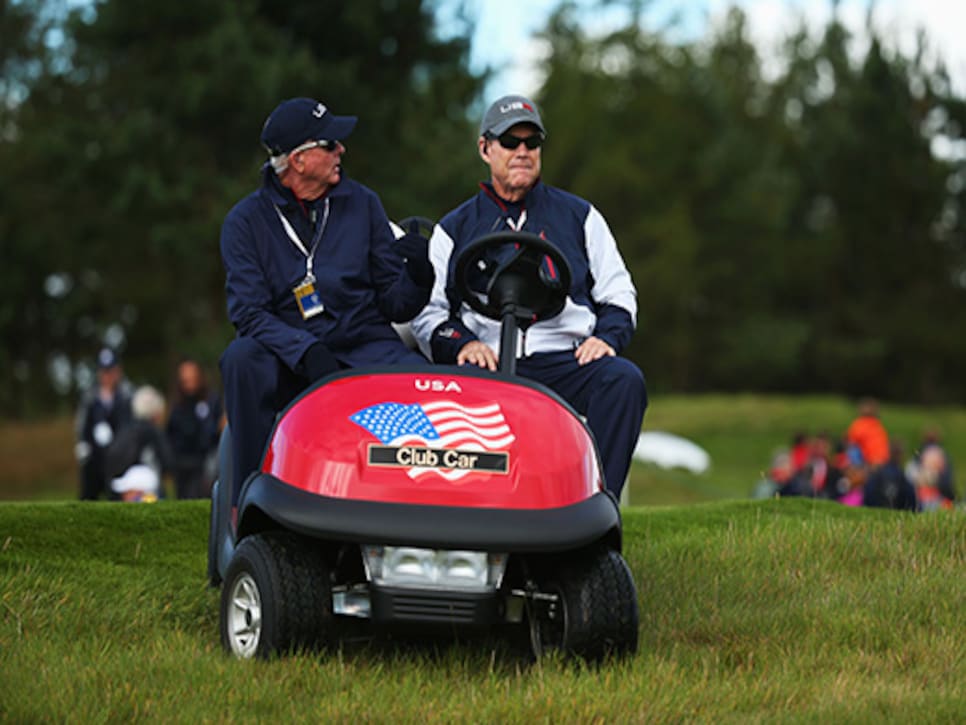 __An eventful two-year stint as PGA of America president began when Bishop boldly bucked the trend of selecting active-but-waning players to captain the U.S. side and tapped Watson in hopes of rekindling past glory. If Team USA succeeds, Bishop (above left with Watson) deserves credit for taking the risk of changing things up.
__The 47-year-old Irishman's record as a player (four European Tour wins, the last coming in 2005) isn't necessarily one that would naturally translate into becoming a European team captain. Still, his Ryder Cup bona fides are impressive, having secured the deciding point in 2002 and going 2-0-1 in Europe's 2004 blowout win. If McGinley can manage to carry that over as the man in charge and maintain Europe's winning ways, his legacy of clutch Ryder Cup performances only grows.
__While still winless in majors, the once petulant Spaniard has managed to improve his image and show signs of maturity. Always a Ryder Cup stalwart -- his career record is an impressive 16-8-4 -- another big week at Gleneagles would seem to put Garcia, 34, in line to one day captain the Europeans.
__A year ago, Lefty was able to re-write his so-so British Open legacy by winning at Muirfield. In a similar fashion, three strong days at Gleneagles could go far in changing the narrative when it comes to the Ryder Cup. The press so kindly described his 14-18-6 record as a "blot" on his Hall of Fame career. It's hard not to consider it so, but Mickelson has the ability to fix that this week and salvage an otherwise disappointing 2014.
__5 WITH THE MOST TO LOSE
__McGinley showed faith in Westwood by taking him as a captain's pick, banking on the fact the Englishman's past success in eight previous Ryder Cup (18-13-6) would outweigh his present form (no top-10 finishes since the Players in May). Westwood says he lost 20-plus pounds in the last few weeks to prep for Gleneagles, knowing there are certain expectations on him. If he fails to play like his normal self, after disappointed finishes in the final three majors of the year, questions will begin anew about whether 41-year-old's best days are behind him.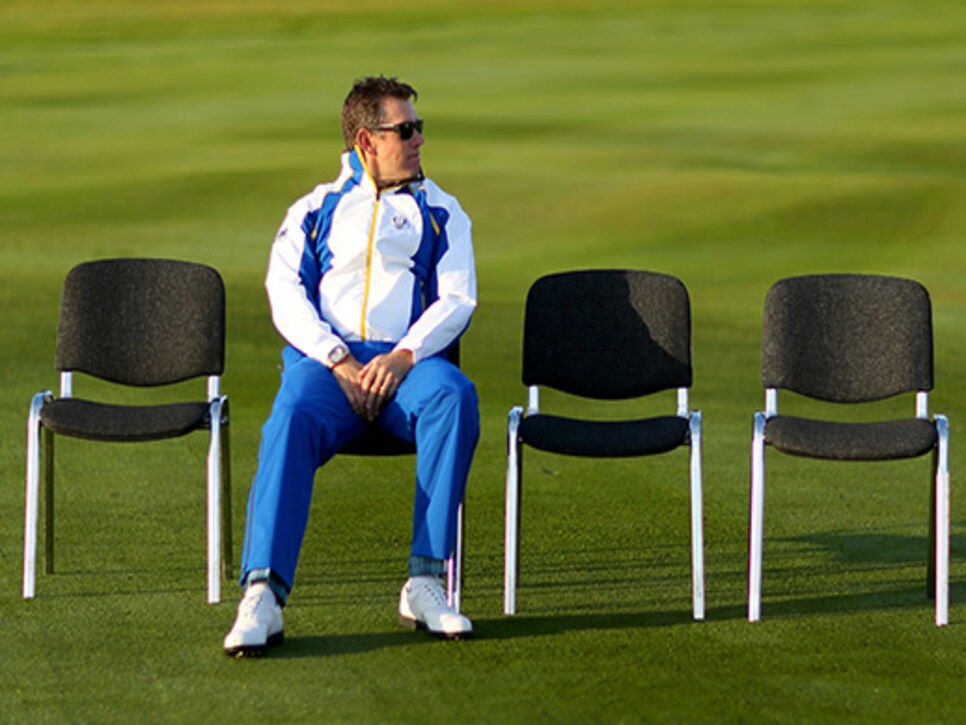 __Bradley's 3-1-0 record in his first start at Medinah hinted that the 28-year-old could be the inspiring young standout the Americans are looking for now and in the future at the Ryder Cup. (Think an U.S. version of Ian Poulter.) That performance alone earned him a captain's pick in 2014. Should he stumble at Gleneagles, however, the image will become tarnished.
__Winning two majors and ascending to World No. 1 has already made 2014 a successful year for McIlroy, so is there any place to go but down? It speaks to how confident McIlroy is with his game that he has decided to bench the Nike Covert 2.0 driver, which worked pretty well for him at the British Open and PGA Championship, and put in a new Vapor Pro. Still, it exposes him to fair amount of criticism (just ask Mickelson how his driver change at the 2004 Ryder Cup worked out) should he not repeat his form from the summer.
__In the same way that the Watson pick will look like an act of genius if the U.S. prevails, should the team lose again, messing with the traditional captain's selections process will feel a little more like an act of implus.
If the U.S. can pull out the upset win this week it would mark the second time that a Tiger-less American squad claimed victory. Woods might have been the best player in the world, but his ability to inspire and lead others would take another blow.