The Loop
Whitten's tribute to Geoffrey Cornish: architect, author and gentleman
I knew Geoffrey Cornish, who died Feb. 10th at age 97, more as a historian and writer than as a golf course architect. Oh, we toured a few of his designs together over the years, and I played several of his more prominent works. But our relationship was as co-authors. We spent three years, from 1978 to 1981, writing the first definitive history of golf course design. Geoff had started researching aspects of it as far back as 1950, and I started my research as a teenager in 1967. We combined our efforts, which luckily dovetailed nicely.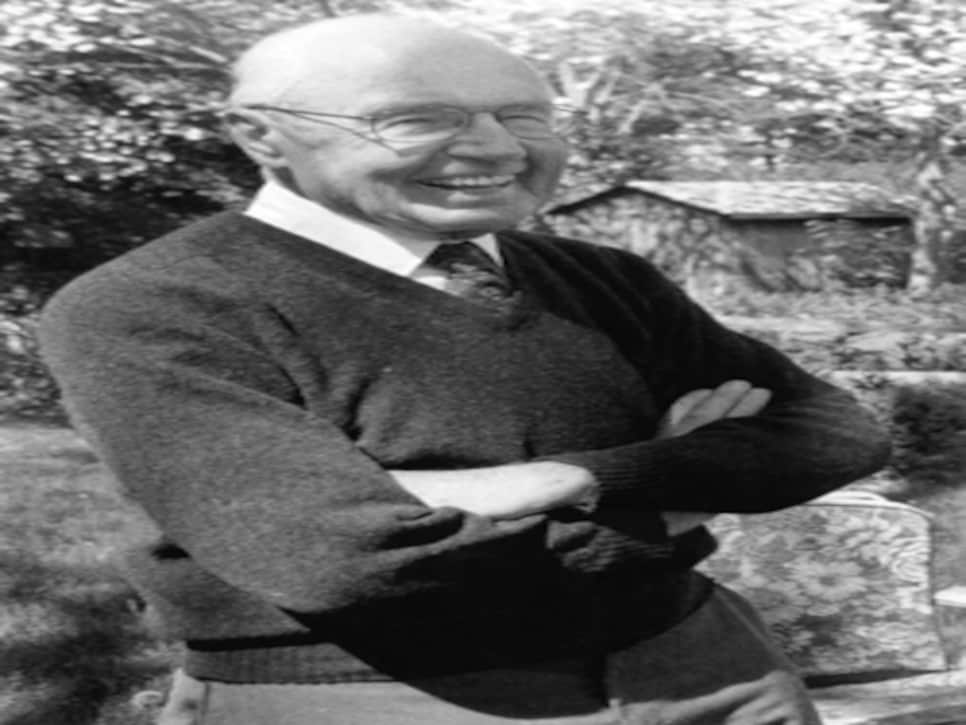 I like to think we were the perfect tag team. When we were in the final stages of refining the first narrative, Geoff flew to Kansas and stayed in my home so we could work on it together. On the second or third night, I worked very late, finally gave up and headed for bed at 4 a.m. I bumped into Geoff in the hallway. He was getting up for the day.
After the book came out, Geoff presented dozens of lectures on the history of design as part of his day-long design seminars he conducted with golf architect Robert Muir Graves. His talks on history, really narrated slide shows, were sort of a condensed version of our text. But, in reviewing notes of one of his sessions, I was pleased to recall that Geoff provided more than just dull facts. He spiced it up with his own observations and gentle wit.
In tribute to a true gentleman of golf architecture and golf history, here are a few sound bites from one of those 1990s lectures on the evolution of design. I don't vouch for the accuracy of every fact he put forth in it, because some of what he said most definitely didn't come from either of our books.
__Here then is Geoff Cornish, in his own words:
There are some 14,200 courses in play in the United States. If you added them all together, they'd take up the space of two states. But it's a bit of an anticlimax, as the two states are Rhode Island and Delaware.
When it began, golf was about adapting itself to the landforms as were found on the links of Scotland. Today, it's just the opposite. We've creating landforms that try to resemble the links.
We constantly hear people say greenskeeper, greens chairman and greens fee. There should be no S in there. In the beginning, the entire golf course was known as The Green. Hence, greenkeeper, green chairman, green fee.
Originally links were on land owned by the public, so you could play free of charge. That certainly appealed to the Scots.
Originally, greens on links were not manmade. They were the areas that were nibbled very close by sheep or rabbits. Fairways were larger areas grazed by cattle, who didn't graze quite so closely.
Bunker was an old Scottish word for scar. Bunkers were scars on the landscape of the original links.
It's been said that every famous golfer except Ben Hogan has crossed the Swilcan Bridge at St. Andrews at one time or another. I think the same could be said of every famous golf course architect. The Old Course is our Mecca.
In 1980, I followed architect Percy Clifford on his first round at the Old Course. On the 14th, he hit a beautiful shot but when we got out there, we found his ball was in Hell Bunker. Percy turned to his caddie and said, I would think you could have told me about that bunker. And the caddie said, It's been there for over 500 years. I would think you would have heard about it.
What makes a golf course outstanding? The first thing is inspired design, then sound specifications, then dedicated construction and lastly the work of the golf course superintendent. Only he can make a golf course great forever.
A classic golf hole is one that has been widely imitated or adapted in subsequent designs.
Nearly all the most renown golf holes in the U.S. were controversial in their earliest days.
In the early years, golf followed the path of the British Empire. Where ever they went, they took golf with them: India, Hong Kong, Malaysia. It was slowest to catch on in that upstart United States.
Eddie Lowery was just 10 years old when he caddied for Francis Ouimet when Francis won the 1913 U.S. Open over Vardon and Ray. Eddie once told me the only reason he caddied for Francis was that he was the only caddie who would go out  with him for 10 cents a round.
The Dell Hole at Lahinch, designed by Old Tom Morris, is a hidden par 3. Of course, in today's litigious society, you wouldn't dare make a hidden par 3. As a matter of fact, after Donald Ross's death in 1948, we went around New England taking out all Donald's hidden par 3s. He had always felt that you should have a blind par 3 on your course if you could possibly get it in.
Old Tom's protege was Donald Ross. When I first visited Donald's home course at Royal Dornoch in northern Scotland, which had been designed by Old Tom, I looked at holes 1, 2 and 3 and thought, this is how Morris influenced North American architecture. But later I learned that Ross had gone home for an extended visit to Dornoch in 1920 and he did those three holes.
Donald Ross spent the last three years of his life organizing the American Society of Golf Course Architects, something most felt was an impossible task, because if you put two golf course architects together in a room, you'll get an argument. But Ross somehow got 17 architects into a room together and the Society was born.
George Crump, who created Pine Valley, was born in Philadelphia, but he was the son of a British Ambassador stationed there. The famous British golf architect H.S. Colt was some sort of relative of Crump, and when he first came to America, he spent about three months with Crump on the site of Pine Valley. So Colt most definitely had a lot to do with its design. If you look at Colt's advertisements, he always listed Pine Valley.
George C. Thomas Jr. was part of the Drexel Banking family in Philadelphia. The way he got one of his first design jobs was to say, I'll give you the land if you'll let me design the golf course.
Dr. Alister Mackenzie had actually been a practicing physician before he saw the light.
Stanley Thompson was the most famous Canadian golf architect. His masterpiece was Banff Springs in the Canadian Rockies, a stupendous course with 220 bunkers;  each of them resembles a mountain peak in its background. Alister Mackenzie did a similar thing at Cypress Point. Many of his bunkers there mirror the shapes of Monterey Pines in the distance.
I was honored to work for Stan for seven years. Of course, he also started Robert Trent Jones off on his career. Trent was the only person who could talk with Stan and get the better of an argument.
Stan would always make models of his greens before he built them. He said no contractor knew how to read a contour map properly. I always wondered if Stan knew how to draw a contour map properly, and maybe that's why he made his models.
Pete Dye has no degree in landscape architecture or agronomy or anything like that, and yet he is amazingly, amazingly talented and creative. He has brought us an entirely new school of golf course architecture.
When you review history objectively, there's no question that Robert Trent Jones has influenced golf architecture more than any other golf architect, and has influenced the game of golf more than any other architect.
I've studied a lot of Donald Ross courses to gauge how much earth he moved. When I've been lucky enough to see his old topo maps, I figure the most he had to move to build 18 holes was only about 100,000 cubic yards. Now, in the age of Pete Dye, we probably move a million to two million cubic yards of earth.
In our profession, we're often asked what we think about all these PGA Tour professionals getting into the design business. Well, we're kind of glad to have them in there. They've made it possible for many young students, men and women, to get into the business of golf design. There aren't enough real architects to hire them all.