News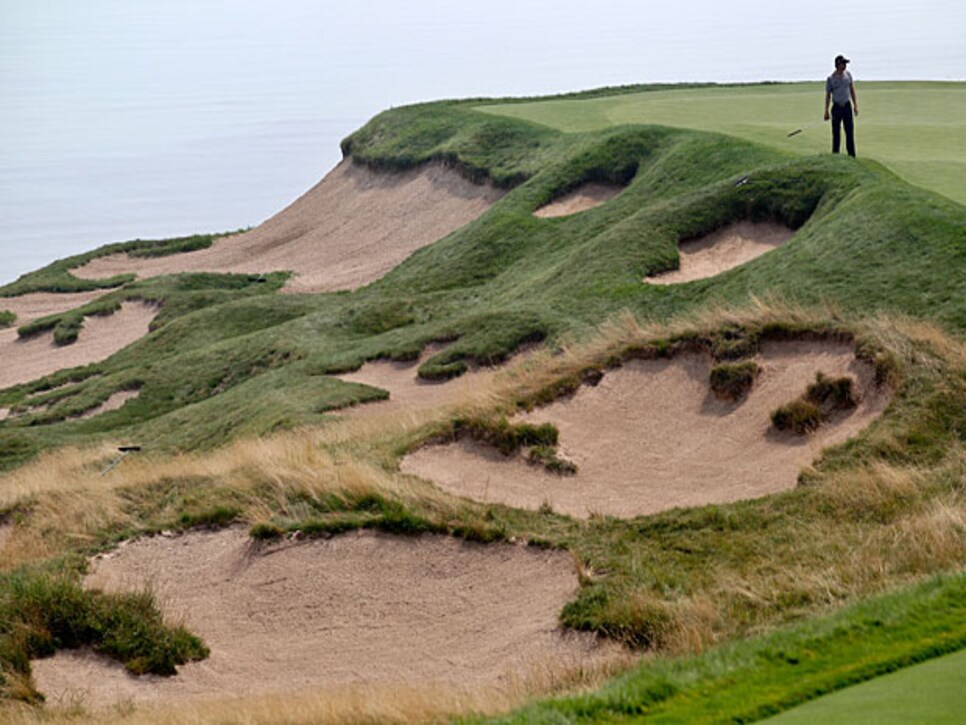 Players will be challenged by the nearly 1,000 bunkers at Whistling Straits.
HAVEN, Wis. -- Enigmatic golf course architect Pete Dye has conjured out of his fertile imagination a collection of ostentatious designs of intentional complexity, courses replete with classical features utilized in unconventional ways.
Whistling Straits, which hosts the PGA Championship for the second time in six years, might just be his most mystical concoction.
Masquerading as a Scottish links layout with its seas of tall fescue and roiling, sculpted tundra punctured with nearly 1,000 bunkers, the 7,507-yard, par-72 Straits Course at Whistling Straits plays more like a modern aerial examination. The dichotomy is unnerving. It's golf for schizophrenics.
Links courses are about feel and intuition and shots along the ground. Links golf is for plodders.
Whistling Straits, hard by the bluffs off Lake Michigan, is for plotters. It's about precision and tacking from point to point, even though, like at a typical links course, wind is expected to be prevalent and coercive.
"I played 18 holes yesterday and I was really trying to label this place. It's very difficult to do it," said Northern Ireland's Graeme McDowell, who conquered Pebble Beach Golf Links to win the 110th U.S. Open in June. "It's some kind of links golf course. It's a jacked up links golf course. It's got some length and got some teeth to it. It's a visually stunning golf course."
McDowell, 31, from Portrush, Northern Ireland, tried hard to compare Whistling Straits to courses with which he is more familiar in Scotland and his home country. "It's got a bit of Kingsbarns (near St. Andrews) in there, a bit of Ballybunion and Portrush, everything rolled into one. You've got a lot of blind tee shots out there, nearly like a Royal County Down or something like that. Amazing that this golf course is man made because it just looks like it's been there since the beginning of time."
"It's like a British Open golf course in that you get quirky shots and bad lies and the wind is there, but you don't play the same kinds of shots. It's in between, really, being a links, but not a links," said Sweden's Carl Pettersson. "I think it's visually intimidating. A lot of times you don't know quite where to hit it. But that makes it a good design in my mind when it challenges you mentally."
Much of Whistling Straits' intimidation factor emanates from its plethora of bunkers and free-flowing waste areas that appear to seep into the playing areas and lap at greensites.
"From the tee it looks like there's nowhere to hit it," said Steve Stricker, the No. 4 player in the world and the local favorite hailing from nearby Madison, Wis. "Some of the shots are visually intimidating. But if you realize there's plenty of room out there, it's not so bad."
"You've really got to find your spots off the tee to find your lines," said Hunter Mahan, who is coming off a victory last week at the Bridgestone Invitational in Akron, Ohio. "Obviously, fairways are going to be important because there are a lot of kind of sharp cliffs where the fairway kind of runs off into deep bunkers and waste areas."
Players often acclimate themselves to a given examination by the way the golf course fits their eye, but the contrived confines of Dye's Straits Course, which rises and falls more than 100 feet along the cliffs, don't readily promote feelings of comfort or confidence.
"It's not your traditional course like a Medinah or Baltusrol, so it's hard to get a read on it, what you have to do," Sean O'Hair said. "Then you bring wind into the mix and it's very tough. It has a great look to it, but it's just not something we see very often. But it will test every part of your game, and in a major championship that's what you want."