Swing Lubricant
9 whiskies to give instead of a lame golf gift this holiday season
*All products featured on Golf Digest are independently selected by our editors. However, when you buy something through our retail links, we may earn an affiliate commission.*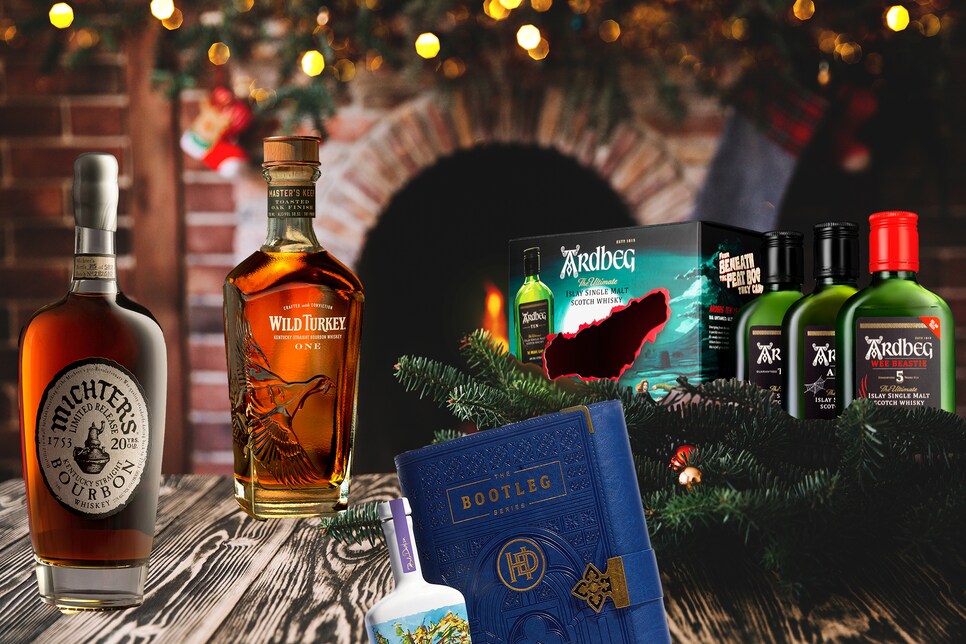 It's the holidays and you're on the clock. You have the perfect gift for everyone … except for the golfer who has everything (and hates everything else). Where do you go? Who do you turn to? Take a deep breath and step away from the novelty necktie, friend. It doesn't have to be this hard, and we're here to help with one simple rule to remember: When in doubt, give the gift of whiskey … and pick out a bottle for yourself while you're at it.
Don't Give: A box of knockoff Cubans for the course.
Do Give: Ardbeg Monsters of Smoke, a trio of Ardbeg's most dependable Islay scotches, including the Ardbeg 10 Years Old, Ardbeg Wee Beastie, and Ardbeg An Oa. A tribute to 1950s B-horror movies, each collectible bottle houses unique artwork hidden behind a peel-away label, adding an element of whimsy to the seriously smokey contents.
Don't Give: A Cameo of John Daly singing "Knocking on Heaven's Door" for the billionth time.
Do Give: Heaven's Door Bootleg Vol. III, the latest release from Bob Dylan's own whiskey label, Heaven's Door. Named after Dylan's legendary 'Bootleg' albums, the bootleg series is the pinnacle of the Heaven's Door range and Vol. III—a 13-year-old Kentucky bourbon finished in Naranja wine casks—its most daring release yet. The 2021 edition is adorned in Dylan's painting 'Sunday Afternoon' and comes bound in a handmade leather case.
Don't Give: Unsolicited swing tips.
Do Give: Woodford Reserve Winter Master's Collection: Five-Malt Stouted Mash, a new expression from the Versailles (Kentucky, that is) distiller that seeks to combine the best of whiskey and beer via a stouted grain mash, coincidentally called "distiller's beer," that imparts the rich, roasted flavor of its namesake. Your go-to beer-shot combo is now obsolete.
Don't Give: A novelty ball marker that's no longer appropriate by today's cultural standards.
Do Give: Booker's Noe Strangers Batch, the final 2021 release in Booker's annual quartet of uncut, unfiltered bourbons hand-selected by 7th-generation master distiller Fred Noe himself. A tribute to Booker Noe (Fred's father) habit of making friends everywhere he went, the Noe Strangers batch is bottled at its natural proof of 124.4 but remains smooth, balanced, and friendly, just like Booker himself.
Don't Give: Underwear covered in little golfing Santas.
Do Give: Baker's Exclusive Selection, a new extra-aged version of the recently relaunched Baker's bourbon. Selected from some of the rarest barrels on Baker Beam's Clermont campus, the first-ever Exclusive Selection is aged a whopping 11 years and eight months, imparting complex notes of oak, vanilla, and, of course, roasted chestnuts.
Don't Give: Yet another home-office putting aid.
Do Give: Michter's 20-Year-Old Straight Kentucky Bourbon, which is exactly what it sounds like: One of the oldest bourbons from one of bourbon's most-respected portfolios. After taking a sabbatical in 2019, the Michter's 20 Year Old returned in 2021, "mirroring the experience of savoring a fine, decadent dessert," according to master distiller Dan McKee. Looks like the figgy pudding will have to wait.
Don't Give: Another logoed golf shirt (or, worse yet, a logoed visor).
Do Give: Paul John Christmas Edition 2021, a fine single-malt whiskey hailing not from Scotland or Japan, but India. Distilled from six-row barley harvested in the Himalyan foothills and aged in ex-bourbon and Madeira wine casks, the 2021 installment of Paul John's Christmas Edition balances sticky sweet notes of orange marmalade and ripe berries with just a touch of peat smoke to create a fittingly seasonal sipper.
Don't Give: Anything madras.
Do Give: Wild Turkey Master's Keep One, the sixth installment in Wild Turkey's ultra-premium Master's Keep bourbon range. A blend of nine and 14-year-old bourbons married in specially toasted oak barrels, the Master's Keep One combines the contrasting palates of Master Distiller Eddie Russell and his dad Jimmy, making it the perfect bourbon to share between father and son this holiday season.
Don't Give: A $25 gift card to Dick's.
Do Give: Russell's Reserve 10-Year-Old, another fine Kentucky Straight Bourbon from Jimmy and Eddie Russell. Hand-selected by the father-son duo, Russell's Reserve's most dependable offering tames the bold profile of Wild Turkey with a minimum maturation of a decade, producing a bourbon with robust sweetness, ample spice, and lots of everything nice.