New Look
Whim Golf aims to be where golf style meets streetwear
*All products featured on Golf Digest are independently selected by our editors. However, when you buy something through our retail links, we may earn an affiliate commission.*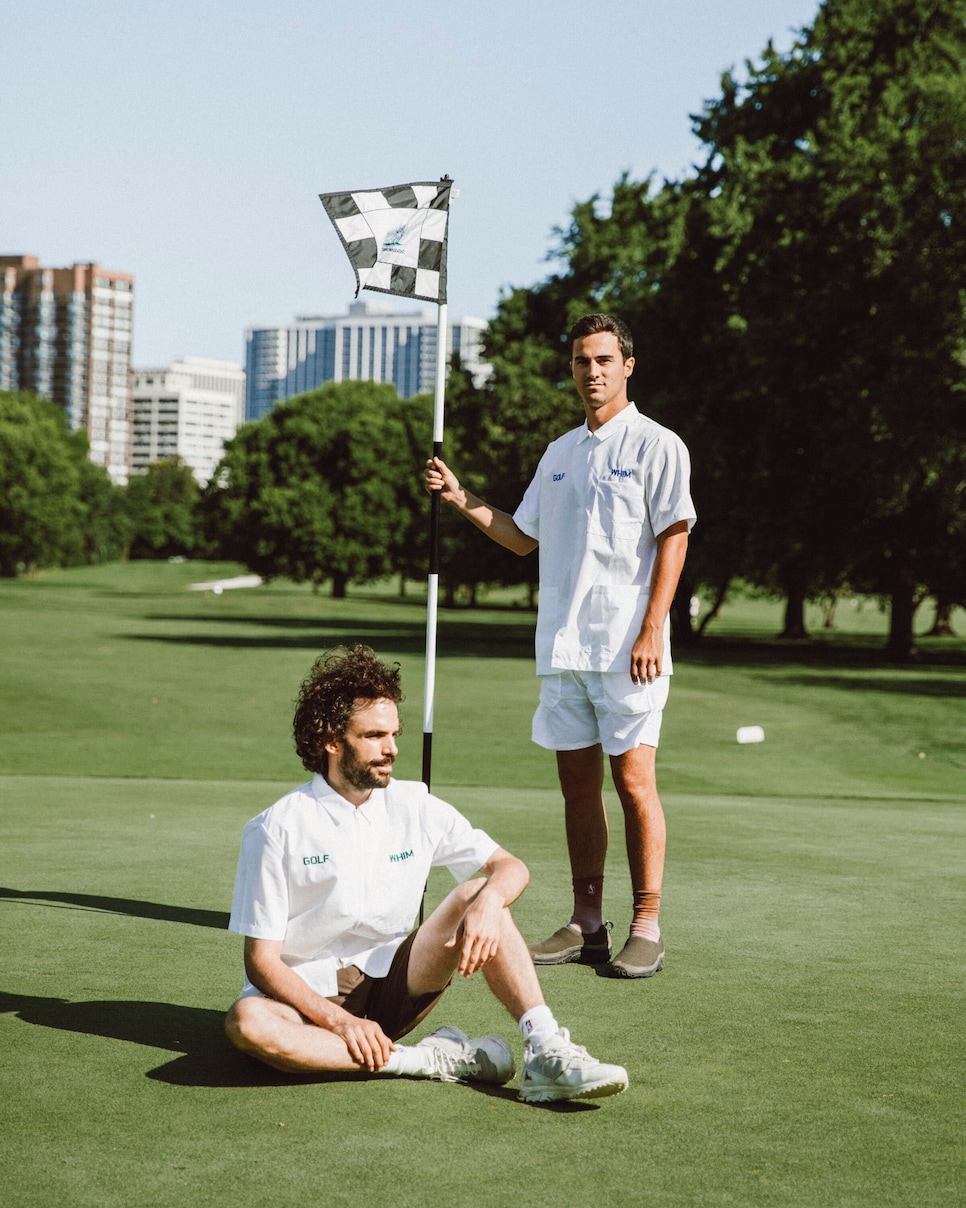 There's no wasted outfit in the eyes of Colin Heaberg and Will Gisel, the Chicagoans who launched "Whim Golf" in 2019. Between the 1990s-vibes and cheeky product descriptions (on their website orange is called "cone" and maroon is "wine"), the brand might be best summed up as the hip corner where golf meets high fashion meets street style. Despite the name, Whim Golf is adamantly golf-adjacent. While you can certainly wear their made-in-America boxy polos, pocketed pants and fringed loafers on the course, you won't find Whim Golf at any pro shop. Two years ago, they launched a pop-up store in Manhattan's Lower East Side—where the closest golf course is, by my cartography skills, a boat-ride away—under the sign "Free Golf!" a rallying cry to the brand's "thesis" of releasing the sport from its, uh, stuffy, members-only reputation

"By participating in clothing away from the golf course, but being representative of golf, we're able to shift a bit of the narrative to where people who care about clothes find golf clothes they rock with," Heaberg said. "Clothing is the way that we communicate a lot of our thoughts about the game … that's our medium."
Taking the coolness from streetwear, the whimsy from fashion and the silhouettes from golf, the duo is looking to refresh the sport's image and hook some stylish new players along the way. The idea being that these customers then go flaunt their sweet 'fits on a driving range, if only for 15 minutes. Maybe one day, in a few years—with the right irresistible olive crewneck—they'll add 18 holes to their repertoire. So the mission is twofold: make golf style everyday style, and increase golf's visibility along the way.
"We spend a lot of time thinking, 'What does someone who doesn't play golf think about golf?'" Heaberg said. "And if those thoughts are negative, what drives those? And how can we make adjustments to alter those thoughts?"
This summer, Whim Golf shopped its Spring 2022 collection at all the important outlets ("We follow the fashion calendar," Heaberg said) and continued to drop a few new styles here and there. They launched a handful of new items, including a sly tee that bears the remnants of a "Keep Off the Grass" sign sourced in New Jersey.
Whim Golf wants to make sure dressers bedeck themselves in the highest fashions of golf wear that scream accessibility and cool, no matter the venue. "Stop wearing stupid s***," Heaberg said. "When you go outside, you should be looking fly at all times. Bodega 'fits shouldn't be wasted on stupid items."
So, here are a bunch of decidedly not-stupid items to help you look fly all the time, and to always be ready to go a round: