The Loop
Which over-hyped Florida three-hole stretch is scarier, The Bear Trap or The Snake Pit?
If you've been watching the PGA Tour's Florida Swing, you probably know "The Bear Trap" and "The Snake Pit" are three-hole stretches at the end of PGA National (Champions Course) and Innisbrook (Copperhead Course), respectively. Both sound terrifying, but which should strike more fear into the hearts of golfers? Let's examine:
We'll start with The Bear Trap, holes No. 15-17 at PGA National, which hosts the Honda Classic. For the week, those three holes played a combined .404 over par on average. The par-3 17th was the most difficult (+.171), but it only ranked No. 4 at PGA National. Nos. 6, 10 and 11 were the three toughest, adding up to +.824, or more than twice the difficulty of The Bear Trap. Those holes aren't grouped together and don't have a catchy name, though, so you don't hear them talked about nearly as much.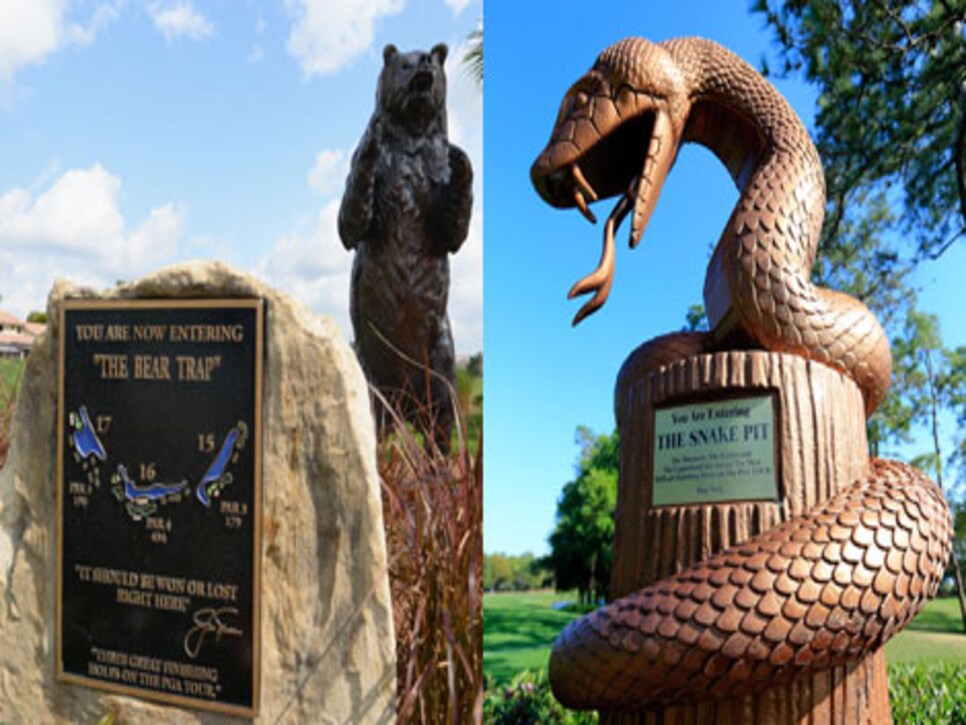 On to Innisbrook's Copperhead Course, which hosts the Valspar Championship and dubs its finishing three holes, The Snake Pit. The three averaged to play .564 over par. The par-4 16th is by far the toughest of the three and played as the course's toughest hole at +.309. No. 17 (11) and No. 18 (7) are difficult, but don't have water to cause really big numbers.
Scores for the two frightening trios are a good indication of how their two courses played overall, with Innisbrook's +1.433 giving players more problems than PGA National's +.408. So, The Snake Pit is definitely scarier, right? Well, it might not be as one-sided as it looks.
Overall, the numbers seem to prove that's true, but what about during the final round when the pressure really cranks up? The Snake Pit actually played to +.481 on Sunday, easier than it did for the week. By contrast, The Bear Trap, with its potential watery graves lurking at every turn, played more than twice as difficult on Sunday, at nearly a full stroke over par (+.985). And despite only being the sixth-toughest course on tour this season, PGA National produced the most scores of double bogey or worse, including one on No. 16 that sunk Rory McIlroy.
Of course, we haven't even talked about Trump National Doral's new "Blue Monster." It doesn't have a hyped three-hole stretch, but it played as the PGA Tour's toughest track thus far this season.
Add it all up and the 2014 Florida Swing on the PGA Tour has been particularly difficult. In fact, this is the first time (not counting major championships and opposite-field events) that single digits under par has won three straight tour events since 1990.