The Loop
7 guys are just below Rory McIlroy on the leader board. Here's how they can catch him
By Ryan Herrington and Luke Kerr-Dineen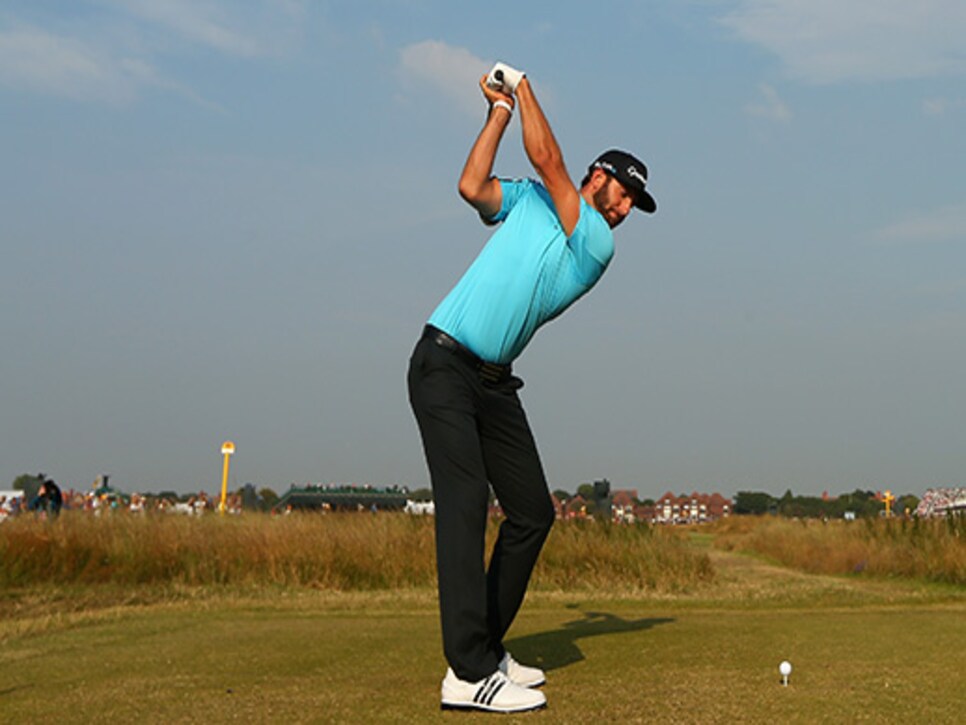 HOYLAKE, England -- Before you start calling for the R&A to invoke the mercy rule at Royal Liverpool and hand over the claret jug to Rory McIlroy, lets not forget that fateful Sunday afternoon four Aprils ago in Georgia. Certainly, between now and then, Rory has blown out the field twice to capture major titles. But his implosion on the back nine at the 2011 Masters is still fresh enough to remind us nothing is guaranteed in golf.
Particularly too when you consider the impressive list of players chasing the talented 25-year-old on the leader board at Hoylake. Of the seven golfers in second or third place entering Saturday's third round, all but one are ranked inside the top 50 in the world, and the one (Louis Oosthuizen) is a former Open champion. Each has the skills necessary to overcome the deficit with or without the assistance of McIlroy.
__Dustin Johnson (71-65), second place, four back
__It's easy to say DJ has the best chance of chasing down Rory since he's got a two-stroke head start on the gaggle at T-3. More importantly, he's got a power game the equal McIlroy's so he won't be intimidated by being with him in the final pairing. There's also the fact that Johnson has experience contending in majors and a hunger for having let a couple slip away.
__Francesco Molinari (68-70), T-3, six back
__The 31-year-old Italian isn't as well known in the U.S. as he is in Europe, but his reputation among his peers is that of a sneaky good competitor. After missing the cut last weekend at the Scottish Open, he got to Hoylake early and the added homework seems to have paid off.
__Rickie Fowler (69-69), T-3, six back
__The 25-year-old made the well-chronicles decision in the off-season to change swing instructors, picking up Butch Harmon, and consciously working on build his game to peak at the majors. A T-5 at the Masters and T-2 at the U.S. Open suggest the plan is working. Fowler also looks more comfortable playing links golf than he has in recent years (T-31 at Lytham in 2012, MC at Muirfield last year), having come over early and finished T-8 at last week's Scottish Open. Lastly, he has a history with McIlroy that dates back to playing against him as amateurs in the 2007 Walker Cup. Intimidation won't be an issue.
__Sergio Garcia (68-70), T-3, six back
__Unlike some of Rory's other challengers, Garcia has been there before down the stretch at majors -- and he's been there down the stretch at Hoylake (recall he played in the final group in 2006). He may not have won a major yet, but if he keeps putting himself in position, he will sooner or later.
__Ryan Moore (70-68), T-3, six back
__Moore made no bogeys Thursday and six birdies Friday. That kind of golf will force Rory to keep up his high level of play, which will become increasingly more difficult as the pressure rises. "I don't think about who's around me," Moore said. "I've just got to keep doing what I'm doing."
__ Charl Schwartzel (71-67), T-3, six back
__Schwartzel's Friday round include a bogey and a double, yet he still managed to post the second best score of the day thanks to birdies on the final three holes. You can look at that two ways: either he got lucky won't do it again, or he's built up some momentum for another for the weekend at Royal Liverpool.
__Louis Oosthuizen (70-68), T-3, six back
__Oosthuizen is that classic "oh-I-forgot-he-was-still-up-there" player on the leader board. He's been chipping away, not making any major mistakes but not lighting off any fireworks, either. He's following the Nick Faldo strategy: stay solid, and see if the others screw up. Maybe that's asking a lot from Rory.