News
Where have all the golf writers gone?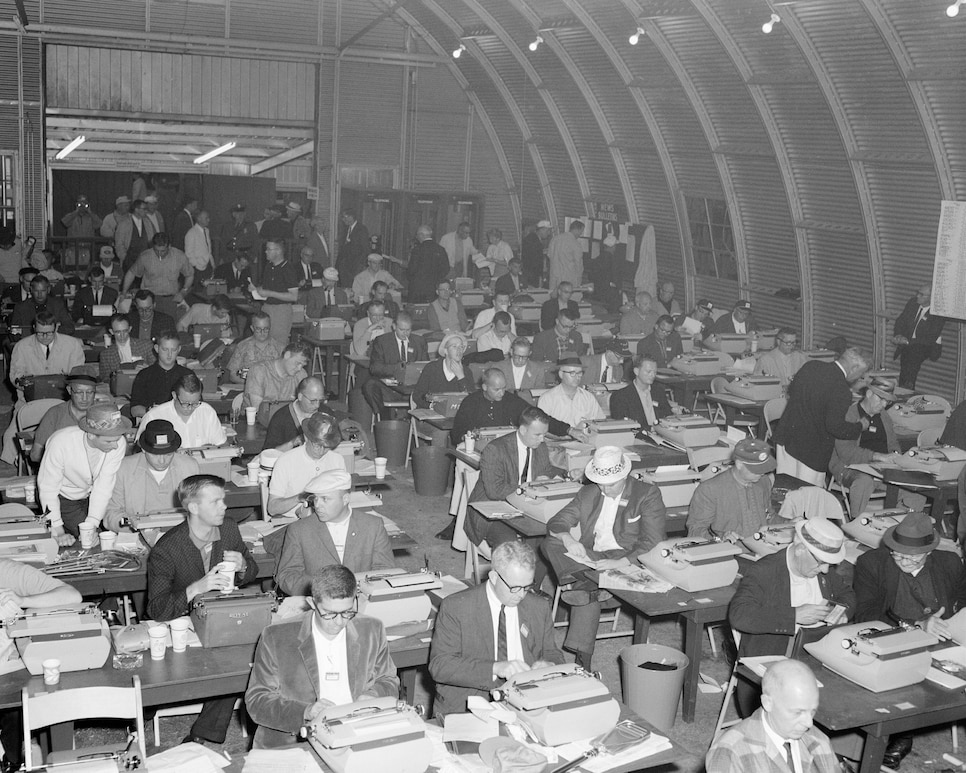 Photo By: Augusta National
The erosion of golf media hardly has been subtle during the last decade, but this moment stands out.
Just months before his 22nd birthday, Jordan Spieth was the talk of golf in winning the 2015 Masters. And he definitely became the biggest star in his hometown of Dallas.
In another time, the Dallas Morning News would have owned the story. Golf once was a significant sport for the paper. For a long period through the mid-2000s, the Morning News golf writer might travel to 15 tournaments, if not more, during the season. When most papers were limited to two writers at the Masters, the Morning News was "grandfathered" in with three seats in the press room.
Yet on the Sunday when Spieth put on the green jacket, the Dallas Morning News did not have a single reporter in Augusta to cover the hometown kid. Their coverage of Spieth's triumph, which included a 1-A piece, came from staffers based in Dallas with the exception of a story from a freelance reporter on site.
"Over the last 10 years, that might have been the most telling thing I've seen when it comes to what's happened with golf and the media," said Doug Ferguson, the longtime golf writer for the Associated Press. "Jordan Spieth wins the Masters, and the Dallas Morning News isn't there? Are you kidding me?"
"If there's only one voice out there, that's just not healthy for anyone. It hurts everyone."
To be fair, the Dallas Morning News hardly is alone in dramatically cutting back on its commitment to golf. It has been pretty much across the board ever since the 2008 market crash and other economic and market factors severely impacted media companies. Most newspapers, beset with reduced resources and staff, no longer cover majors and many don't even have a reporter assigned to golf. In fact, USA Today (with reporter Steve DiMeglio) and the New York Times (Karen Crouse) are the only two daily papers that still cover golf on a regular basis, and that's mainly due to their national reach.
From the magazine side, Golf World, which began publishing in 1947, published its last print issue in July 2014. It has since existed as an online platform, recently debuting as a standalone vertical on GolfDigest.com. Sports Illustrated, which used to publish regular "Golf Plus" sections in its magazine, also has scaled back its coverage.
The media shifts have produced a rise of the game being covered more by online outlets. Several are considered respected mainstream sites such as this site, ESPN.com, GolfChannel.com, Global Golf Post, Golf.com and a markedly beefed up PGATour.com. Several others, though, are blogs with contributors who don't staff tournaments and are accused of controversial posts aimed at getting page views. That dynamic, coupled with the volatility of social media, has several of today's players weary of dealing with the media.
"The wide world of media is a big zoo and you need to make sure you feed the right animals," said Ian Poulter. "It makes it difficult to trust. That's the one thing that is hard—knowing the right ones to trust."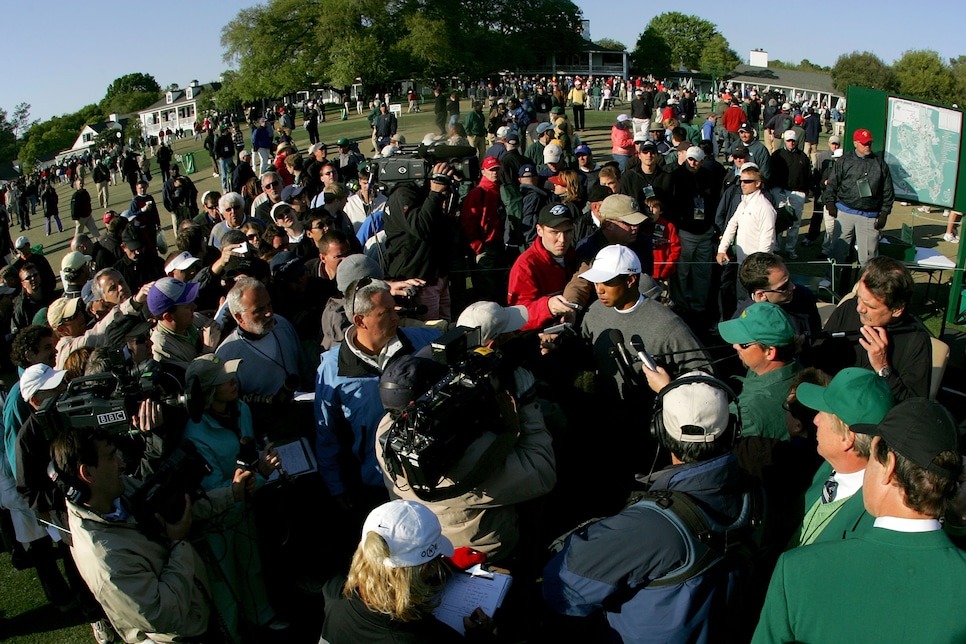 ESPN.com's Bob Harig, who used to cover golf for the St. Petersburg (Fla.) Times, said the players' trust was at a much higher level when newspaper and magazine golf writers were the primary sources on the game.
"It's remarkable to me to see how the newspapers have changed so much on golf," Harig said. "The golf demographic [typically older and readers of the paper in print] fits right into their demographic. Why would they decide to not cover golf? I don't understand how golf got to this point."
The answer comes down to economics.
Dallas Morning News sports editor Gary Leavell admitted it went "against our basic instincts" to not be in Augusta for Spieth's Masters win in 2015. In fact, the paper stopped covering majors in 2011. He pointed to a travel budget that is one-third of what it was 10 years ago. He decided his resources were better served elsewhere.
Spieth's emergence, though, has caused Leavell to adjust his plans. This year, the paper will staff the Masters and U.S. Open, and make decisions from there on the British Open and PGA Championship, presumably based on how well Spieth does.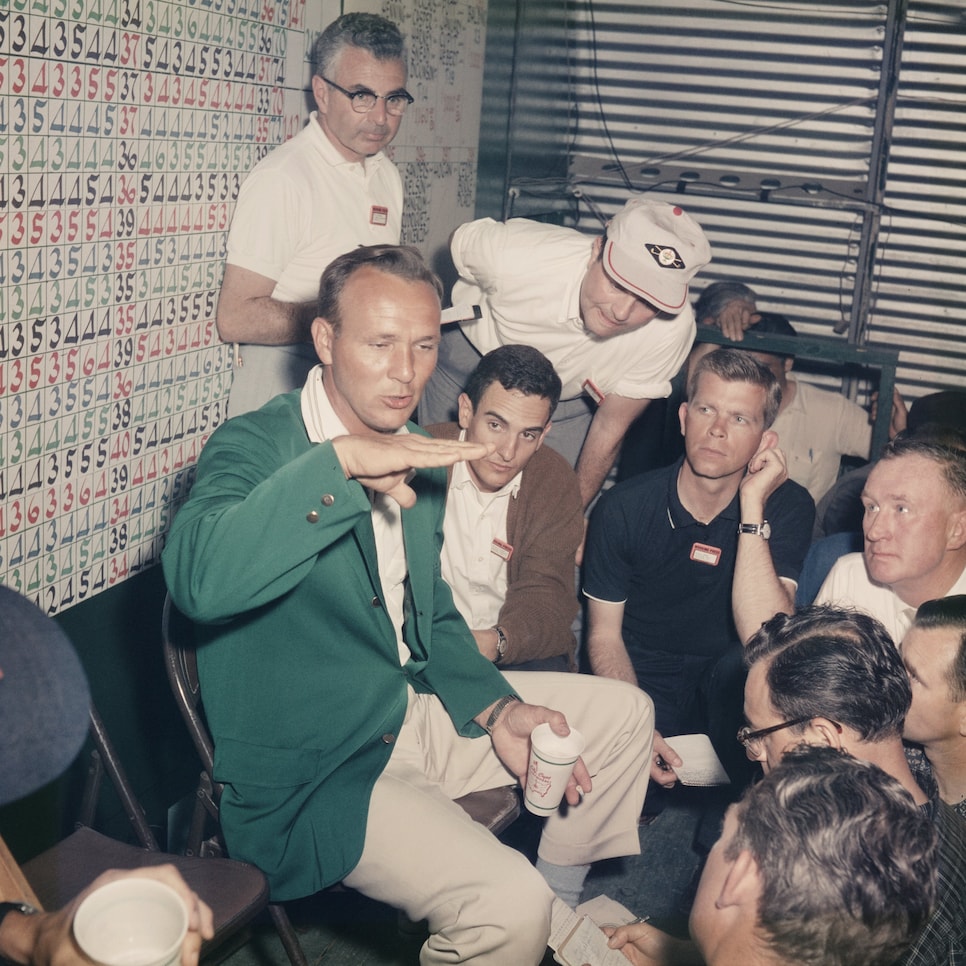 Joe Knowles, the associate managing editor for sports at the Chicago Tribune (my former paper), said he was disappointed with "underwhelming" traffic on the paper's website despite sending two reporters to last year's Masters. This year, he only will send one.
"I think some of our print readers appreciated the [golf] coverage, but there's really no way to measure that, so it becomes difficult to justify the investment," Knowles said. "When you have limited resources, you tend to put them in areas where you feel they will make the most impact. In our market, that's the [major pro teams]."
As a result, most newspapers and other outlets rely on the coverage of the AP's Ferguson, who will cover in the neighborhood of 28 tournaments this year. Prior to the 2012 Ryder Cup, he got a call from Barry Svlruga of the Washington Post.
"He said, 'Congratulations, you're the new Washington Post golf writer. We're not going to the Ryder Cup,'" Ferguson said.
Daniel Berger looked at Ferguson's credential and asked, "Associated Press? So what's that like, Bleacher Report?"
However, the veteran of 19 years on the beat doesn't relish the distinction of arguably being the most-read golf writer in the world.
"If there's only one voice out there, that's just not healthy for anyone. It hurts everyone," Ferguson said. "You've lost your voice [on golf from the local paper]. Locally, he's going to give you more detail about what's going on in your town than anyone else. That's what we're missing."
DiMeglio said he has been saddened by the constant drain of longtime golf writers leaving the beat for various reasons.
"When I first started covering golf [in 2007], I felt in awe of the talent around me in the press room," DiMeglio said. "So many of those people aren't there anymore. We've lost a ton of talent."
Selfishly, Harig says it is good for him and ESPN.com that there are far fewer outlets covering golf. But he doesn't think it is bodes well for the overall game.
"The hardcore fans know where to go if they want to get golf news," Harig said. "Where you are losing out are the average fans who might stumble on a golf story in the paper. They might like that story and they become more interested in reading about golf. Without those stories, you're missing out on that person."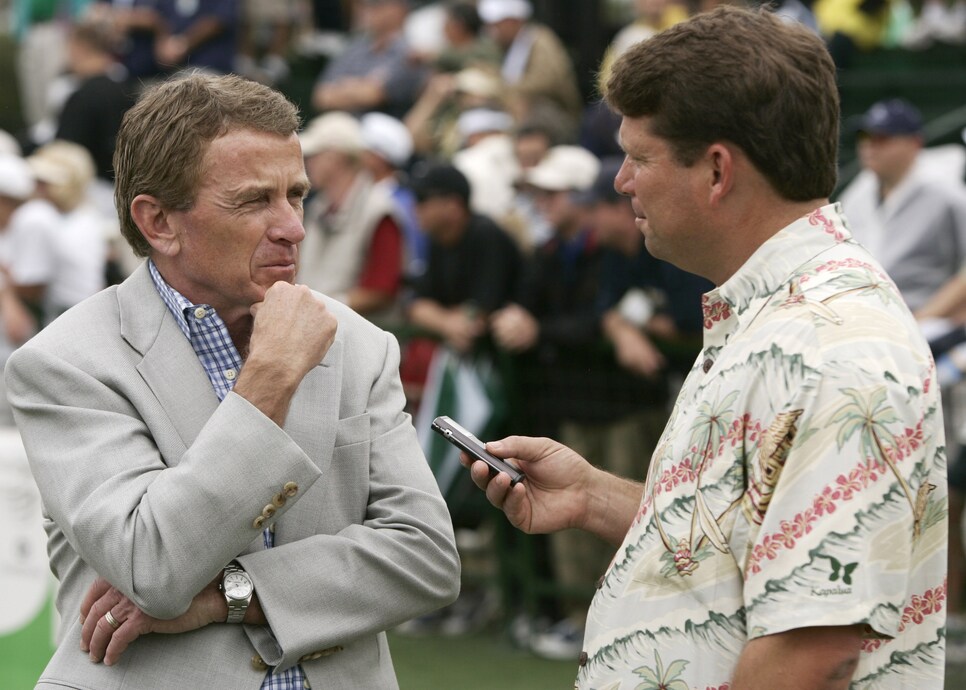 Ferguson contends most of the younger players, who did not grow up reading newspapers, have little awareness of today's media landscape. He tells of an exchange with Daniel Berger, who looked at his credential and asked, "Associated Press? So what's that like, Bleacher Report?"
However, veterans like Brandt Snedeker appreciate how golf media has changed.
"I still have relationships with a lot of guys, but the writing landscape has changed," Snedeker said. "Thirty years ago, guys were hanging around players in the locker room, traveling with guys and getting to know guys better. Now it's more trying to get a scoop or be one step ahead of the next guy, because media, especially print media, is getting smaller and smaller. You have to prove yourself."
The print pullout has presented an opportunity for others via online. Despite media companies struggling mightily in 2009, publisher Jim Nugent launched Global Golf Post, a digital magazine that gets emailed to readers every Monday.
"We saw the end was in sight for the printed weeklies, and that the digital revolution, properly handled, presented new opportunities," Nugent said. "What hasn't changed is that golf has a weekly cadence. The tournaments end on Sunday. Digital gave us the opportunity to deliver a complete summary before you got out of bed Monday morning."
The PGA Tour also has dramatically stepped up its online presence. Ferguson said during the recent World Golf Championship in Mexico City, it felt like there were more PGATour.com staffers (he estimated 10 to 12) than credentialed media in the press room.
Joel Schuchmann, the tour's senior director of communications, said it is about taking advantage of the multiple platforms in today's media.
"Fifteen years ago, we might only have one writer at a tournament," Schuchmann said. "Now with all these platforms, we're pumping out content 24 hours per day."
The new media world also has seen the rise of numerous golf blogs, and everyone being able to voice an opinion on social media. That means more people than ever are talking about golf, which is a good thing. However, there are plenty of minuses.
DiMeglio is among the mainstream writers who complain that several of these blogs will throw anything out there in the interest of traffic.
"Some blog will post, 'Tiger Woods is making a major announcement on Friday,' " DiMeglio said. "Then we have to chase it even though 99 percent of the time it isn't true. It irritates the agents and it irritates the players."
Rory McIlroy says the players also have to deal with the sometimes negative tone of what gets posted on various new media platforms.
"You try not to read that much about yourself but sometimes it's hard to avoid it," McIlroy said. "The shame about the world we live in is players [back then] didn't have to be as guarded as they are nowadays. Everything is so accessible and you need to keep a little bit for yourself and I've learned that over the years. I think that's the hardest thing—that balance between being accessible and giving the media access and enough of what they want but at the same time keeping some of it for yourself."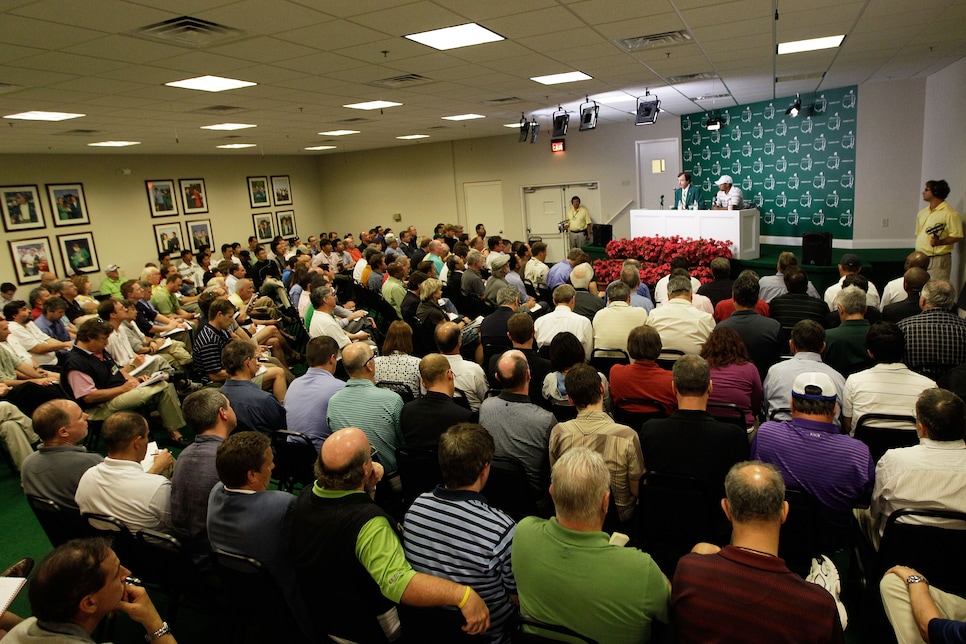 Indeed, everything now is much more complicated than the days when many newspapers sent their golf writers to tournaments. Those writers reported on the players they knew well. Then they wrote their stories for people to read in their papers over breakfast the next morning.
Now it isn't as if nobody is covering golf anymore. Even with the newspaper pullout, Schuchmann said the press rooms at PGA Tour tournaments still are full. A Masters spokesman said the new press room at Augusta, which has 350 seats, will be at capacity, as demand continues to exceed supply for golf's first major of the season.
Yet Ferguson, Harig and DiMeglio often hear that they are one of the last survivors when it comes to the dwindling number of long-time writers covering golf for mainstream outlets. Looking into the future, they wonder how long it will continue to be that way.
"The other day someone said to me, 'Doug, you'll be the last man standing,'" Ferguson said. "I don't think so. I think it will be PGATour.com and GolfChannel.com—outlets with TV ties to the Tour. They will be the last men standing. Hopefully, that day will never come, but if it does, I wouldn't be surprised."
Brian Wacker contributed to this story.