The Loop
Where does Tiger Woods go from here?
PONTE VEDRA BEACH, Fla. -- Remarkably, shockingly even, Tiger Woods' career is in a more unpredictable position now than it was a year ago when he was returning from his self-imposed exile following the public exposure of his personal indiscretions. Last year at this time, when Woods drove away from TPC Sawgrass after withdrawing during the final round of the Players, most felt it was only a matter of time until he was back to his old dominating form. Now the question is not when will Woods win again, but more disturbingly when will Woods play again.
When Tiger quit the Players last year on the seventh hole Sunday he said it was because of a sore neck, a problem of which he had never complained before. When he limped off the course after shooting a 42 on the front nine of the Stadium Course in Thursday's first round he said it was because of pain in his left knee and left Achilles. That knee has been operated on four times, most seriously to repair the ACL in 2008. Suddenly, Woods is facing demons he cannot stare down by sheer force of will. His challenges are more difficult that a swing fix or moving beyond a divorce.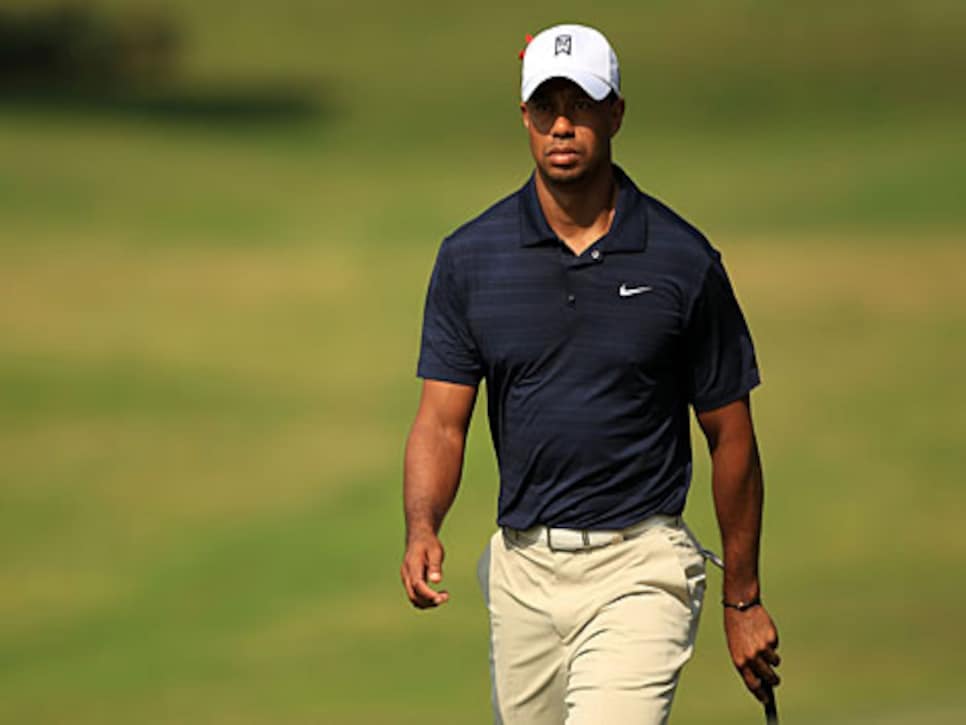 Nearly a year and a half after his last victory and after he ended up in a hospital in the wee hours following Thanksgiving day, Woods finds himself with an erratic game and a body that is betraying him. Since the events of Nov. 27, 2009, Woods has also ended business relationships with Accenture, AT&T, Gillette, Gatorade and Golf Digest. None of those endorsement deals have been replaced and the word is that the offers he is getting now are either not for as much money as he is used to getting or not from the A-list type of corporations with which he has always been affiliated.
While Woods is probably only one win -- especially in a major championship -- away from restoring his former value, the latest injury and poor play is going to make any company hesitant about committing millions of dollars for him. And a large part of the problem in assessing where Woods stands right now is the lack of information. There is no way to guess now if he will even be ready for the U.S. Open in June.
The latest injury was announced April 26 in a statement on TigerWoods.com that said he was withdrawing from the Wells Fargo Championship because of a "Grade 1 mild medial collateral ligament (MCL) sprain to his left knee and a mild strain to his left Achilles tendon," which Woods said happened hitting a shot out from under the Eisenhower tree during the third round of the Masters.
"There is no minor injury in a 35-year-old person who has already had four operations," said Dr. Ronald Grelsamer, an associate professor of orthopedic surgery at New York's Mount Sinai Hospital. "A highly trained and toned athlete doesn't suffer a debilitating MCL strain and an Achilles strain playing golf. No other golfer in memory has suffered so many lower extremity injuries while golfing."
After Woods withdrew Thursday, many were wondering why he even tried to play if his knee was bothering him that much. He says it's because the Players is an important tournament and because he is trying to prepare for the event he really cares about -- the U.S. Open. There is certainly disagreement among those who follow the game for a living on whether Woods' poor play has more to do with swing issues, knee issues or desire issues. Strong arguments can be made for all three.
Lynn Marriott and Pia Nilsson, the pioneers of the VISION54 peak-performance approach to golf, say that great play is the holistic integration of the six key elements of the game: Physical, technical, mental, emotional and social, all united by the spirit of the game -- the desire to play it. For 15 years now, we have grown used to seeing a Tiger Woods who mastered all of those disciplines.
He was the most physically fit player on tour; his technique produced miraculous shots almost on command; he was the mentally toughest competitor; he tapped into his emotions to get on runs of great golf; he dominated the social aspect of the game by intimidating his competition; and he always appeared spiritually at one with golf. Right now, he falls well short of mastery in all those areas.
Also at play here is the fact that while Woods is relatively young, he has been hitting golf balls for almost his entire life and is in his 15th year competing as a professional. The left knee was operated on in 1995, 2002 and twice in 2008. Woods has an extremely violent golf swing, and the left leg absorbs the brunt of that force. Hank Haney, who last year at this time was Woods' swing coach, says Tiger is well aware of that dynamic.
"He was convinced that his golf swing was doing the damage to his knee," Haney told Golf Digest. "Everything [about his swing change with Haney begun in 2004] had to revolve around saving his knee." Now, there are experts who feel Woods' current swing technique worked on with current coach Sean Foley is causing further damage to his knee.
Bob Prichard, a sports biomechanics expert and the president of the Somax Performance Institute in suburban San Francisco, told The New York Times he believed Woods' current knee problems were a result of his incorrect spine angle and that Woods' new swing was causing it.
"His swing is measurably worse in every way and is putting extra strain on his left knee," Prichard, who has worked with 44 Olympic gold medalists and has studied the golf swing extensively, told the Times. "More than ever, he is pushing his hip toward the target, outside his left foot, and the stress is going into his left knee, actually pushing the femur down on to the tibial plate."
The bottom line is that we don't really know what is going on with Woods. But we do know this: A bad swing can be fixed easier than a bad knee or a bad attitude about playing the game. Back in 2000, when Tiger was winning three majors -- one by 15 strokes and another by eight -- veteran writer Dan Jenkins said the only things that could keep Tiger breaking the Jack Nicklaus record of 18 professional major championships were an injury or a bad marriage. Those words provoked chuckles then, but now create an empty feeling for those who have had the good fortune to watch one of the best to ever hold a golf club play the game.
"Unfortunately, this is probably more than an MCL strain," Dr. Grelsamer said about Tiger's latest injury. "There are other structural problems going on. His knee could be his kryptonite -- though you can never count Tiger Woods out."
For a decade and a half, Woods has been Superman, now he is something less and no one knows what version of Tiger we will see again -- or even when we will see him in competition at all.
(Photo: Streeter Lecka/Getty Images)