Where are they now: Jenny Chuasiriporn
Unless you are a hardcore follower of women's golf, the name Jenny Chuasiriporn might not be familiar. Her competitive record, however, is memorable. Good enough, in fact, to merit induction into the Duke University Athletic Hall of Fame, where she was a four-time All American golfer for the Blue Devils from 1996 to 1999.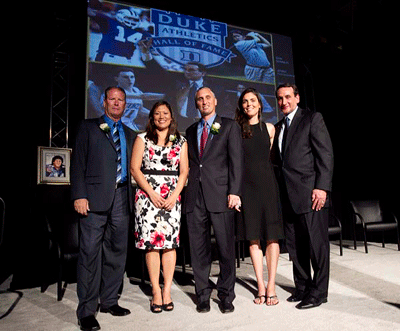 Honored along with Chuasiriporn at last week's ceremony were Mike Krzyzewski, Duke's legendary basketball coach; point guard Bobby Hurley, a key member of the 1991 and 1992 NCAA championship teams; Ben Bennett, a record-breaking quarterback in the 1980s; and Vanessa Webb, the 1998 NCAA tennis singles title holder (and, coincidentally, Chuasiriporn's roommate at Duke). Chuasiriporn came to Durham from Timonium, Md., where she lived with her family above the restaurant run by her parents, who had immigrated to the U.S. from Thailand. She distinguished herself immediately, leading her team to the first of four ACC championships. She was named ACC player of the year three successive times and capped her senior season with the college's first women's NCAA championship.