News
When you land the toughest ticket in sports, it usually comes with a story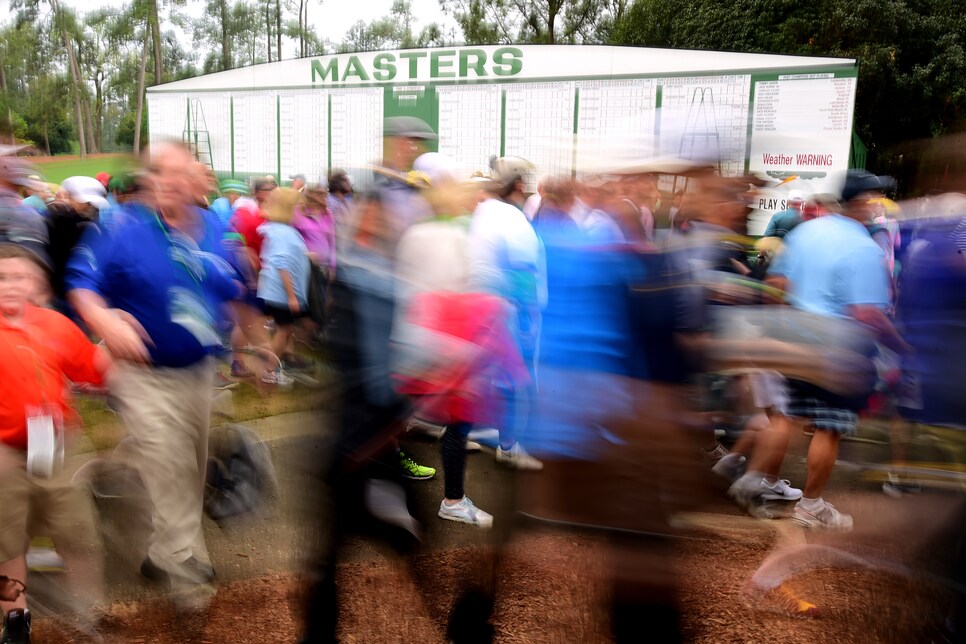 AUGUSTA, Ga. – Maybe not older than the dirt, she was for sure older than some of the trees along the 15th fairway. The little old lady walked with one hand on her wheelchair, its wheels picking up mud with each revolution. It was 9 o'clock Thursday morning. It was Jean Pennel's 50th Masters.
Once upon a time, while living in Memphis, she knew two things about Augusta.
One, a line of James Brown lyrics about his hometown.
"Something like, 'In Augusta, we don't walk, we don't talk, we do the camel walk,'" she said.
"I told my husband," who had a job offer, "we're not moving to Augusta unless we get Masters tickets."
And that's how Jean Pennel came to pretty-up the 15th fairway all those years ago. The dean of her husband's medical school in Augusta knew someone who knew someone and soon enough the deal was made. Take the job, get two Masters tickets. Every April since, even after her husband's death, Mrs. Pennel has come to the same spot, there behind the right-side bunker at the 15th. It's like a family reunion, the same people, same place, same time. She knows the Pinkertons. She knows the crosswalk marshal. She even likes the Masters' famous pimento cheese sandwiches (which remind some consumers of wallpaper paste).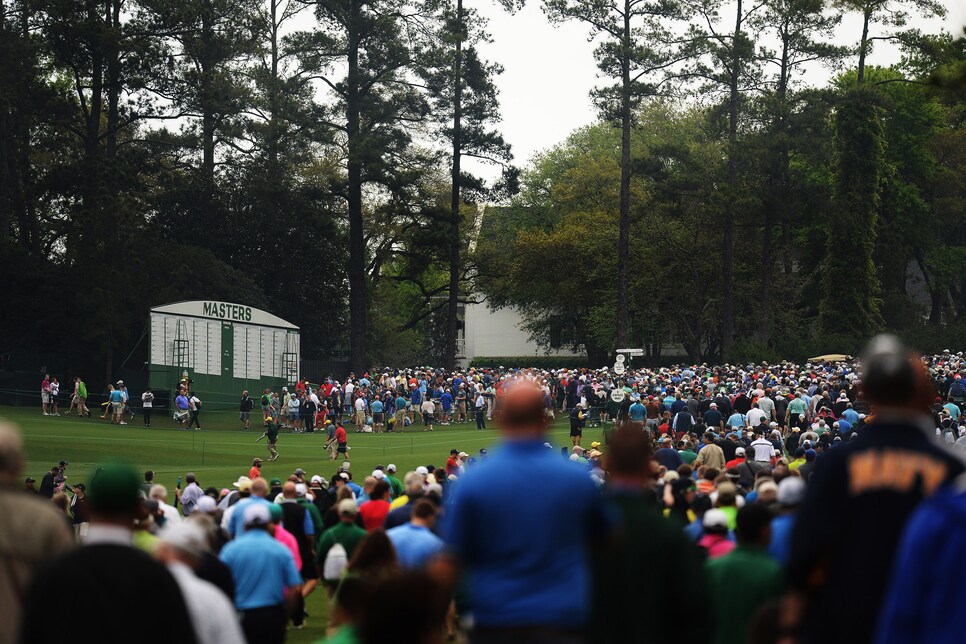 Life has moved along at Jean Pennel's 15th fairway spot – friends arriving and leaving, children and grandchildren – not to forget, ever, the thrill of the young, strong Arnold Palmer.
"We saw them all by that bunker, up close," Mrs. Pennel said. "But, oh, how I loved Arnie."
Only the Masters has a Jean Pennel. Maybe the Kentucky Derby comes close to creating romantics, but the Derby is one day, two minutes, not long enough for a lifetime's memories.
"Jack Nicklaus, that eagle here in 1986—and Tiger chipping in at 16—my heavens, you never saw such jumping around, such carrying-on," Mrs. Pennel said.
I had gone walking. I wanted to know what people thought and how they got in the place. It's the cheapest ticket in all of America's major sports events, $325 for the four days. The problem is, Augusta National purposefully limits the crowd. Tickets are almost universally unavailable, sold only to people who've already bought tickets forever. I know a man in Georgia who visited his mother in a nursing home so regularly that she came to say, "You just want to make sure I stay alive so you can use my Masters tickets." Even practice-round tickets, $65 each, are sold only to winners of a lottery draw.
Near the 16th hole, I met Phil Rushing. He's 75. This is his 51st Masters. He first came as a high school senior from Macon, Ga., paying $15 for a ticket. Forty years ago, he put his name into Augusta National's lottery for tournament tickets. "I'm not a lucky person, I couldn't win in a two-person Bingo game," he said. "But I won in the lottery that year. It's the greatest bargain in sports, $81.25 a day. What's a Super Bowl ticket, like $5,000? Here you see the greatest golfers in history on the most beautiful golf course there is. And I'm still here."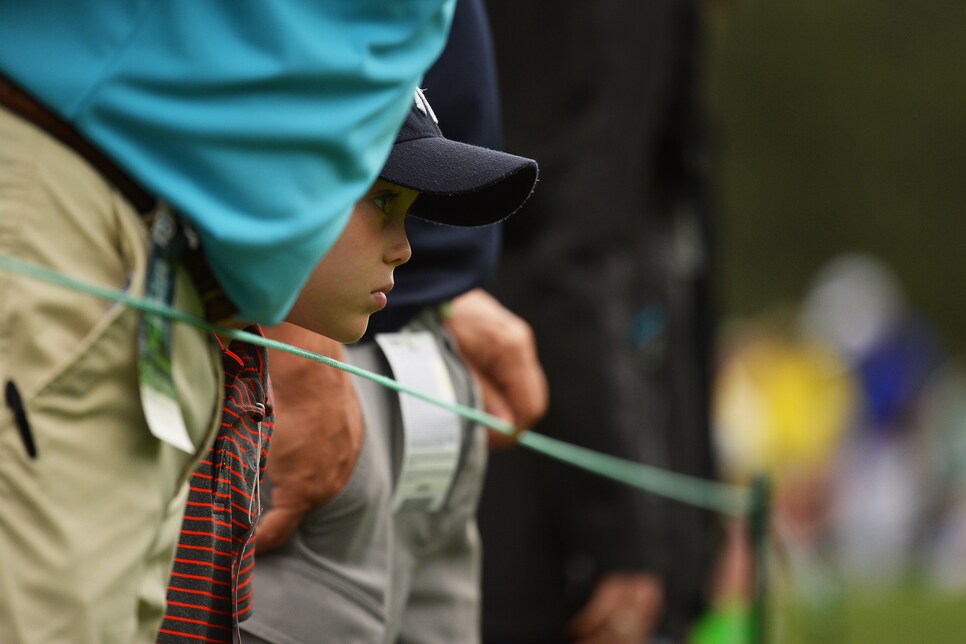 Wait. The man couldn't win at two-person Bingo?
In 1978, on the third Sunday in May, Rushing played at Augusta National. "I knew a little lady who had a relationship with the chairman of the tournament scoring committee. He told me to meet him at such-and-such a place and we'd see. That day, the third Sunday in May of 1978, the day before the course closed for the summer, I drove down Magnolia Lane, had a barbecue sandwich, and played the course."
"I was two under on Amen Corner," he said. "I birdied 11 and 12 and almost birdied 13."
"I want it on my tombstone: 'I was two under par on Amen Corner for my lifetime.'"
Behind the fifth green, I talked with a boy, Dylan MacLaughlin, 9, at his first Masters. He came with his father, James, who'd been given tickets by a friend. "Maybe being here will light a fire in him," the father said.
When I asked Dylan what he liked most about the Masters, he said, "The food."
Uh-oh. Not those things, those . . .
"Pimento cheese sandwiches?"
Well, he has time to grow out of it.
It was a long walk in from the fifth green. I had enough to write. I needed nothing more. As Red Smith said when his notebook was full, I was rich. And then I saw a small, mustachioed man wearing pink plus-fours, a pink-and-white sweater, white shoes with pink laces, and a white cap. So I got out my notebook again.
"You gotta tell me your story," I said.
Robert Brown. North Augusta. Sixty-six years old. Vietnam veteran, wounded in combat by a land-mine explosion. Retired. Plays nine holes four times a week. Shot 74 two days ago. First came to the Masters 12 years ago, been to them all since.
"Always in plus-fours?" I said.
"I have 14, 15 different pairs," he said.
"The pink is a nice look."
"People say I stand out like a diamond in a goat's derriere."