The Loop
When Sergio Garcia's tee shot strikes you in the neck . . .
ARDMORE, Pa. -- A loud crack behind my ears. I stop walking, suddenly concerned I'll slip and fall in the mud. When a golf ball strikes the back of your neck, it takes a moment to realize what has happened.
Immediately, you're a celebrity among the 40 closest people. A few of them ask if you're okay, but the excited consensus of the group is that you should lie down. Not to rest, but to appear as injured as possible in order to obtain autographs, gloves, balls or other valuable hard goods.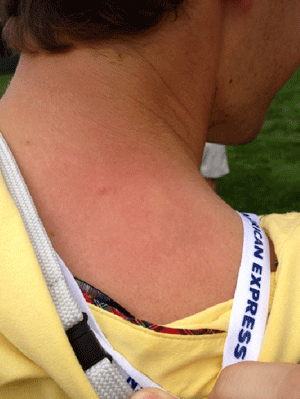 "Get on the ground, man!"
"In the neck? Should be worth at least a dozen."
The player responsible for the big slice, or block, that ricocheted off my neck and nestled in the deep rough nearer the 8th fairway than the 4th he was aiming for, proved to be Sergio Garcia. The Spaniard was having a strange day, having hit two balls out of bounds but also carding an eagle, a birdie and a par on his last three holes. He would shoot a 73 (3-over).
Understandably, Sergio bore an expression of sickly focus as he arrived to the scene and had to be directed to his buried lie like a blind man. He asked for the gallery ropes to be moved.
"Hey Sergio, your ball caught me on the fly in the neck," I said. I didn't want anything. Journalists, of course, don't collect autographs or gear. It just seemed like a person should know.
"I'm sorry," he said, but he didn't know who had spoken because he was looking at his ball.
Phone in hand, the fibers in my neck tightening, I tweeted, "Just got nailed in the neck by errant Sergio drive on #4. We're both hurting. #usopen."
I can't offer a justification for tweeting such information (spectators get hit all the time) other than it seemed like something relevant strictly in the moment it happened, which is precisely what Twitter is for. If writing demands time to accumulate depth, tweets are like a shallow river that carves through time.
And this is where the story gets interesting. For the next 15 minutes my phone didn't stop buzzing. Quickly and viciously, Twitter followers asked if I would get an apology note like Tiger did. There were several uncomfortable references to fried chicken.
I have nothing against Sergio Garcia, and yet here was an onslaught of asinine commentary about him whose origin was myself. Protected under a veil of relative anonymity, all these strangers eagerly used my Twitter handle as a platform to launch hate.
The urge to connect unrelated events, in this case a regrettable comment at a dinner and a bad tee shot three weeks later, is the work of splintered minds. There is no story in a person getting hit by a golf ball. Yet people will try to make it into one. Why? Perhaps out of impatience to wait for more real stories to emerge.
And I don't know what Twitter could possibly have to do with the development of such a mental condition.
On the other hand, I guess it would've been nice if Sergio had yelled "Cuatro!"