The Loop
When football comes to the Phoenix Open and golf goes to the Super Bowl
SCOTTSDALE, Ariz. -- The Super Bowl and the Animal House of golf tournaments occupying the same town the same week is, what, bedlam squared?
Say this, the events are inextricably linked, notwithstanding the fact that golf and football have nothing in common save for the importance of scoring from inside 100 yards. And the collective enthusiasm in these precincts is palpable.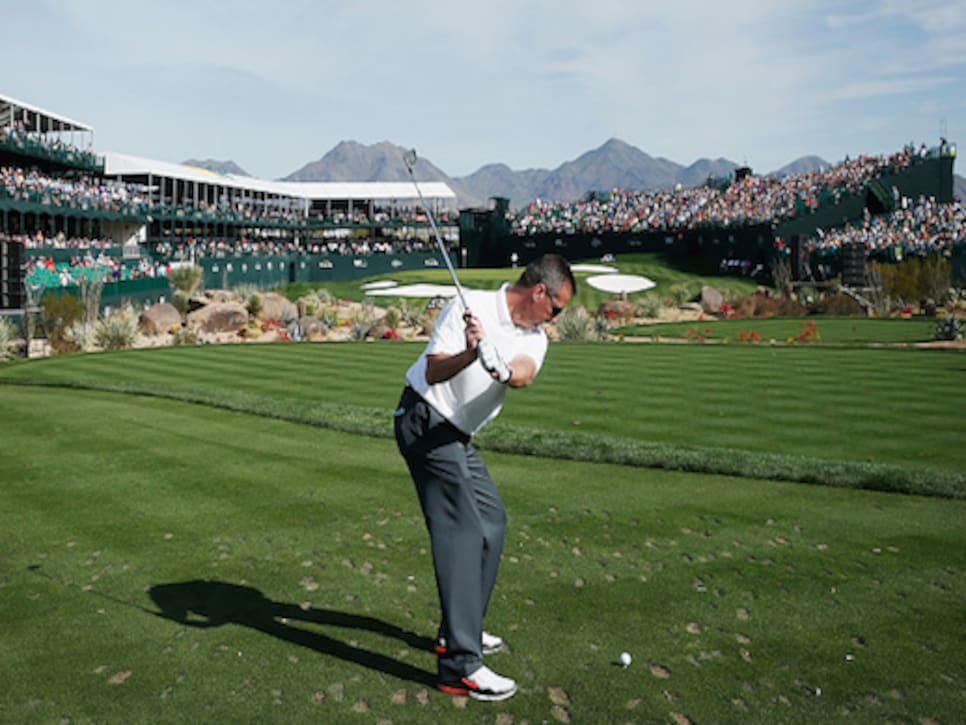 Ohio State coach Urban Meyer in the Phoenix Open Pro-Am (Getty Images)
For the record, neither the Super Bowl nor the Waste Management Phoenix Open will actually be played in the same town and neither will be held in Phoenix. The University of Phoenix Stadium, site of the Super Bowl, is in Glendale, west of Phoenix. The Waste Management Phoenix Open is played in Scottsdale, northeast of Phoenix. They are 32 miles apart via State Route 101.
Yet the commingling of the events began on Tuesday, when Seattle Seahawks wide receivers and golf enthusiasts Jermaine Kearse and Bryan Walters stopped by the TPC Scottsdale.
On Wednesday, several pro-am participants came from the world of football, including Ohio State coach Urban Meyer (shown above) and Tiger Woods' pro-am partner Marcus Allen, who was asked by a television reporter about an intimidation factor playing with Tiger.
"I do have a Heisman," he said chuckling. "I don't know if it's a green jacket, but I have an MVP in the Super Bowl and the NFL MVP."
A few of the players in the Phoenix Open field do plan to attend the Super Bowl, including Woods, diehard Patriots fan Keegan Bradley, Washington native Michael Putnam, and Spieth.
"I'm planning on taking Michael [Greller, his caddie] who's a big Seahawks fan," Spieth said, "and I'm going to root for the Patriots."
The only thing that could scotch their plans? Winning the tournament. The Phoenix Open will end around 3 p.m. (Mountain Time) and the Super Bowl begins at 3:30. Factor in a winner's post-tournament commitments, including interviews, getting to the Super Bowl even just for the second half would be problematic.
Bradley was asked whether he'd prefer he win the tournament or the Patriots win the Super Bowl.
"It's a lot harder than you would imagine," he said.