The Loop
Scott Verplank is no longer a hot young golf star, but competition still drives golf's newest senior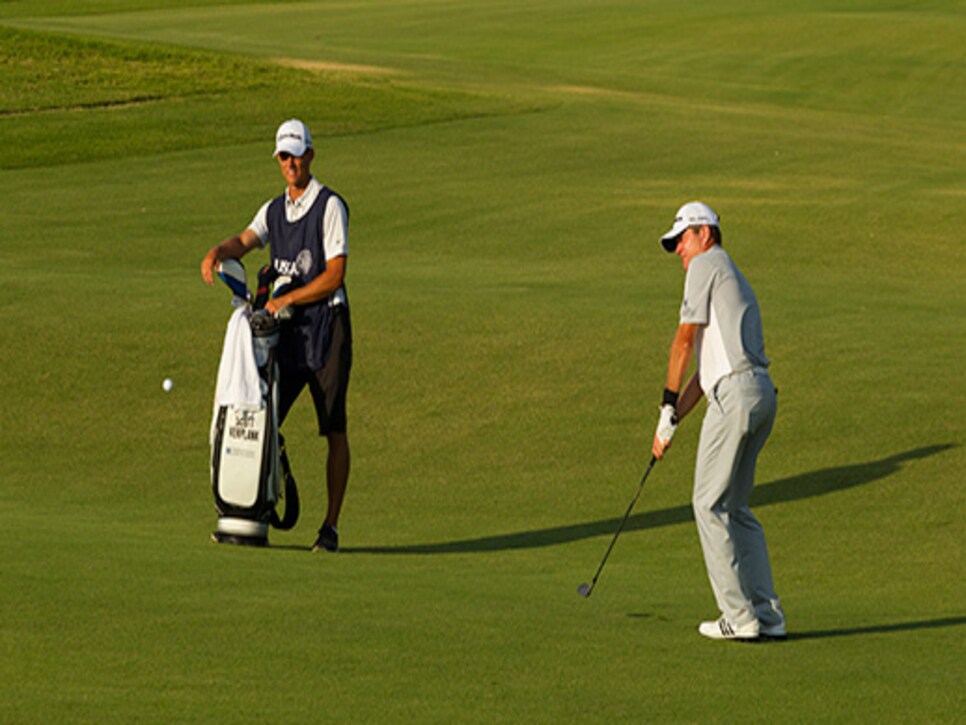 Any number of bright lights have blazed lots of promise with their early exploits, but Verplank stood out with an efficient style of play, the hallmarks of which were a relentless confidence and a magical putter that could demoralize opponents. As demonstrated by the way he beat Sam Randolph in that U.S. Amateur final, he seemed to have an extra gear owned by the greats, his not based on power but precision and persistence. Verplank didn't come up hard, the way Ben Hogan did, but there was something in his golf grit reminiscent of the Hawk.
Once, recalling to me the summers in his teens when he, having been diagnosed with Type 1 Diabetes at age 9, would play as many as 54 holes a day in the sweatbox that can be Houston on visits to his grandparents, he said, "I didn't know you were supposed to get tired."
After winning at Oak Tree, Verplank won the 1985 Western Open in a playoff over Jim Thorpe, becoming the first amateur to capture a PGA Tour title since Doug Sanders at the 1956 Canadian Open. That year he won 11 of the 26 collegiate, amateur or pro events he entered and had 21 top-10 finishes. When he turned professional prior to the 1986 U.S. Open, it was on the heels of winning the NCAA individual championship, an achievement diminished in his mind because his team, Oklahoma State, blew a final-day lead and lost to Wake Forest.
The greatness that seemed to be ahead for Verplank would be derailed by multiple injuries -- he has had five operations, including reconstructive surgery on his left wrist in 2011 -- and being an elite athlete with diabetes was never as effortless as he sometimes made it seem.
Between his second tour win (1988 Buick Open) and third (2000 Reno-Tahoe Open), there were severe elbow problems. In two seasons, 1991 and 1992, he made only two cuts in 39 starts. That kind of competitive valley would have been too much for many golfers to overcome, but Verplank persevered. He has five career wins, two Ryder Cup appearances for the United States (2002 and 2006) and has been in the top 100 on the money list 18 of 28 years.
He flirted with winning the 2011 PGA Championship when he was 47, finishing T-4 and leaving it to a wild scrum between eventual winner Keegan Bradley and Jason Dufner after hitting it into the water on No. 17 at Atlanta Athletic Club and making a double bogey. A few weeks later he had the surgery on the wrist that had plagued him for two years.
With the joint still not 100 percent and the physical limitations having seeped into the mental part of the game Verplank used to be so good at, he has made only one cut in 12 tournaments on the 2013-14 PGA Tour schedule. As much as he wanted to excel at Oak Tree, in the city where he settled and has raised his family, Verplank knew it would be a long shot despite the local knowledge and lovely memory of 30 years ago.
An odd summer wind -- from the east -- blew on a hot Thursday afternoon at Oak Tree. And despite his recent struggles, it seemed strange to see Verplank unable to conjure any magic at a place he once commanded. The first few holes of his opening round were downright ugly. A par to start was followed by a bogey, double bogey and double bogey. Five over through four, he finished with a four-over 75 that could have been much worse. He topped a tee shot. He saw places at Oak Tree he has never seen.
"Fairly embarrassing," was Verplank's assessment of a round in which his score, without some lengthy par putts, could have been well north of 80. "I can get in a little rhythm on the range and feel OK, and I go on the golf course and it's terrible," he said. "All I know is, I've been hurt a lot of times in my career and I'm hitting it like I'm hurt. I'm going to have to fix that somehow. I hit it short, crooked, unsolid."
Including Verplank, there are 14 players competing in the Senior Open who played in the 1984 U.S. Amateur. If you've followed golf even a little, you've heard of most of the men who sought that 1984 national championship. Billy Andrade, Jerry Haas, John Inman, Jeff Maggert, Rocco Mediate and Duffy Waldorf are among the group. They were on the way somewhere then, to journeys they could imagine but filled with details only time and circumstance can provide.
"I may get a good night's sleep and come out tomorrow and things feel better," Verplank said. "I know I can still play. It's been a hard road. I just haven't gotten back to the level that I want to be at."
If there is any golf justice, Verplank's Friday will be a day of long-enough, straight and solid. The game owes no one, but he deserves that.
Photo: Hunter Martin/USGA