The Loop
What's Matt Kuchar's secret weapon? His grandfather: "Big Kooch"
AUGUSTA, Ga. -- Meg Kuchar really believes this is going to be the year her son, Matt, wins the Masters. There's special reason. Matt's grandpa, Maurice -- known within the family as "Big Kooch" -- is here this week with Matt's grandma, too.
"We really think Matt's playing great and good enough to win this year," Meg Kuchar said, as she watched her son roll in a birdie on the 13th hole Saturday. "It would mean so much."
Meg told the story about how Big Kooch toasted Matt back in 1997. They were vacationing in New Hampshire when "Big Kooch" raised his glass to Matt: "Here's to you playing in the Masters," Maurice said prophetically. Just a couple months later, Matt won the U.S. Amateur at Cog Hill outside Chicago and earned an invitation to Augusta National.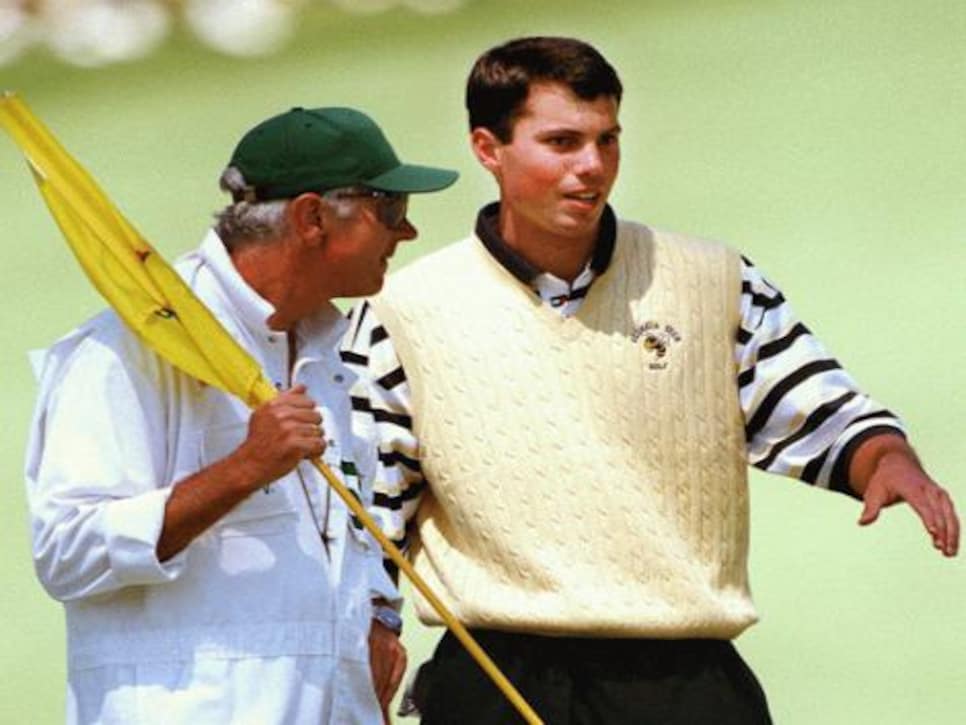 Peter Kuchar caddied for his son, Matt, in the 1998 Masters after Matt won the 1997 U.S. Amateur. Peter's wife, Meg, is hoping Matt's grandpa will see Matt win this week.
Keeping that moment in mind, and knowing that Big Kooch would be attending the Masters this year, Meg recently asked him to give another speech. When the family gathered in Florida a couple months ago, Big Kooch offered similar words of encouragement to Matt.
"And now his toast was, 'Here's to Matt winning the Masters,' " Meg said.
Little Kooch is putting himself in position to give Big Kooch a chance to be prophetic again.
Photo courtesy: Roberto Schmidt/AFP/Getty Images