The Loop
Whatever the size putter, Els still showing plenty of fire
MIAMI -- He'd faced longer putts with more on the line, that were more consequential and lucrative, but he desperately wanted to make this 10-footer, even though it wasn't in a tournament. Heck, he wasn't even on the golf course.
He was on the practice green Monday afternoon at Seminole GC, in the midst of completing his standard putting drill, with five 10-footers encircling the cup.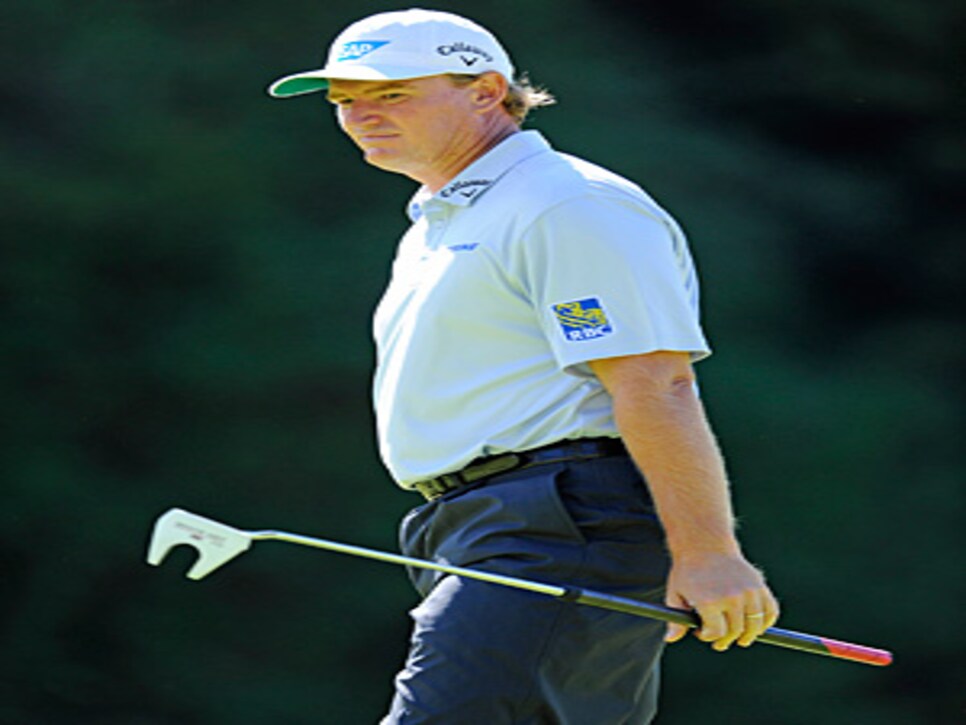 But he'd been challenged, and he still loves a challenge. He'd made the first four and was about to pull the trigger on the fifth when a familiar voice got in his ear.
"I've got $100 you don't make it," Michael Jordan said to him from behind as he stood over the ball.
"Make it $150," Ernie Els said.
It makes sense that Els would express his opposition to the recent rule change that would prohibit a player from anchoring a club to his body during a stroke. Except Els wasn't using the belly putter with which he won the Open Championship last year. He was wielding a conventional putter, an Odyssey Black #1, that he's been giving a workout the last few weeks, though he has yet to insert it into the lineup for a tournament round.
That could change this week at Trump Doral when the WGC-Cadillac Championship begins Thursday on the Blue Course where 65 of the top players in the world have gathered for the year's second World Golf Championship event.
"Yeah, you just might see it soon," Els said Tuesday at Doral, where he has won twice.
"I think he putts better with the short putter," said Els' caddie, Ricci Roberts. "He's got a beautiful stroke, much better than with the long putter, much more natural. I think he thinks so, too."
Still, Els has been sticking with the longer putter, and in his press conference he offered a salient observation against the ban the USGA and R&A proposed in November.
"Obviously winning a major with a belly putter, you're going to have to support that cause," the Big Easy said. "When it's been allowed for such a long time, I just feel, why ban it? You had the chance to do that . . . They allow certain things, and then they want to pull back on it. There was a square groove rule, the golf ball, the big and the small golf ball, there's the driver and the sand iron from a 56 to a 60, and we can talk about hybrid clubs. All these changes have come through in the game
"If a guy can't drive the ball really well, there's a driver that he can get made. If you can't hit an iron up in the air, you're going to get a hybrid made up for you. That's legal. If you're not a good chipper, you can go to 64, 62, 60, whatever degree. There used to be a rule where 56 degrees was the limit, so they changed that. The game's evolved that way."
Els, 43, is still evolving, too. The four-time major champion from South Africa has added to his stable of advisers. That would be Jordan, the NBA great with whom he has become friends.
"I've been picking his brain a little bit," Els said. "You talk about someone who understands competition, he's about the best you can talk to. What a competitor."
And he pays up, too. Els got the cash right there. "That wasn't the thing. Just making the putt with him standing there over me was good. I enjoyed that a lot," he said.