News
What you missed: Thomas wins PGA, Rory's possible shutdown and Rahm's incredible backhanded shot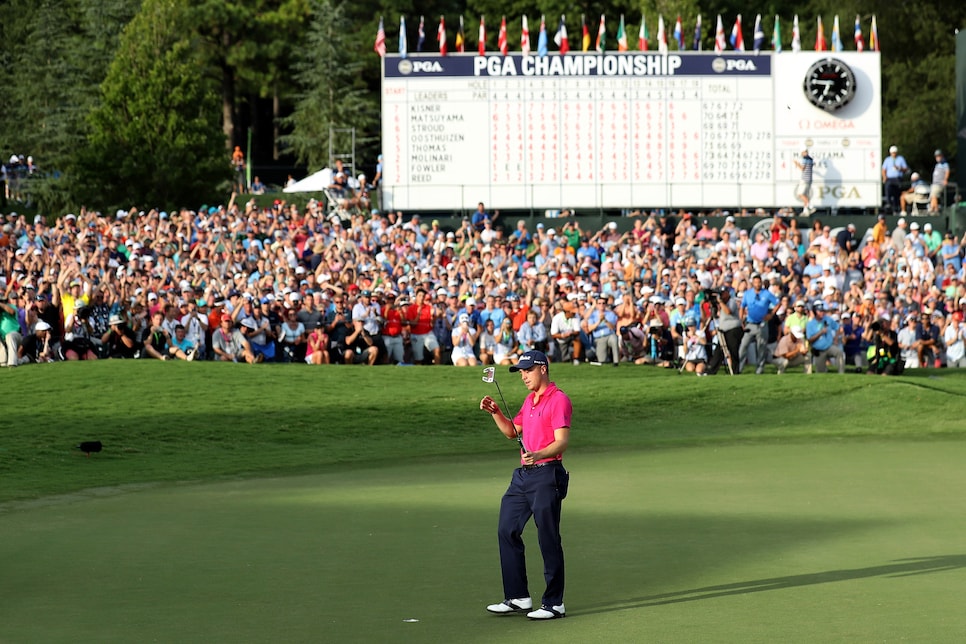 David Cannon/Getty Images
Welcome to the Dew Sweeper's PGA Championship rundown, your one-stop shop to catch up on the weekend action from the golf world. From the professional tours, trending news, social media headlines and upcoming events, here's every golf-related thing you need to know for the morning of August 14.
Through three days -- and frankly, most of Sunday -- the 2017 PGA Championship lacked the pizzazz displayed by its major brethren this season. Luckily, the same could not be said for the final three hours, as Justin Thomas' sterling charge broke away from a crowded pack for a resounding victory at Quail Hollow.
Thomas, who began his day two back of Kevin Kisner, had a handful of "How'd he do that?" birdies: a 36-foot drain on the ninth, an eight-footer than sat on the cup's edge for seemingly an eternity before dropping, a chip from 40 feet on the 13th. But what sealed the deal for the Louisville native was beautiful, bold 7-iron on the 223-yard par-3 17th, sticking it to 15 feet. When the roars went up after the ball went down, there was no doubting who was walking away with the Wanamaker Trophy.
The 24-year-old is the fourth youngest PGA winner in the Masters era behind Rory McIlroy, Jack Nicklaus and Tiger Woods. Thomas, with four wins on the season, is now the frontrunner for Player of the Year honors as the tour heads into its postseason stretch.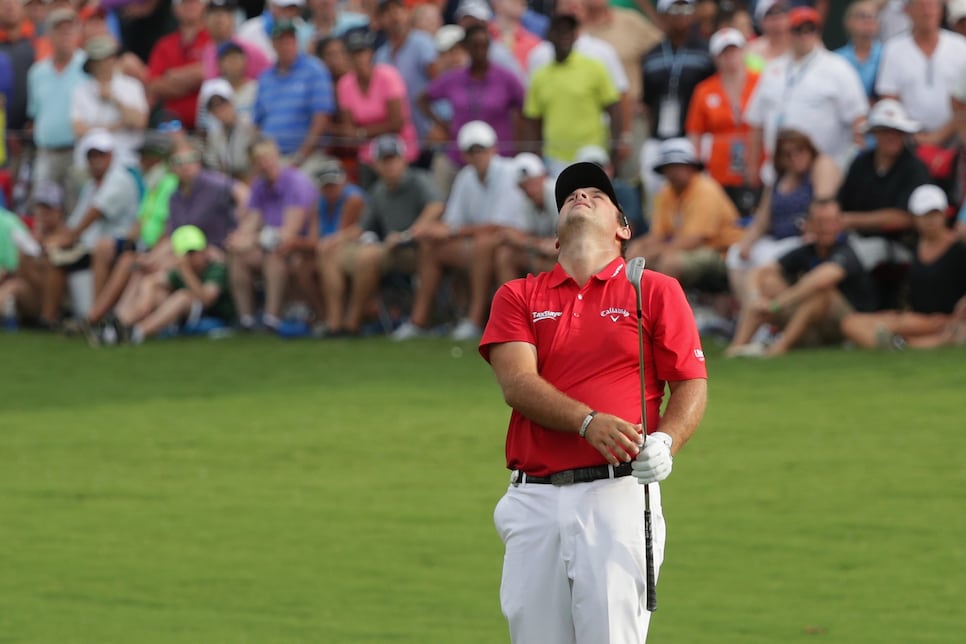 Reed feels like first loser after runner-up finish
PGA Tour players are not fond of consolation prizes, especially at majors. A sentiment echoed by Patrick Reed multiple times after the Ryder Cup star finished tied with Francesco Molinari and Louis Oosthuizen (who now as finished second at every major) for runner-up honors at Quail Hollow.
"I couldn't care less if I finished second or 50th. I play to win," Reed said after firing a four-under 67 on Sunday. "All I feel is that I could have done more. I just feel frustration."
While the hurt was raw in the moment, there were silver linings to be had for Reed. It was his first top-10 standing in a major in 16 tries and, after a rough start to 2017, is now ninth in Presidents Cup rankings. That's something to be appreciated, right?
"That's great, but at the end of the day, of course I want to make the team and I want to make the team on my number. I don't want to have to try to rely on a pick," he said.
Oh. Well, perhaps down the road Reed will value this week for what it was: a success. Maybe. (Probably not.)
What would a major championship be sans rules controversy? During his final round at Quail Hollow, Ian Poulter sailed his tee shot on the short par-4 eighth into the woods, an area marked as a lateral hazard. However, following five minutes of search, the Englishman was unable to locate his ball. Because the ball was not found, an official suggested, since it was lost, the 41-year-old head back to the tee instead of playing the penalty under the lateral parameters. News not taken kindly by Poulter:
As you can hear, Poulter was indignant over the initial ruling. However, cameras were able to determine the shot did go into the hazard, and moments later, his original ball was found. But, because it was after the designated time allotted, Poulter was forced to play his shot under the pretenses it had disappeared in the hazard.
In Poulter's defense, the initial suggestion was a tad absurd. Then again, perhaps the official was cognizant of the tournament's (to that point) monotonous tones, and decided to inject some fire into the proceedings. In that light, well done, sir.
Rahm's incredible, if unnecessary, shot
The PGA -- and to a large scale, the 2017 major season -- was a mixed bag for Jon Rahm. But while his scores left much to be desired, he at least ended his Quail Hollow trip in style with this backhanded shot on the difficult 18th:
Was this unnecessary? Absolutely: the man could have pitched it closer if he taken a normal stance, but -- as it was the final hole and Rahm was well outside the top 50 -- apparently getting wet for an up-and-down conversion wasn't worth it. And thank goodness for that. Not only would we be deprived of such a highlight, we're now aware that Rahm could beat us in a short-game contest backhanded. The more you know.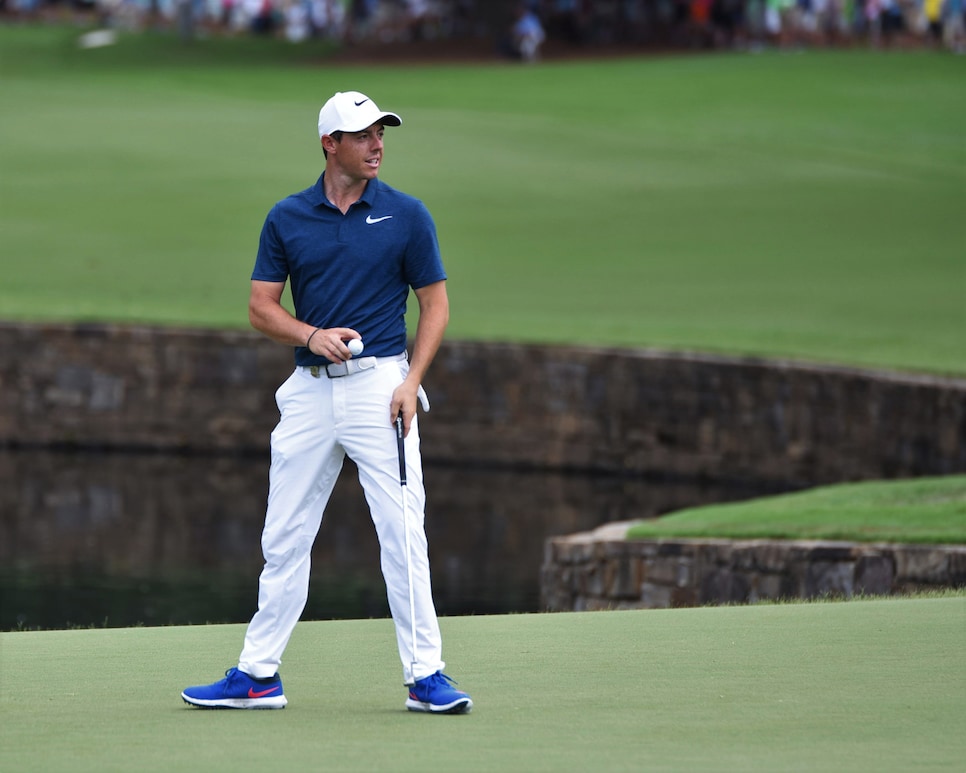 After Saturday's round, Rory McIlroy alluded to the fact he was far from 100 percent, his rib alignment suffered in winter still causing vexation. To what extent remained ambiguous; after all, the injury didn't seem to be hampering the four-time major winner on his 365-yard drives. Conversely, anyone who's suffered a similar issue knows it's not a pain that subsides within a few months.
Following Sunday's outing, McIlroy was candid about his health, stating he could be done for the rest of the season.
"I don't know," said McIlroy, who asked about defending his FedEx Cup title. "I feel a sense of not duty, but I've missed a lot of time already. If I'm capable of playing, I feel like why shouldn't you. But then at the same time, if you are not capable of playing at your best, why should you play?
"I don't know what I'm going to do. You might not see me until next year. You might see me in a couple of weeks' time."
While the tour's postseason has grown in stature, let's be clear: a player of McIlroy's stature is only judged by his major feats. More importantly, getting to full strength for the Masters -- that elusive tournament McIlroy needs to complete the career Grand Slam -- should be his first and only priority.
His absence will be felt should he call it a campaign. But, in the long run, golf will be better off for it.