The Loop
What you can learn from Moe Norman, the best ball-striker golf has ever seen
To some, the Canadian Open conjures images of Tiger Woods' famous bunker shot in 2000, arguably the greatest shot in the 14-time major winner's career. Others know it as the tournament that eluded Jack Nicklaus, as the Golden Bear finished runner-up seven times without finding the winner's circle. At the moment, it's in the news courtesy of Robert Allenby and his caddie dust-up.
But to me, the Canadian Open brings to mind Moe Norman.
Norman was a player on the Canadian Tour throughout the 1950s, '60s and '70s. A proud son of Kitchener, Ontario, Norman was primarily known for two things: his idiosyncrasies, which effected everything from his wardrobe to his demeanor, and his accuracy.
Simply put, many consider Norman the greatest ball-striker of all-time.
While explaining what spurred one of his swing changes, Tiger Woods told Golf Digest's Jaime Diaz that "Only two players have ever truly owned their swings: Moe Norman and Ben Hogan. I want to own mine." Ken Venturi called Norman "Pipeline Moe" in reference to his pin-point marksmanship. Perhaps Lee Trevino summed it up best when saying, "When you talk about Moe Norman, you are talking about a legend."
Judging by this praise, one would think Norman's swing would be picturesque. Or better yet, similar to Ernie Els.
Instead, Norman's shot motion would hardly be described as pretty. Imagine trying to swing with a small child climbing up your back, and that's Norman's execution in a nutshell.
Don't take our word for it:
Yet, what the swing lacks in fashion, it makes up in function. Here are three easy tips you can learn from Norman's approach to the game:
According to Norman, this helps on two fronts: "It provides more stability, and it has less moving parts."
Norman continues, adding this move helps the follow-through process, guiding the club to the target at a longer interval, and, while possibly affecting distance, it will prevent your hips and shoulders from dropping, an impetus for wayward or chunked shots.
Fairly intuitive, at least to Norman: a loose, liberal takeaway allows more room for error. A compact swing simplifies this motion, giving your shot the best chance to reach its intended destination.
To help generate club speed, Moe would slightly -- and we do emphasize slightly -- move his left knee, dropping the swing into the downward slot. Norman would preach that the the key part is his feet. When most incorporate this move, the front foot turns, inflicting chaos into the ball-striking venture. His feet remained planted, keeping the foundation and trajectory of the flight true.
Which raises the question: If Norman was such a great ball-striker, why does he remain a relatively unknown commodity?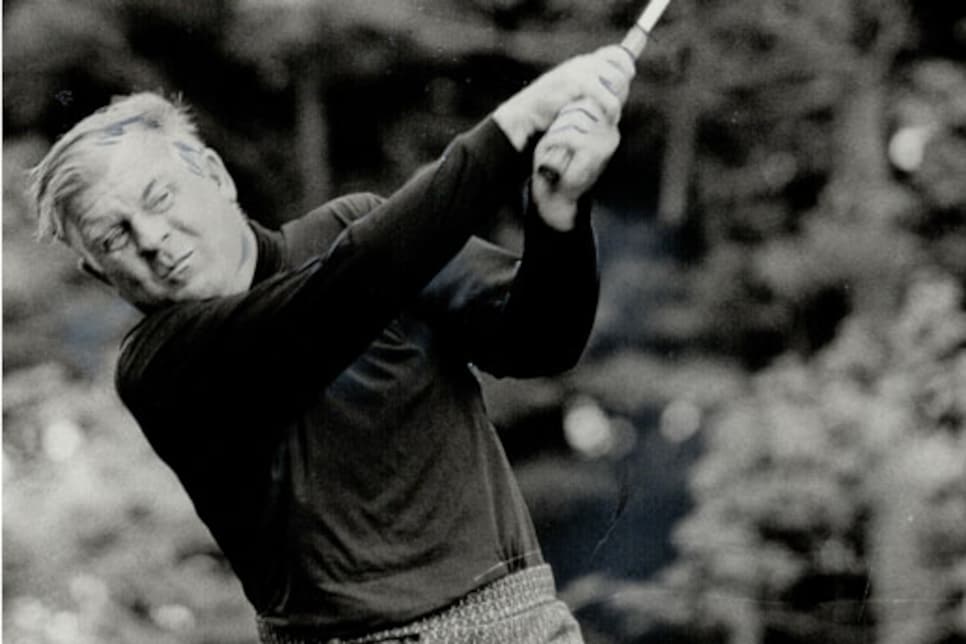 His aforementioned quirks was more than just personality traits. Social settings could be debilitating for him; many around Norman believed he suffered from a form of autism.
Despite winning more than 50 events in Canada, Norman's peculiarity hindered his abilities in America. At one showing at the Masters, Norman had to drop out after his hands began to bleed during the round. The night before, Sam Snead had given Norman a tip, and he spent hours on the range trying to ingrain the advice into his swing.
Moreover, in a time when the tour was a very conservative, elitist affair, fellow players treated Norman's differences with a cold shoulder.
Still, Norman's legend continues to grow, to the point where the line between actual and apocryphal has been blurred, especially in death (Norman died in 2004 at 75).
Such as the time when, during a round with Snead, Slammin' Sammy remarked Norman would be unable to clear the water with the club in hand. "I'm not trying to," replied Norman, and proceeded to hit a bridge over the pond, carrying the ball to safety.
Or when Norman, up three shots on the last hole, decided to make things interesting by hitting his putt into the bunker to see if he could get up-and-down for the victory. Norman won by one stroke.
But perhaps the best story comes from another great ball-striker, Ben Hogan.
At a tournament, the Hawk took notice of Norman's ball flights. To Hogan, a ball with a straight path was an accident; it should be worked from the left or right to its mark.
However, following straight shot after straight shot, Hogan turned to Norman and said "Keep hitting those accidents, kid."