The Loop
What would you shoot if a pro was driving for you? Recalling a bold Golf Digest experiment
Think about it: that long par 4 with trouble down the right side -- wouldn't it be considerably less daunting if you knew you were hitting wedge in from the fairway? What if every hole was like that? How many strokes off your typical score do you think you could shave?
Golf Digest set out to answer these questions more than two decades ago, when writer Peter Andrews and tour veteran Mark O'Meara played together at Isleworth Country Club in Windermere, Fla., for a story in the May 1991 issue. Andrews was an 18-handicapper who was convinced he could be shooting in the 70s "with only a few measly extra yards off the tee, assuming 50 yards qualifies as measly." O'Meara was by then a PGA Tour star -- not yet a winner of two major titles, but already with six tour wins to his name. The concept was quite simple: playing from 6,279 yards, Andrews played O'Meara's tee ball in on every hole, and O'Meara played Andrews'.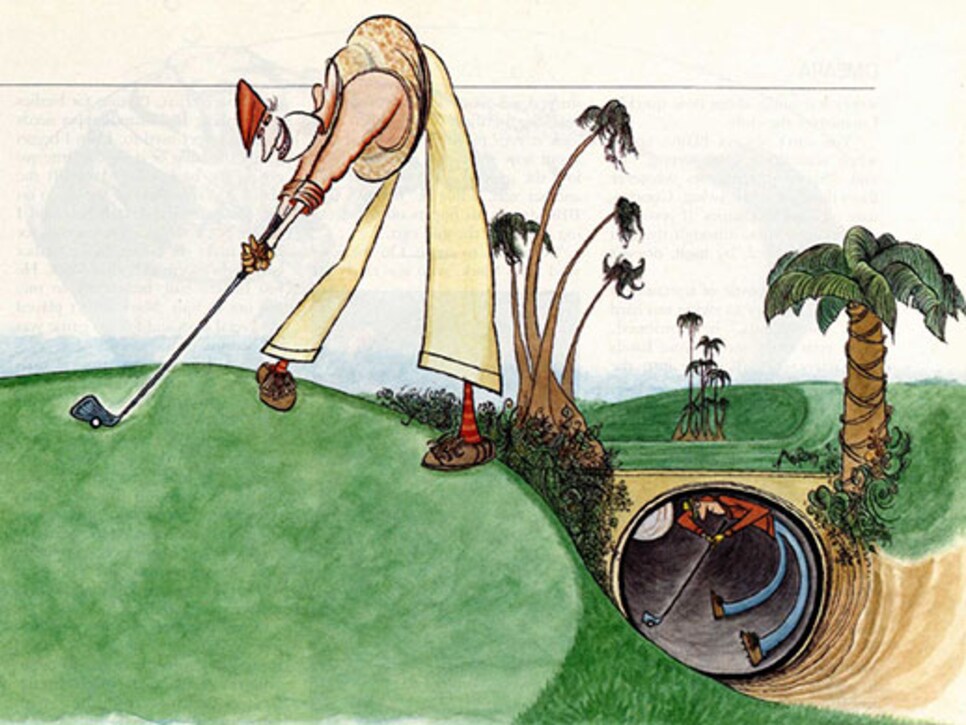 The result was about what you'd expect when you take some of the variables out of a mediocre golfer's hands, but still leave him with enough room to make a mess. Using O'Meara's respectable pre-titanium 260-yard drives, Andrews shot 82 (playing Andrews' drives, O'Meara shot 75). It was about 10 strokes better than his average, but as Andrews noted, he never quite took advantage of O'Meara's help.
"And so it went; Mark clicking off pars and birdies whenever I left him on anything Luther Burbank would have recognized as grass, and me constantly being offered the glittering prize, but able, only sporadically, to gather it in," Andrews wrote.
Do you think you could fare better? What if you didn't just have any tour player teeing off for you, but the premier driver in the game? If you could hit Rory's tee ball at your home course, what sort of difference would it make? Let us know in the comments section below, or chime in on our Golf Digest Facebook page.
(Illustration by Arnold Roth)