The Loop
What the numbers say about Tiger & Rory
After pulling his career out of a two-year ditch by winning three times in 2012, Tiger Woods' prospects for a bigger year in 2013 hinge on needed improvement in short-iron play and weekend performance.
Woods has complained of hitting his short irons unpredictable distances -- the last piece of the puzzle of his reworked swing under instructor Sean Foley -- and ShotLink statistics from 2012 bear him out. He had an average ranking of 96th in proximity to the hole and greens in regulation in the various 25-yard increments from 75 to 150 yards; from 150 to 225 yards his average ranking was fifth.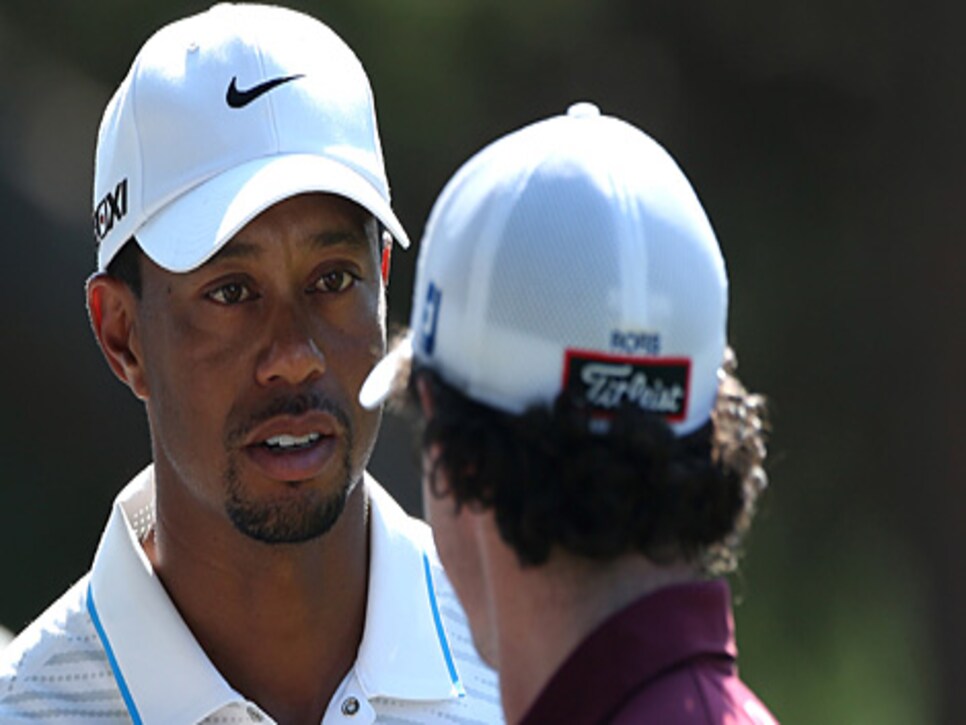 His weekend play was an even bigger problem. Looking nothing like the lights-out closer we saw for most of his career, Woods in 2012 ranked third and second in scoring averages for rounds 1 and 2 (69.33 and 69.28) but 45th and 32nd for rounds 3 and 4 (70.25 and 70.40). The tour keeps a stat for the percentage of times a player improves or maintains his position in the final round; Woods has led that stat seven times and never ranked worse than 11th until last year when he ranked 94th at 54.33 percent (nine of 17). Most notably, he went backward on the weekend after tying for the 36-hole lead at the U.S. Open and PGA Championship, a development that would have been unthinkable in his prime.
The areas where Woods did make great strides in 2012 were driving accuracy (55th, after an average of 175th the previous two years) and scrambling (fourth in percentage of par saves after averaging a shockingly poor 154th in 2010-11). That helped him to rank third in avoiding bogeys, while driving in the fairway enabled him to pick up easy birdies by going for the green more often on reachable par 5s.
Woods' putting problems have perhaps been overstated, but it's true that it's harder to dominate now that he is a good putter (35th in strokes gained/putting in 2012) rather than a great one (ranking first cumulatively from 2004 to 2009). Just as importantly, he is not the explosive player he was when younger. At age 36, he ranked 32nd in driving distance and 21st in how often he went for it on reachable holes, so he's not overpowering courses to the extent of the Bubba Watsons and Rory McIlroys of today's tour.
Power is a big part of the edge for McIlroy, who took over the No. 1 spot at the age of 23 last year. Propelling his average drive 310.1 yards, fifth on Tour and nearly 13 yards longer than Woods, helped McIlroy go for the green on reachable holes more often than anyone but Watson. With a stronger overall game than Bubba, McIlroy was able to lead in par-5 scoring with a 4.49 average.
While not a straight hitter, ranking 156th in hitting fairways, McIlroy isn't as wild as that stat makes it appear. He ranks 22nd in distance from the edge of the fairway on drives in the rough; Woods misses fairways by a greater distance, ranking 148th in distance from the edge. So McIlroy is out of play less often.
McIlroy is a very good iron player, ranking fifth in proximity to the hole on approach shots and first from the fairway. That's partly due to proficiency and likely aided by firing at the flag more often than most players. That pin-seeking mentality, along with a schedule loaded with tough courses, accounts for a greens-in-regulation ranking of 60th. But it pays off with birdies and eagles, as McIlroy led the tour in percentage of subpar holes. He's a good scrambler (33rd) but if he can become an even better one he would cut down on his bogeys (27th in bogey avoidance).
The biggest area where McIlroy can improve is putting. He soared to the top of the golf world in 2012 despite putting that was barely better than average -- he ranked 82nd in strokes gained putting, gaining just .087 strokes per round on the field average. It's worth noting that he beat the average score of the field by 2.16 strokes per round, so tee-to-green play accounted for most of that.
Putts of between four and eight feet were particularly problematic in 2012 as he ranked 158th in putting from that distance. It's rare for a mediocre putter to transform into a great one, but if McIlroy ever finds magic on the greens, watch out!
Watson is in many ways similar to McIlroy -- he's No. 1 to Rory's No. 2 in percentage of going for it on reachable holes with the order reversed in par-5 scoring. But Bubba's putting problems are more severe. He ranked 157th in strokes gained/putting at -.285 strokes per round, the fourth year of the last five he's been in negative territory. That makes it tough to be a consistent force, though he's dangerous on his better weeks on the greens, like at last year's Masters.
Watson led the tour in driving distance at 315.5. Considering his length, Watson's ranking of 135th in hitting fairways is actually impressive. He's much improved in this area in 2011-12; before then he habitually ranked in the 170s or 180s in accuracy. Hitting more fairways equates to even more opportunities to go for par fives in two or attack short par fours.
Watson's biggest troubles come on par 3s, where his driving doesn't help him. While ranking first in par-4 scoring (3.98) and second on par 5s (4.51), he was 168th on par 3s (3.13), so his iron game could stand to be better.
Completing our look at top players is one with a very different style, the slight Luke Donald. The Englishman has been one of the game's best putters for a while, but he moved into the upper echelon in the last two years thanks largely to improved driving accuracy. Short and crooked doesn't work too well, but in the last two years he has improved to 57th and 37th in driving accuracy.
The impressive thing about Donald is how well he does on par 5s. He ranked 157th in percentage of times going for it on reachable holes, but he's very effective on those holes where he is able to get home; he was fifth in making birdie or better when going for it. Combine that with strong wedge play on holes where he wasn't able to go for it, and he ranked 15th in par-5 scoring at 4.59.
Donald slipped to third in strokes gained putting after leading that stat three years running, and he wasn't as precise with his irons, going from ninth to 31st.
In truth, he didn't really perform much differently in 2012 than when he was Player of the Year in 2011; it was more a matter of McIlroy and Woods rising past him than Donald falling back. That's the unfortunate nature of being a player who has to rely more on consistency than firepower. But for Donald all will be forgiven if he manages to do something he hasn't been able to in his career so far -- out-steady the field in one of the four majors.