News
What Sam Saunders learned from his grandfather Arnold Palmer: 'Always take the time'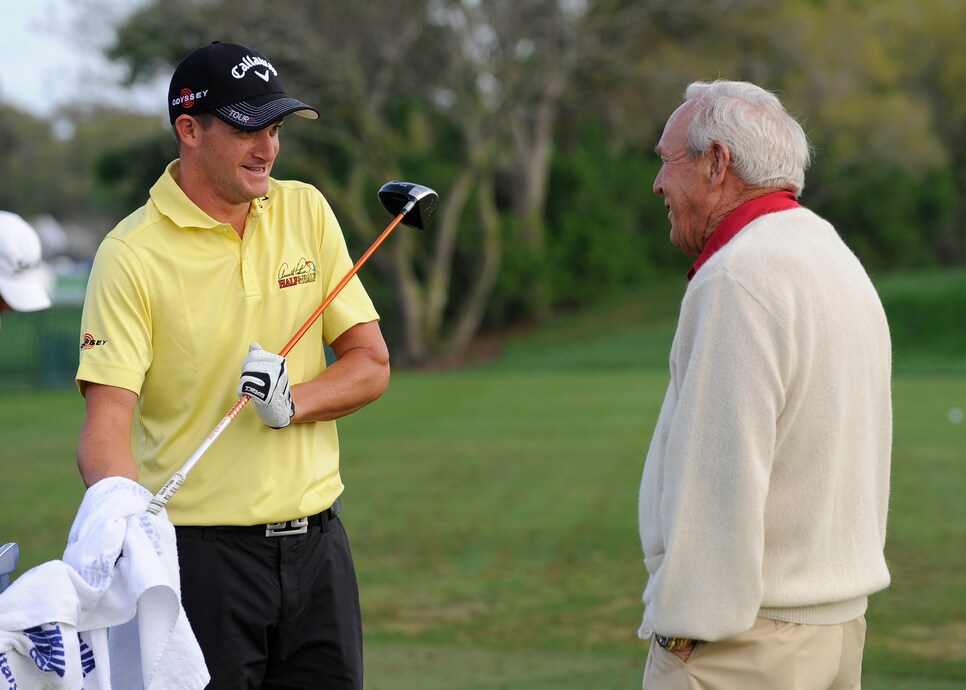 Stories of interest you might have missed…
"I'm very small on the scale of what he did," Saunders said, "but when I'm playing in tournaments now, every single volunteer I walk past, just smile and look them in the eye. You don't always have to say, 'Hi, how are you doing today?' Just a simple, 'Thank you,' or, 'Thanks for your help this week.' I see them light up and I see that it means a lot to them for us to acknowledge what they are doing for us. The volunteers are huge, and the media. Always take the time, always treat the media as friends. They help promote what we do, so we owe (the media) a great deal in getting the word out there for what we're trying to do."
The suffocating crowds in St. Louis did not allow Palmer an inch during the opening rounds of 1992 PGA Championship.
"They were 10 deep at Bellerive," [Ernie] Els recalled.
The 61-year-old Palmer was no match for the brutal layout at the storied country club, but nobody cared. Palmer's playing days were winding down and everyone just wanted to catch a glimpse of him, his smile, his signature thumbs-up, before the magical ride had ended. Some fans apparently were looking for more, the 22-year-old Els soon would learn.
"Women were throwing themselves at him. I saw one lady give him a note," Els recalled. "I went to the next tee and I was like, 'Geez, Mr. Palmer, what was that?' He's like, 'She's quite cute, huh? Why don't you take her out tonight.'
"So he gave me her number."
Els recalled the moment with a laugh.
Muirfield: Let the healing begin…hopefully
Yes, Muirfield finally had enough votes from its members that it will open its membership to women, and thus will be rejoin the British Open rota. And the man who delivered the good news, Henry Fairweather, the outgoing captain of the Honourable Company of Edinburgh Golfers, is the same who delivered the bad news a year ago, that it hadn't enough votes.
"It was probably one of his darkest days and, despite subsequent events, he will never deny that the reputation of a club that has been in existence since 1744 was damaged considerably that day," Dempster writes. "Criticism of the decision was widespread and rightly so. Even now, he's not trying to claim that will all be forgotten – and he can't, of course, when more than 120 members still refused to support the admission of women to their club.
"But Fairweather, with the support of his committee…got the result they were looking for in a second ballot and now hope a healing procedure is underway."