What it took for Scott Stallings to become the tour's most shredded pro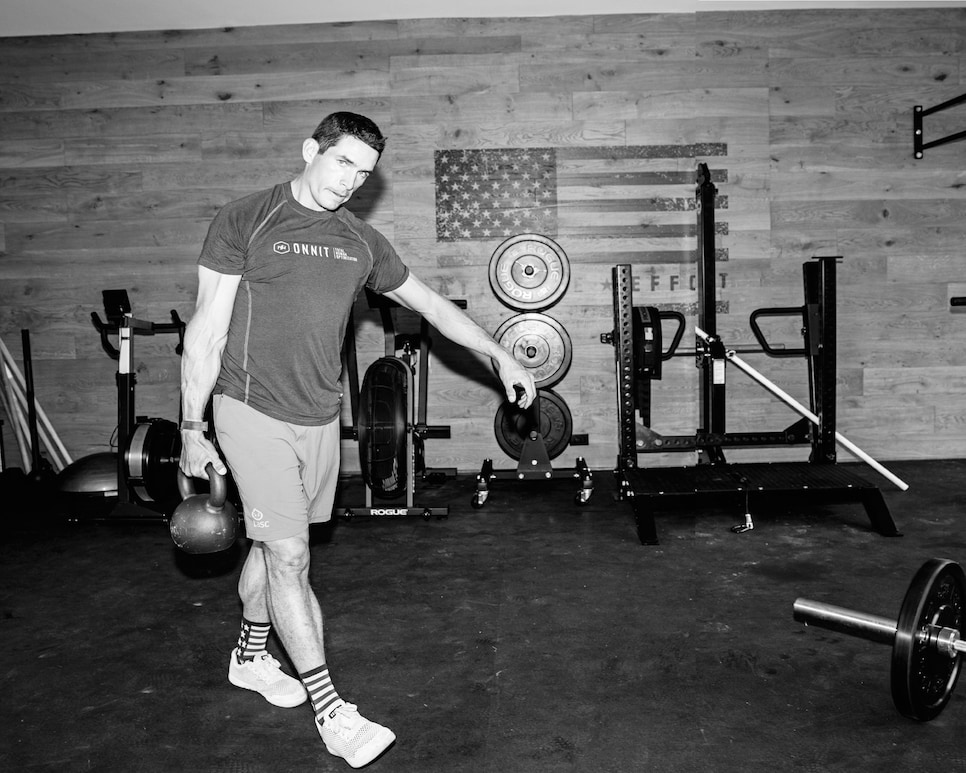 For four hours, Scott Stallings demonstrated for our video crew dozens of high-intensity exercises that he routinely uses to maintain one of the most chiseled bodies in PGA Tour history. He slammed medicine balls, swung kettlebells, slung barbells, jumped rope and generally torqued his body in ways that might impress an Olympic gymnast—with virtually no break between moves.
As the video crew was packing up at the end of the shoot around lunchtime, someone asked Stallings what he was going to do with the rest of his day.
"I still have to work out," he said.
That level of commitment is why Stallings has transformed from a 240-pound "biggun' " with 26 percent body fat, to a 185-pound piece of granite with less than 10 percent body fat. Serious concerns about his overall health a few years ago sparked the transformation, Stallings says. Not only was he more than 50 pounds overweight, he was diagnosed with a sleep disorder and discovered certain food allergies also were making it tough to compete on the PGA Tour. "I was exhausted all the time," he says. But not anymore.
The way Stallings trains depends on if he's at a tournament or if it's an offweek, or the offseason. But it's typically an everyday program going from hard, heavy workouts early in the week to lighter, faster stuff by the weekend. And he doesn't train alone. At his home gym pictured here, known as The Barn because of its previous use, on any given day you might find professional baseball and football players, mixedmartial-arts fighters and his trainer, Adam Kerley—all getting after it with the same intensity as Stallings. It's a cult of conditioning.
To be clear, much of what Stallings does to stay fit isn't what the average golfer should do, at least not without clearance from a doctor and a lot of progression training building to the level of difficulty in his current programs. "What I used to do as a workout is now something we might do as a warm-up," he says. But if you're curious, here are a handful of things he does with a kettlebell and a device called a landmine, a barbell anchored to the floor that can be used for exercises in multiple planes of movement. User discretion is advised.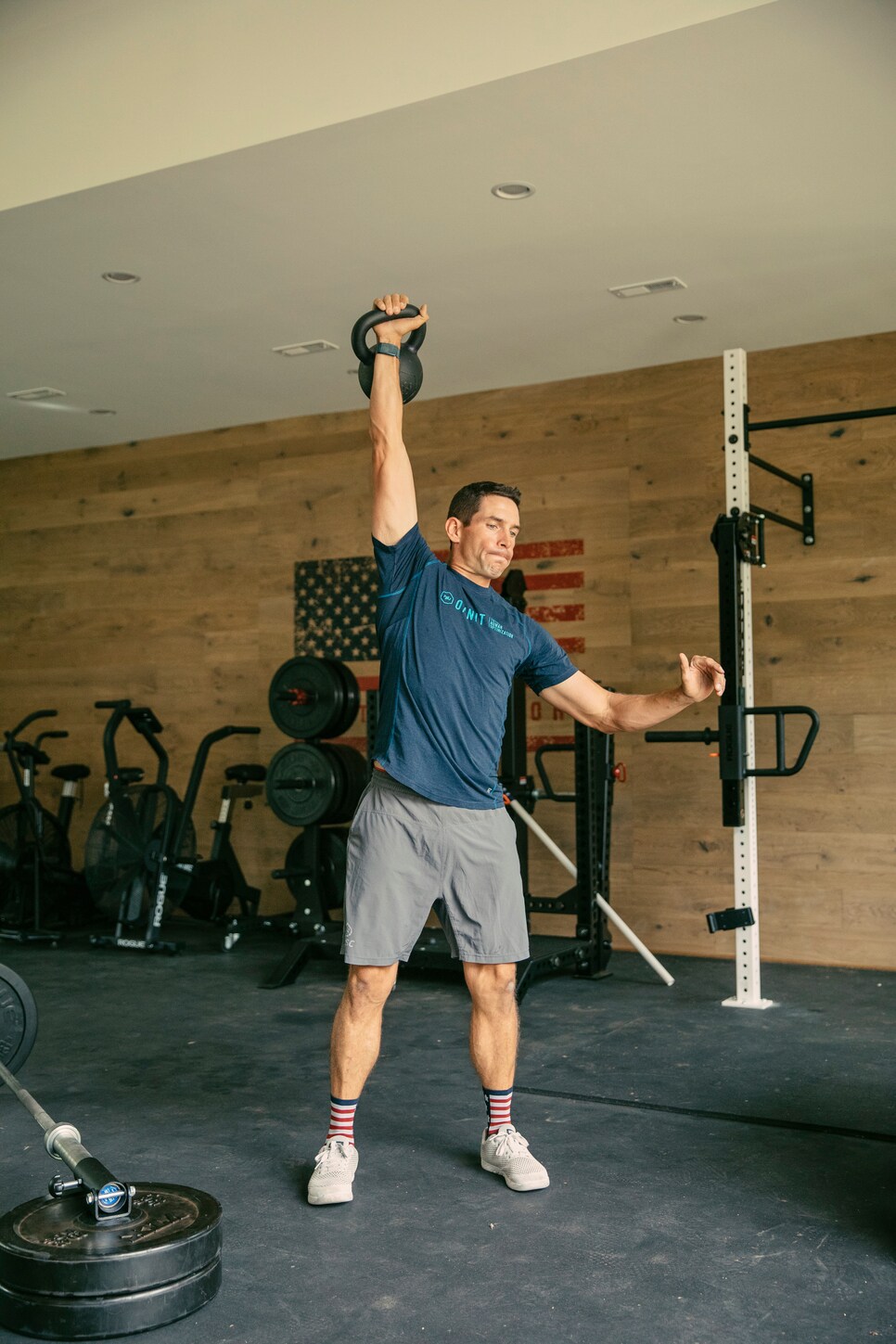 "This is a great hip-hinging exercise that trains you for explosive power in the golf swing," Stallings says. It starts by using ground force to leverage the kettlebell upward, and it finishes with the shoulder, arm and back supporting the weight as it gets pushed overhead. "Great exercises for golf don't always look like motions in the golf swing," Stallings says, "But they do train the body for a good golf swing." And with this one, there's a cardio boost thanks to the effort required.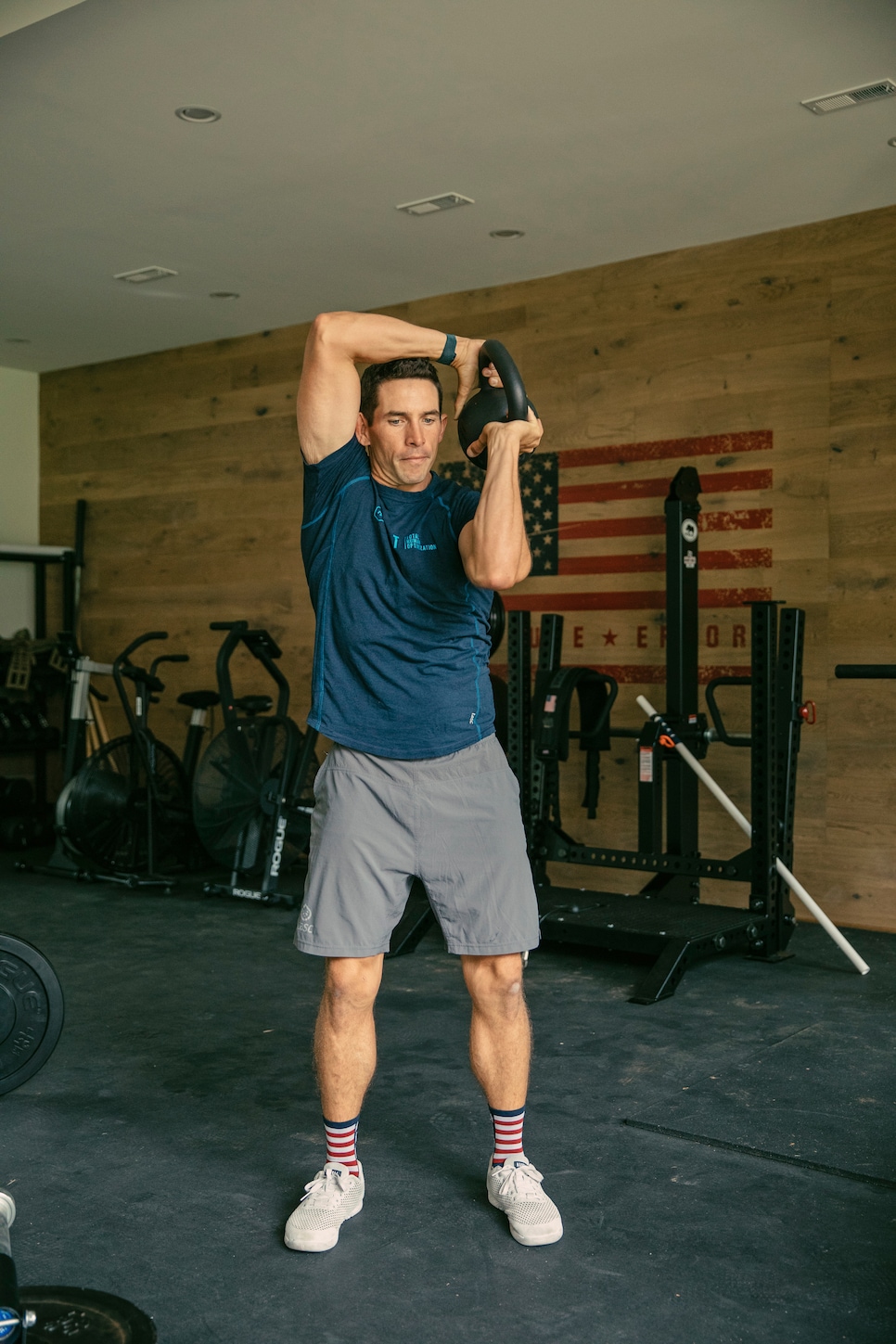 Stallings starts with a mediumweight kettle, holding it upside down in front of his chest at the base of the handle. He then liſts it to head height and rotates it around his head—like a halo—in both directions. "Shoulder mobility is so important in the golf swing, and this exercise really warms up the muscles and soſt tissue around the shoulder girdle," Stallings says. "The ability to swing the club on plane, and swing it fast and stop it safely, depends a lot on having good shoulder function."
This exercise hits a lot of key areas golfers need to generate power in the swing —everything from the calves to the forearms, Stallings says. "And it requires strength, stability, power and endurance." The clean is the portion of the exercise where the kettlebell is hoisted from the ground to shoulder height. The forwardlunge portion offers the training bonus of learning to load weight into the legs individually, which also happens as you go from the backswing to the downswing.
"Landmines help you train your body to be stable during a multifaceted movement–just like what you need for the golf swing."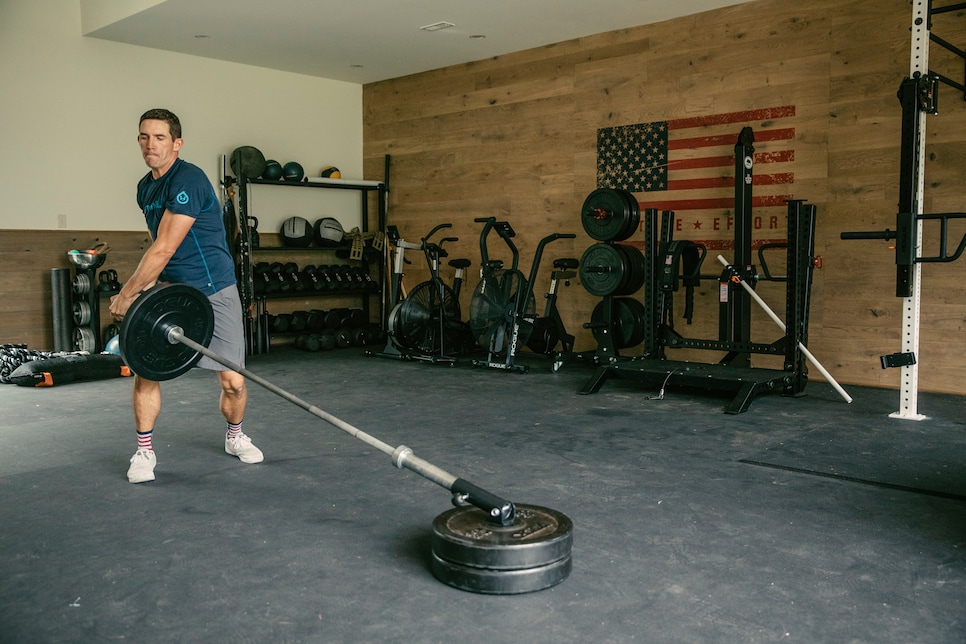 "Any standing exercise where you're moving an external load in more than one plane of motion is going to benefit your body when you play golf," Stallings says. "That's why I like doing these." This exercise, taking the barbell down alongside each hip in a rotational movement and then back to an overhead position, tracing the shape of a rainbow, is great for strengthening the legs, shoulders and arms—and it helps improve the coordination needed for a functional, ground-up downswing.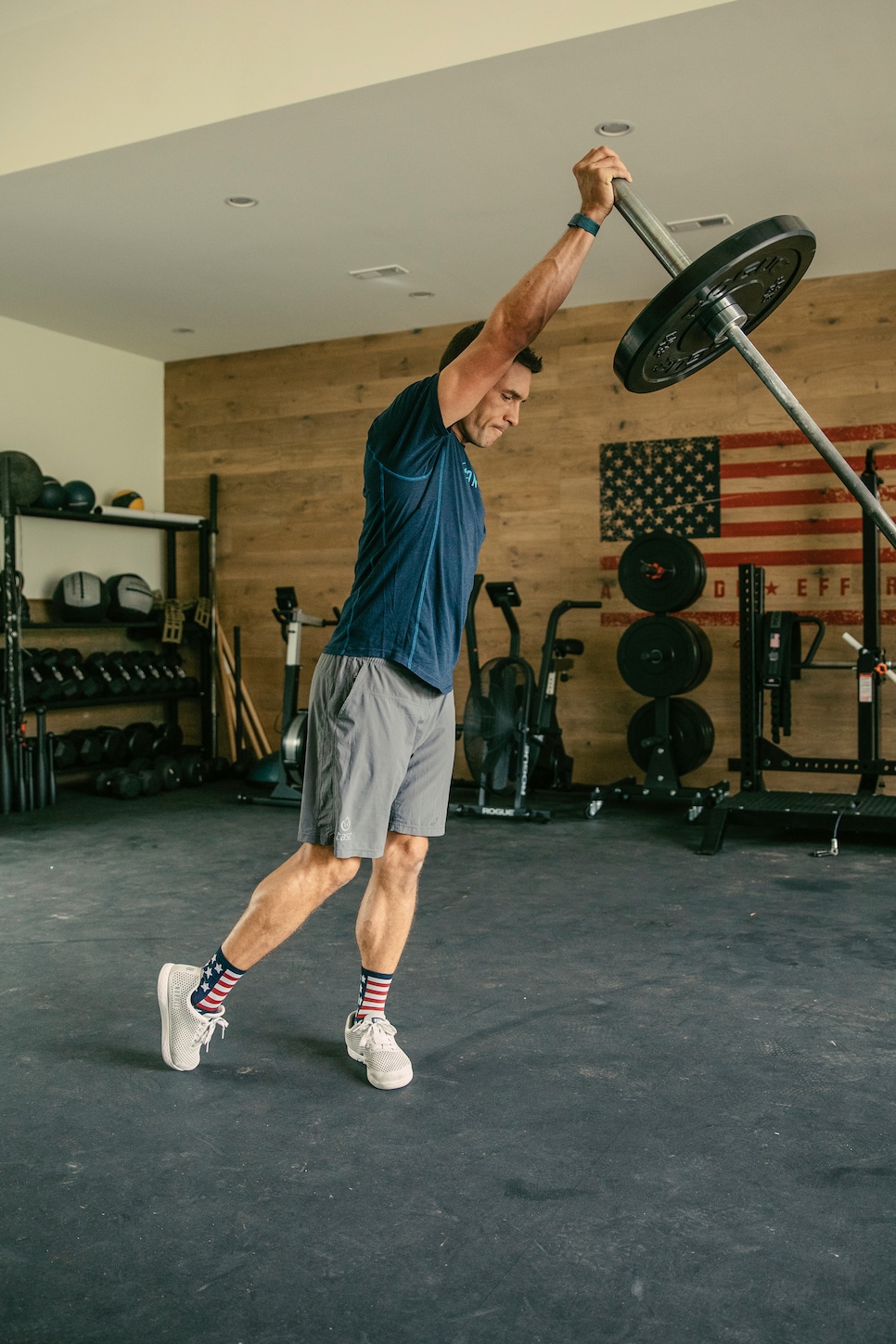 LANDMINE ROTATIONAL CLEAN AND PRESS
Golf is a one-sided sport, meaning you're swinging in only one direction and recruiting muscles in an imbalanced nature to do so. That's why it's smart to train in both directions, and unilaterally when applicable, to achieve better muscular balance. This one-armed rotational clean and press is great for that (switch hands from a pull to a push), and it mimics the look of a golfer finishing a swing—at least from the waist down. "Another move that hits lower- and upper-body muscle groups," Stallings says.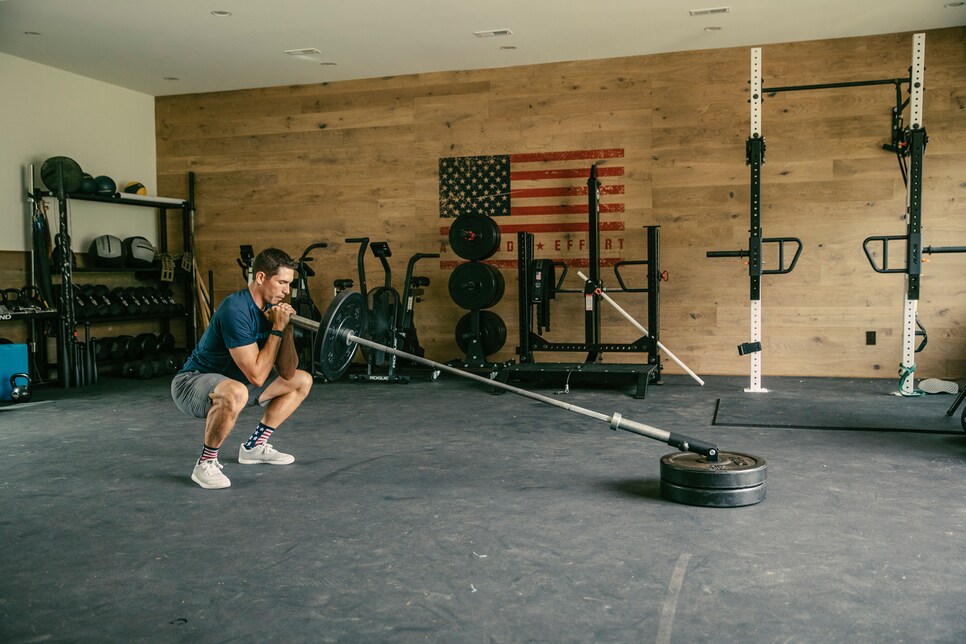 Golf-fitness trainers and swing coaches are in strong agreement on the importance of training the lower body to push into the ground at the start of the downswing. Using the ground this way creates a lot of power that can then be redirected to hitting the ball harder. This explosive exercise of thrusting a barbell upward from a squat position gets the key lower-body muscles primed for better golf. It should be a staple exercise for any golfer who wants to get longer off the tee, Stallings says.
THE 50 BEST GOLF-FITNESS TRAINERS IN AMERICA
If you're interested in getting "golf fit," you're in the right place. After closely examining hundreds of applicants, a panel of 10 of the most respected experts in golf fitness (see below) have selected the top 50 trainers in the United States. (They actually selected 52; there was a three-way tie for the last spot.) Unlike our first fitness ranking in 2017, which included professionals in all aspects of wellness, this list focuses solely on trainers. That means you can get a workout from anyone listed here. (It also means some top trainers were omitted as they work almost exclusively with tour pros.) "We wanted this list to be about the trainers in the trenches, the ones who can and sometimes do work with tour pros, and can make a 65-year-old with spinal stenosis play and feel better," says Golf Digest fitness advisor Ben Shear.
Encinitas, Calif.  /  pacificfitnesshealth.com
EVALUATION $200 HOURLY $200
Del Mar, Calif.  /  milostrong.com
Elevate Sports Performance
Las Vegas  /  elevatevegas.com
Sean Cochran Sports Performance
San Diego  /  seancochran.com
Los Angeles  /  shapeandsport.com
Golfletica Sports and Rehab
Bellevue, Wash.  /  golfletica.com
San Francisco  /  fleischertourfit.com
LGP Remote Training Protocol
Oceanside, Calif.  /  lgperformance.com
Irvine, Calif.  /  hansenfitnessforgolf.com
The Sports Club/Mission Hills
Rancho Mirage, Calif.  /  docsmith.org
Colorado Golf Fitness Club
Greenwood Village, Colo.  /  coloradogolffitnessclub.com
RYI Performance and Nutrition
Encinitas, Calif.  /  robertyang.net
Scottsdale  /. premierfitnesssystems.com
ChiroSport Specialists of Dallas
Dallas  /  chirosportspecialists.com
Tulsa  /  golffitnesssystems.com
Scottsdale  /  premierfitnesssystems.com
Houston  /  pamowensfitness.com
Scottsdale  /  ignitethp.com
Gleacher Golf Northwestern University
Evanston, Ill.  / wildcatgolfacademy.com
Dublin, Ohio.  /  buckeyeperformancegolf.com
Get Fit Pro Golf Performance
Chicago  /  getfitpro.com
Akron, Ohio  /  golffitplus.com
Brentwood, Mo.  /  18strong.com
Indianapolis  /  alteredphysique.com
Northfield, Ill.  /  pure-golf.net
Scotch Plains, N.J.  /  athleticedge.net
Sudbury, Mass.  /  coachkevinduffy.com
Greenwich Office Park Fitness
Greenwich, Conn.  /  bggolfandfitness.com
Greenwich, Conn.  /  metabolicgolf.com
Rockville, Md.  /  peakgolffitness.com
New York City  /  golfbodynyc.com
KAITLYN SHARPLESS-PIMENTEL
Narragansett, R.I.  /  felixfortisgolf.com
Scotch Plains, N.J.  /  bensheargolf.com
Better Every Day Performance
Orlando  /  bettereverydayorlando.com
PGA Tour's Performance Center at TPC Sawgrass
Ponte Vedra Beach  /  tourperformancecenter.com
Performance One Golf at Golf House Tennessee
Franklin, Tenn.  /  performance1training.com
Orlando  /  orlandogolfperformance.com
Naples, Fla.  /  golffitnessedge.com
Joey D Golf Sports Training
Jupiter, Fla.  /  joeydgolf.com
Florida Institute of Performance
floridainstituteofperformance.com
Raleigh, N.C.  /  par4success.com
Fort Lauderdale  /  h3bydan.com
Winter Garden, Fla.  /  davehermanperformance.com
Naples, Fla.  /  par4fitness.com
lifetimeperformancepbg.com
Pillar Health & Sport Performance
Louisville  /  pillarsport.com
Sea Island, Ga.  /  randymyersgolf.com
Trump National Golf Club Charlotte
Charlotte  /  kpjgolf.com
Palm Beach Gardens, Fla.  /  mitch11strength.com
Driven Sports Performance
Lake Mary, Fla.  /  drivenspt.com
Joey D Golf Sports Training
Jupiter, Fla.  /  joeydgolf.com